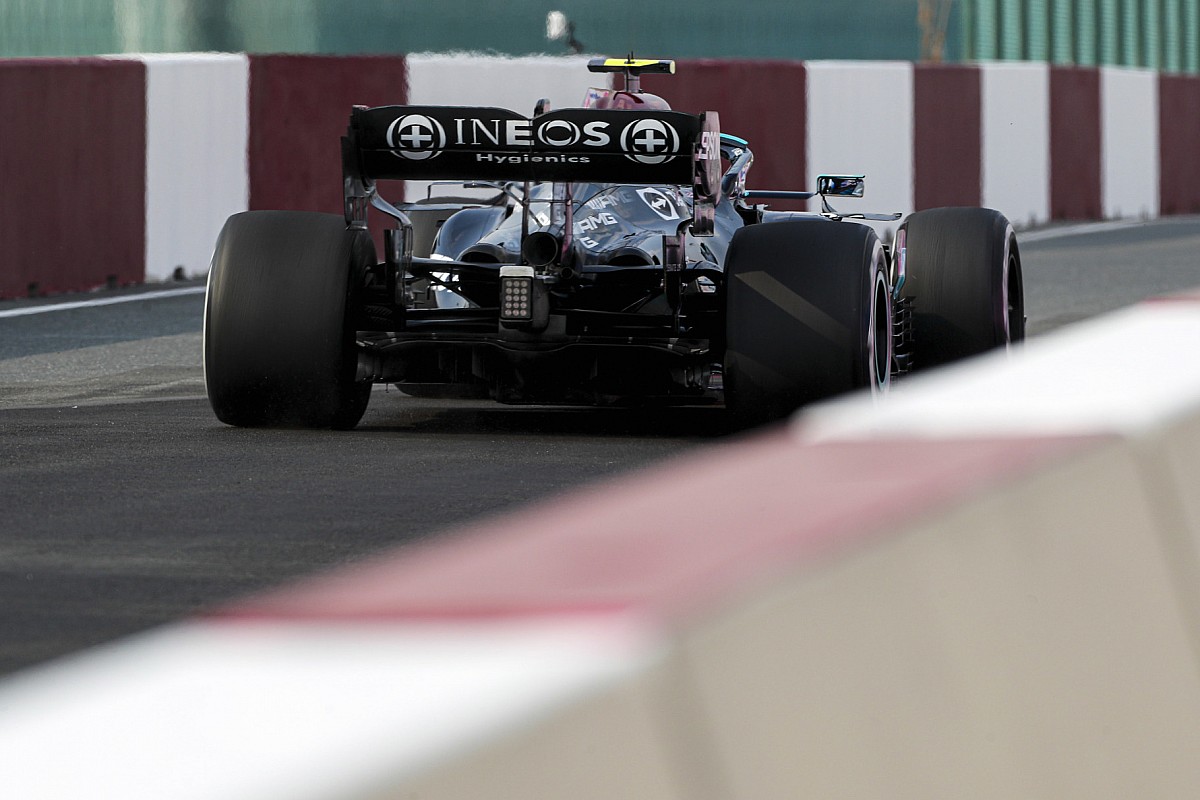 Mercedes says it doesn't understand Red Bull's claims that scores on its Formula 1 rear wing endplates indicate potential flexible body tricks.
With the intensity of the F1 title fight between the two top teams rising with three races to go, Red Bull is placing a growing focus on the behavior of its rival's rear wing.

Red Bull team boss Christian Horner made it clear on Friday in Qatar that, in his opinion, Mercedes could violate the rules with its design and was ready to protest at the final events.

In a tense exchange with Mercedes boss Toto Wolff at an official FIA press conference on Friday, Horner indicated that traces on the rear wing parts indicate inexplicable tricks.

"When you have 17 miles [per hour] Difference, and you see markings on the rear end plates marked by wings that have bent … It is very clear to us what was going on, "he said.

But Mercedes wiped out Horner's comments. The team says they inspected the wings and found no evidence of any traces.

Andrew Shovlin, Head of Track Engineering, knew that the world championship team had asked the FIA ​​several times to check their car and they were happy at every opportunity.

When asked about Horner's suggestions for notches on the tail wing end plates, Shovlin said to Sky, "Well, we looked at that and there are no notches. So we're not exactly sure what that is.

"But it seems like a story that won't go away. From our point of view, we are absolutely satisfied with what we have on the car.

"We've invited the FIA ​​to watch this as often as they want and they have no problem with what we have. We go out on every track, see what the fastest wing we have and that's what we're going to screw on the car. And we will continue to do so. "

Rear wing on Valtteri Bottas' car, Mercedes W12

Photo by: Andy Hone / Motorsport Images

Amid a tense political situation between Mercedes and Red Bull, Shovlin said his squad wasn't getting distracted by what was happening elsewhere in the paddock.

"There'll probably be a couple of mortar shells going both ways," he said. "But you know, the team really did come together.

"It was encouraging to see that on a weekend like the one we just had in Brazil, with so much distraction in so many different areas, be it with the team or with Lewis, it just went head down and got on with work.

"We showed that the car has the pace for it. I think Brazil was fantastic for our confidence that we can take both championships home. But it's a great place right now. It's just everyone working so hard to to deliver that. " "

Also read:

The post Mercedes denies F1 rear wing has points first appeared on monter-une-startup.