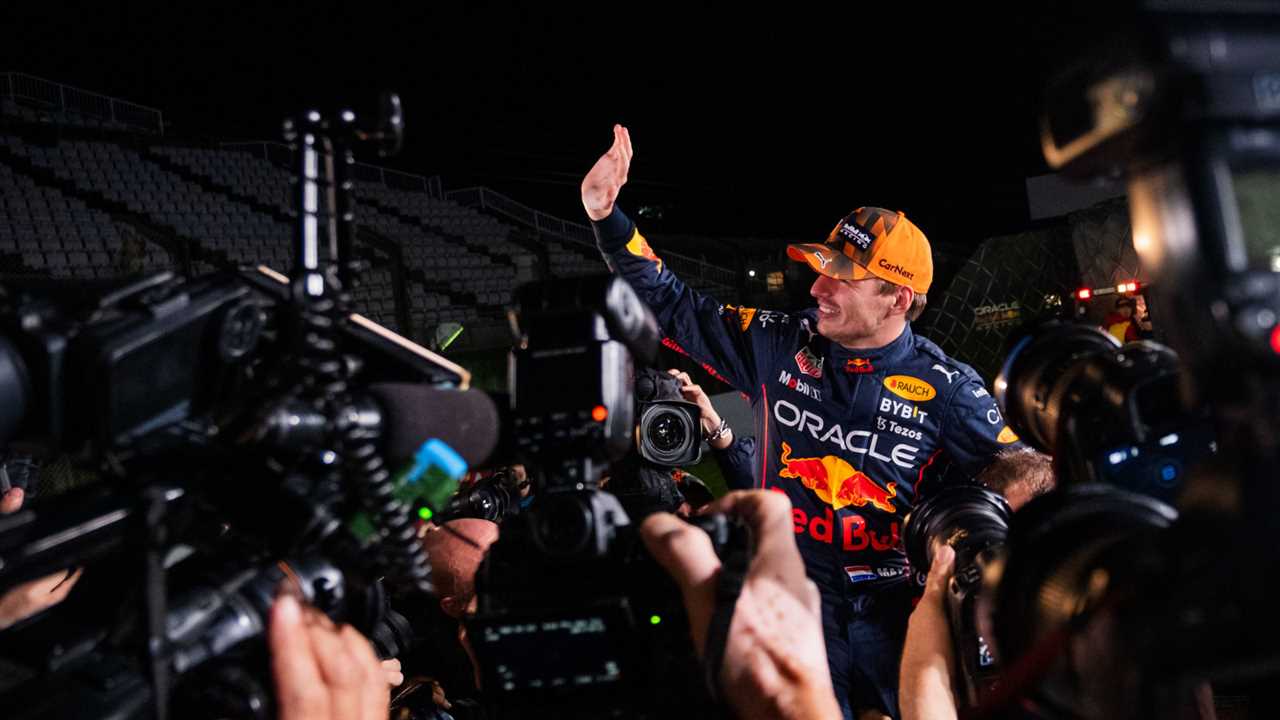 Despite recording a record-breaking season in 2022 as he cruised to a second world title, Red Bull's chief engineer Paul Monaghan believes Max Verstappen has yet to reach his peak performance.
In fact the Briton believes there are still areas where the driver can get a "little bit better".
Last season Verstappen romped to a second World title, a contrasting story to his previous year's championship title.
While in 2021 he raced for the victory all the way through to the final lap of the championship, trading blows with Lewis Hamilton, last season he hit the front in the championship at round six and never looked back.
The title race was all but over at the French Grand Prix when Verstappen clinched the victory after Charles Leclerc binned his Ferrari while he was leading the race.
That race win was the first in a five-race streak for Verstappen, running from France to Italy. He clinched the title two races later in Japan, wrapping it up with four races to spare.
It was a season in which Verstappen made very few errors, the only events of note a scruffy Sunday in Singapore while his only notable on-track clash was one with former nemesis Hamilton at the start of the Sao Paulo Grand Prix.
PlanetF1 recommends
Lewis Hamilton v Max Verstappen: Key stats compared after first eight seasons in F1
Five great F1 career moves: Hamilton to Mercedes, Schumacher to Ferrari and more
Top 10: The drivers with the highest win percentages in F1 history
That weekend was Red Bull's low point in the season as it also saw their team order row play out on the big stage.
Monaghan has warned rivals to expect an even better Verstappen this season as the 25-year-old still has some scope to up his game.
"Can he improve? Yes, of course he can," said the team's chief engineer.
"If you look at how he did for us last season, it's phenomenal. He wouldn't achieve all of this if he wasn't an exceptional driver.
"But can he still improve? Yes, of course he can.
"He might not thank me for saying that. But I think there are areas he can get a little bit better.
"He'll dig into himself and think what could he do better for a season. And it's up to us to give him a car to go and demonstrate those skills next year."
A third World title awaits Max Verstappen in 2023
Despite Red Bull's budget cap penalty and the lost wind tunnel time, one would be hard-pressed not to put Max Verstappen down as the favorite for this year's Drivers' Championship title.

Last season his RB18 was heads and shoulders above the unreliable Ferrari and the bouncing Mercedes. So much so that even if both rivals do a better job this season, they still have some catching up to do.

Ferrari have reportedly resolved their engine reliability issues and in doing so found an extra 30ph while Mercedes believe they've covered their hard lessons last season and understand the car.

But whether that will be enough to fight Verstappen in a 23-race is unlikely. The nearly flawless Dutchman is brimming with confidence, understands his car, has complete confidence in his strategists' decisions and knows that Red Bull are 100% behind his title challenge.

None of the Ferrari nor Mercedes drivers can say the same.


Did you miss our previous article...
https://formulaone.news/mercedes/tragedy-and-shame-as-legacy-in-germany-built-by-michael-schumacer-crumbles-says-exf1-boss-f1