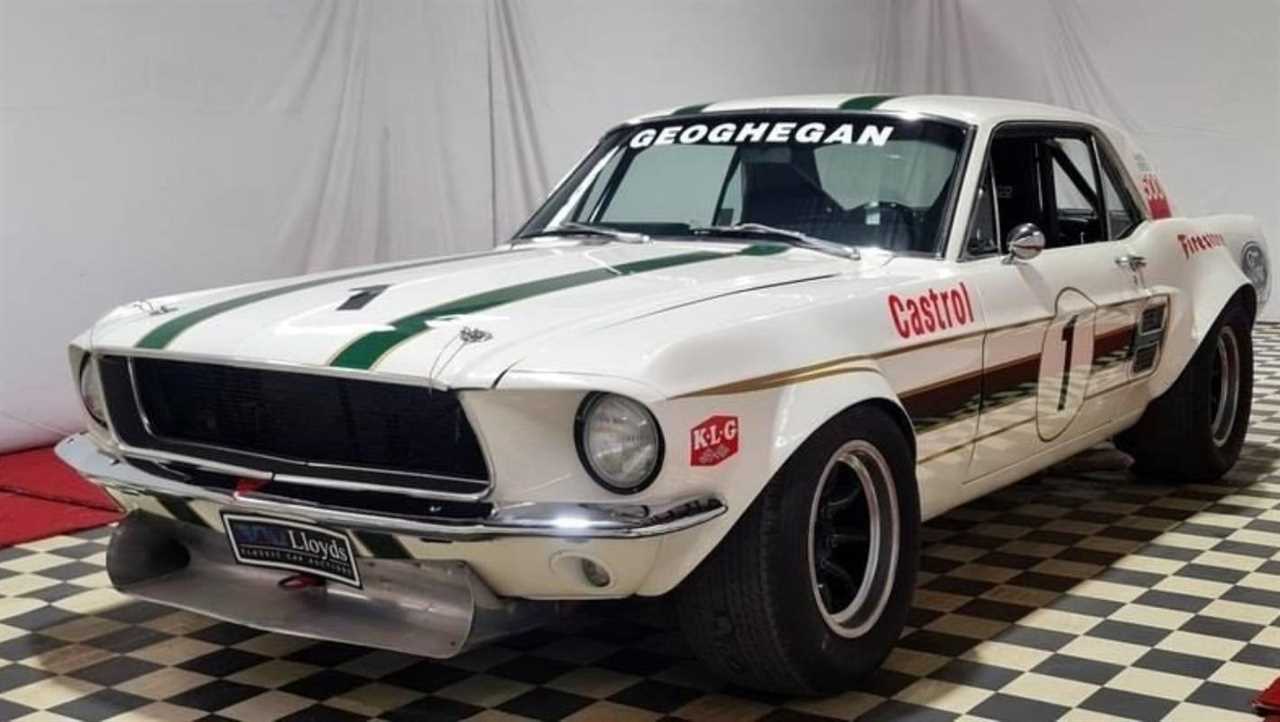 A colorful collection of four-wheeled Australian motorsport greats is set to go under the hammer later this week.
Hosted by Lloyds Auctions across the ditch, each car forms part of what the auction house is labeling the 'Unreil Collection' – a group of 55 cars inclusive of a Lamborghini Aventador SVJ Roadster, and a host of rare Holdens, Fords, Valiants, and even a Meyers Manx.
One of the most historically significant car up for grabs is the three-time Australian Touring Car Championship winning 1967 Ford Mustang GTA formerly driven by Ian 'Pete' Geoghegan.
supplies
'Pete' Geoghegan's Mustang was a cult hero in the late 1960s, facing off against Norm Beechey's Monaro and Bob Jane's Camaro.
In Geoghegan's hands, the Castrol Mustang won the ATCC crown in 1967, 1968, and 1969; beating fellow Mustang racer Bob Jane and the striking yellow Holden Monaro of Norm Beechey.
READ MORE:
* Richie Stanaway unites with van Gisbergen for Bathurst 1000
* Famous Ford Falcon could fetch almost a million dollars
* Ford Falcon XA GTHO Phase IV sets auction record
* Five great Holden racing cars

Another of Geoghegan's old race cars, his 1975 Holden Monaro GTS sports sedan decorated in familiar Craven Mild colours, is also for sale – as is another Monaro GTS formerly driven by Bob Jane and John Harvey.
supplies
Scott Pye's maiden race-winning triumph at Albert Park came in the week that McLaren F1 boss Zak Brown bought into the Walkinshaw Racing outfit.
At the opposite end of the spectrum is a Walkinshaw Andretti United 2018 Holden ZB Commodore Supercar formerly driven by Scott Pye.
The Conmodore has been restored back to its 2018 Boost Mobile livery, stickered up as it raced when Pye scored his dramatic maiden Supercars race win at Albert Park in treacherous wet conditions.
The Pye Holden is one of four Supercars up for sale. The other three are cars from the mid-1990s, all carrying a privateer lineage.
supplies
Ashley Stitchbury made one of his two Bathurst 1000 starts in this Ford Falcon.
Perhaps the most notable car out of the remaining trio is the Komatsu Playscape Ford Falcon formerly driven by Kevin Waldock. This car was once driven by a New Zealander; the late Ashley Stitchbury – a former NZV8 and Trans-Am champion.
Stitchbury raced this car at the 1998 FAI Bathurst 1000, acting as a super-sub after Waldock had to pull out due to health issues.
Arguably, the most exciting racers up for auction from the perspective of enthusiasts on either side of the ditch are the Group C monsters. Group C, sometimes referred to as 'the big bangers', were the last of the big home brew brutes that raced in the ATCC before the introduction of Group A in 1985.
supplies
The former Jim Richards Falcon is dressed in his 1978 Bathurst 1000 garb, as it raced in the hands of Warwick Brown and John French.
Three genuine Group C Ford Falcons are among the vehicles for sale, in the form of two XC coupes and one XD sedan.
The most recognizable Falcon of the trio is arguably the Bryan Byrt Ford 1976 Falcon formerly driven by a pair of Bathurst 1000-winning icons; Dick Johnson and Kiwi Jim Richards.
'Gentleman Jim' helped build this car for the 1976 Bathurst 1000, eventually loaning it out to Johnson who won a few races with it. Such was the lack of modification performed on these cars at the time that this Falcon was once registered as a road car.
supplies

This was Allan Moffat's last Ford Falcon, before he switched to a Mazda RX-7 and then a Ford Sierra.

The 1980 XD Falcon, meanwhile, also carries a famous name on its doors; Alan Moffat. The Canadian campaigned this car at the 1980 Bathurst 1000 in Federation colours, with Lloyds Auctions boasting that it was the last Falcon built and raced by Moffat.

The entire Unreil Collection was owned by a single person, which perhaps explains a few of its quirkier fixtures. These include a 1954 Ford Prefect – the seller's first car. Bidding on each of the listed vehicles has begun, with each auction coming to a close this Sunday, January 29.


Did you miss our previous article...
https://formulaone.news/mclaren/project-nsx-the-exterior-evolution