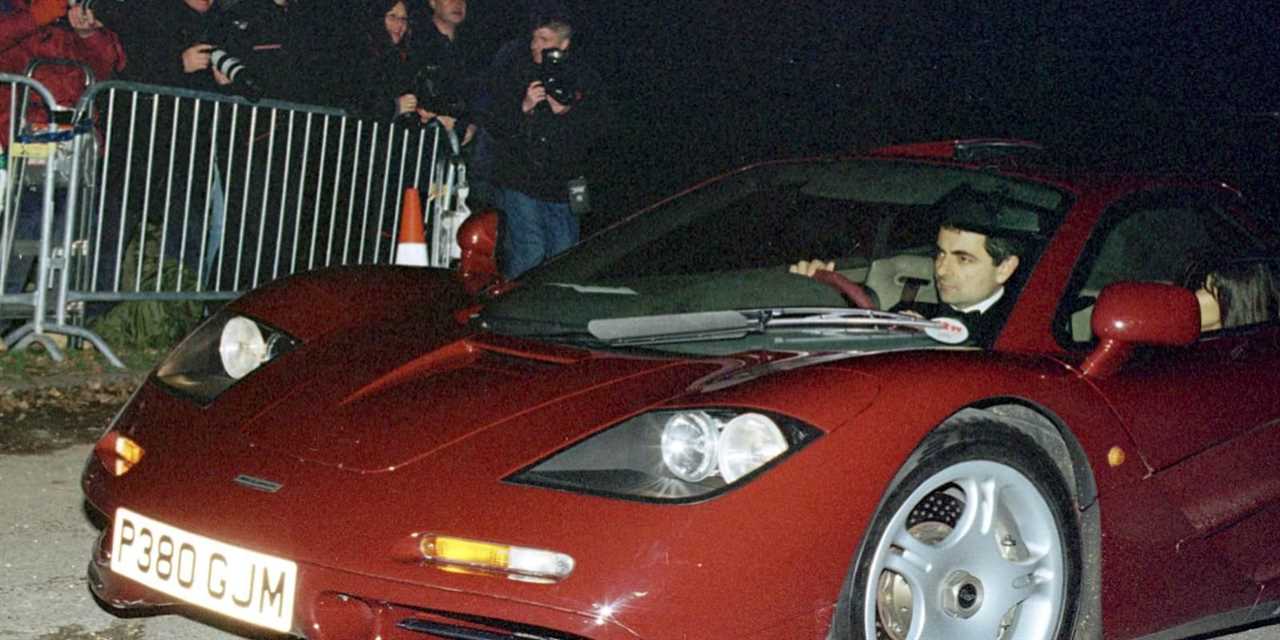 British icons Rowan Atkinson and Jeremy Clarkson may be best known for different talents, Rowan for his acting and Jeremy for his presenting; however, they both share a common interest. Cars are a real passion for both of these men, and given the fortunate position they are both in financially, they can afford to indulge this. Consequently, Rowan and Jeremy have curated seriously enviable collections, made up of some of the finest cars ever made.
There is no denying these gearheads have impeccable taste when it comes to cars, and both own an eclectic mix of vehicles from across the automotive world. Let's now have a look at just some of the vehicles owned and enjoyed by these men over the years, and see who has the coolest selection.
Related: Harry Styles' Car Collection Proves He Has Incredible Taste In Cars
10

Rowan Atkinson: Aston Martin V8 Vantage
Via: netcarshow
Considered by many as the UK's first supercar, the stunningly beautiful V8 Vantage entered production in 1977. It was the flagship model for the brand until 1989, and offered some serious performance credentials. 0-60 mph was achievable in just 5.2 seconds, and the car fired all the way up to 170 mph.
Via: netcarshow
Rowan owned a burgundy example, which he purchased back in 1984.
9

Jeremy Clarkson: Mercedes-Benz SL55 AMG
Via: netcarshow
As you will see, Clarkson is a clear fan of the work of Mercedes-Benz and AMG. The first example on our list is the rapid SL55 AMG, which has a claimed 0-60 mph time of just 4.5 seconds. Under its hood, a stonking 5.4 liter, 515 hp, supercharged V8 resides. The car is good for 186 mph, so performance is certainly adequate by any standards.
Via: netcarshow
Clarkson purchased his elegant example in 2002 and even reportedly referred to it as the "Swiss army knife of the car world".
8th

Rowan Atkinson: Mercedes-Benz SLS AMG
Via: netcarshow
The iconic and instantly identifiable SLS AMG was produced between 2010 and 2015. The car was most widely known for its special "gullwing" doors, which are a modern interpretation of the doors from its forefather, the Mercedes-Benz 300 SL Gullwing.
Via: netcarshow
The SLS was fitted with a seriously cool engine, a thunderous 6.2-liter 563-hp V8, which permitted a top speed of just under 200 mph. 0-60 mph took around 3.8 seconds and would have no doubt given Rowan a thrilling experience.
Related: Here's What's Special About The Mercedes-AMG SLS Black Series
7

Jeremy ClarksonFord GT
Via: netcarshow
The first-generation Ford GT was produced by Ford in the US between 2005 and 2006. The car was inspired by the GT40 from the 1960s, although the cars share little to nothing other than similar styling. Powering this legend was a supercharged 5.4 liter V8 cranking out 550 hp, and enabling the GT to blast up to a 205 mph top speed.
Via: netcarshow
Clarkson was the owner of a dark blue Ford GT, with white striping across the vehicle. The car was highly exclusive globally, with only around 4,000 first-generation cars built, the UK received a small share of these, so Clarkson was very lucky to grab one himself.
Related: Why We Can't Stop Obsessing Over The 2017 Ford GT Supercar
6

Rowan Atkinson: Land Rover Defender Heritage Edition
Via: Land Rover Media
Rowan was previously the owner of one of these seriously cool Land Rover Defender Heritage Editions. Just 400 examples of the car were produced, and they were commissioned to commemorate the Defender as production ended in 2016.
Via: Land Rover Media
The Heritage Edition came in a beautiful period green paint color named Grasmere, and there were a raft of throwback design features. From a retro grille to special decals and headlight guards, the car is instantly identifiable as something a bit different.
5

Jeremy Clarkson: Alfa Romeo GTV6
Via: netcarshow
During an episode of "The Grand Tour", Clarkson, Hammond, and May all picked up classic cars for a road trip around Scotland's North Coast 500. Clarkson opted for the beautiful Alfa Romeo GTV6 and liked the car so much he decided to take it home with him.
Via: netcarshow
The GTV6 was produced between 1980 and 1987 and emitted an acceptable exhaust sound. Under the car's hood was a 2.5 liter, V6 engine which put out 154 hp. While this doesn't sound like a lot by today's standards, the car could still go from 0-60 mph in just under 6.0 seconds.
4

Rowan Atkinson: McLaren F1
Via: netcarshow
Perhaps the car most commonly associated with Rowan is the legendary McLaren F1. Widely accepted as one of the greatest supercars ever built, it is of little surprise Rowan wanted to get in on the action. Just 106 examples were produced during the car's production run, which stretched from 1992 to 1998.
Via: netcarshow
Powering this brute thing was a 618-hp 6.1-liter V12 powerplant. Even to this day, the car is one of the fastest on the planet, with a massive 231 mph top speed. Rowan bagged a 1997 model, which he actually ended up crashing twice.
3

Jeremy Clarkson: BMW 3.0 liter CSL
Via: netcarshow
The BMW 3.0 liter CSL was sold in order to enable homologation into the European Touring Car Championship. "CSL" stood for Competition, Sport, Lightweight, and these principles helped ensure BMW produced successful racing cars. 1,265 examples were made, with around 500 sent to the UK.
Via: netcarshow
Clarkson sold the car at a rock bottom price, before values ​​climbed, and states in this DRIVETRIBE video it is the car he regrets selling the most.
2

Rowan Atkinson: Honda NSX
Via: netcarshow
Having been fine-tuned by none other than Formula One World Champion Ayrton Senna, it is of little surprise the NSX is a real driver-focused car. Under its hood was a 3.2 liter naturally aspirated V6, generating a decent 290 hp.
Via: netcarshow
The car could blast from 0-60 mph in around 4.7 seconds, and Rowan is said to have owned a 2002 example.
1

Jeremy Clarkson: Mercedes-Benz CLK Black Series
Via: netcarshow
Another Mercedes coupe in Clarkson's collection is the CLK Black Series. Produced between 2007 and 2009, the car was seriously powerful. Under the hood, a 6.2-liter AMG V8 could be found, capable of producing 514 hp. The 0-60 mph sprint could be completed in around 4.0 seconds, which at the time was supercar rivaling.
Via: netcarshow
Clarkson owned a 2008 model, which he announced on Twitter that he had sold back in 2015.