Seven years and 150 races in the making, Carlos Sainz has finally won his first Formula 1 race. The Spaniard broke his winless streak at the dramatic and eventful British Grand Prix. A host of people are celebrating Sainz's victory and sharing the joy of the race win. And the Ferrari camp is obviously the happiest after the Spaniard. However, after his first win, Sainz has gotten strict instructions from his boss Mattia Binotto.
ADVERTISEMENT
Article continues below this ad
Binotto has instructed Sainz to get another win before his 300th race. Now Ferrari has two race winners and they need the race-winning mentality to beat Red Bull in the championship that Ferrari was leading, but were overtaken by Red Bull because of multiple errors.
ADVERTISEMENT
Article continues below this ad
However, there is positivity in the Ferrari camp after Sainz's victory, and that is exactly what Binotto expressed. "Very happy, very pleased! 150 Grand Prix to wait for it. Now I said you shouldn't wait for another 150 for the next pole and the next win," joked Binotto.
He added, "I think he's a fantastic driver, he's strong, certainly will give him further more confidence and now we have two drivers who can win, it's the best we can have."
DIVE DEEPER
Ferrari now has a new race winner in their camp and they need to use Sainz's confidence to take the fight to Red Bull.
But it was a race of mixed emotions for the Scuderia, as the race strategy for Leclerc put him at a disadvantage, again. Leclerc's been aching close to multiple race wins but has been let down by either an unreliable car or a poor strategy.
Victory for Carlos Sainz but another frustrating weekend for Charles Leclerc
ADVERTISEMENT
Article continues below this ad
Binotto expressed the disappointment the entire team felt when Leclerc lost his lead after the safety car. This has become a trend in the last few race weekends for Leclerc.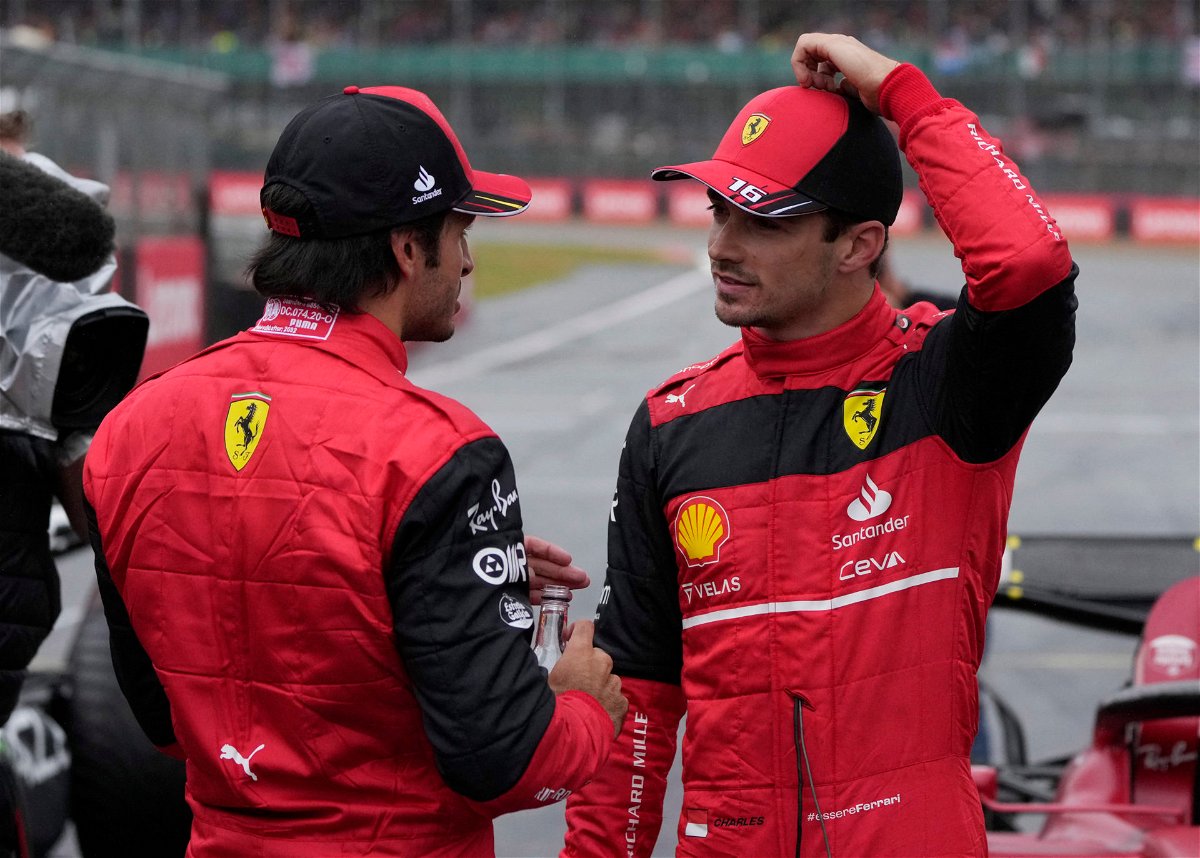 Formula One F1 – British Grand Prix – Silverstone Circuit, Silverstone, Britain – July 2, 2022 Ferrari's Carlos Sainz Jr celebrates after qualifying in pole position with Ferrari's Charles Leclerc who finished third REUTERS/Matt Dunham
"He certainly is as disappointed as we are because he was comfortably leading the race. Without the safety car, he would've certainly won and it would've been important for him knowing Max got problems today. So it's frustrating, but it's the way it is," said Binotto.
ADVERTISEMENT
Article continues below this ad
Watch this story: Max Verstappen Maintains Insane 03s Gap With 360 Power Move At British GP
The Ferrari boss is focusing on the positives as the strategy for one driver worked and not for the other. However, the team needs to gather maximum points in every race to close the gap to title rivals at Red Bull.