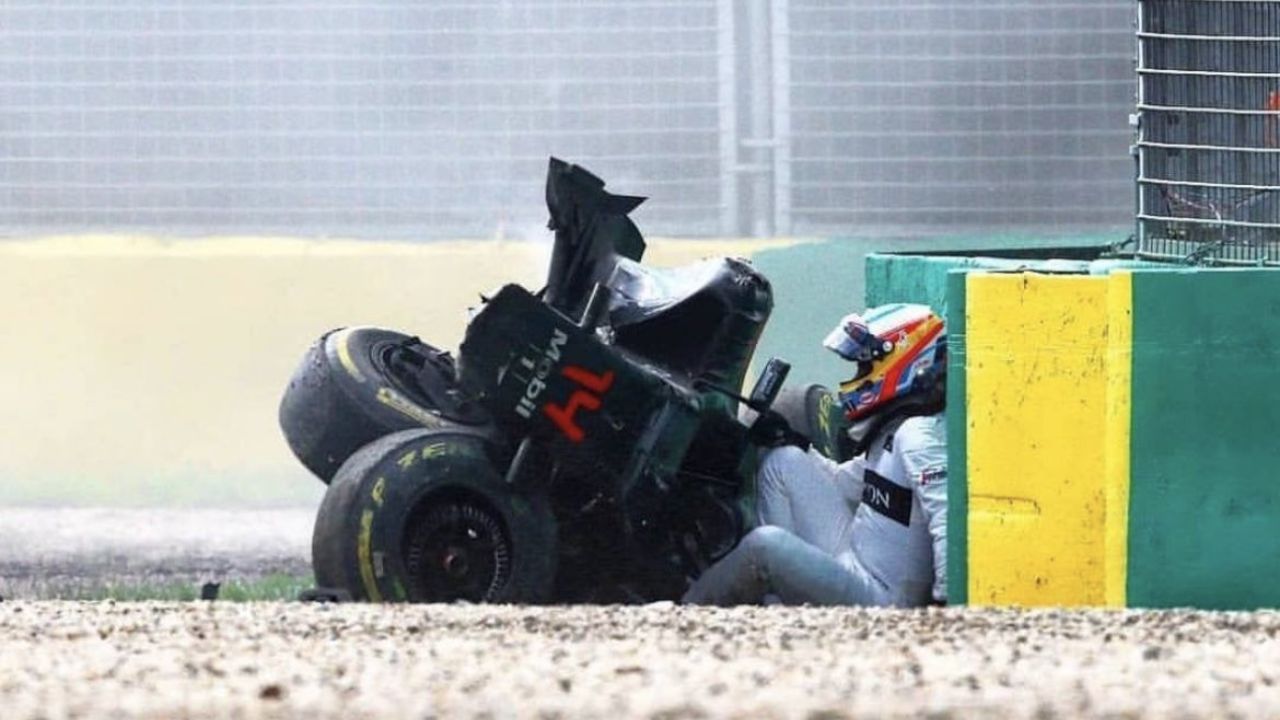 The 2016 Formula 1 season kicked off with the Australian Grand Prix on the 20th of March. Fernando Alonso returned back to McLaren after a frustrating 2015 season where the Spaniard finished 17th in the Drivers' standings with just 11 points
Starting an F1 season with 0 points is still better than retiring or crashing on the opening race weekend. But Alonso wrecked his in a frightening crash that registered 46 Gs of force.
The incident happened on lap 18 of the race. Alonso crashed into the back of Esteban Guttierez's Haas, sending the Spaniard's car flying. He made a heavy impact with the concrete barrier.
#OnThisDay in 2016 Fernando Alonso hit the walls in Melbourne at 305km/h and walked away from it.
Wished #DTS3 were able to have episode on this as well



#FA14 #FernandoAlonso #AustralianGP pic.twitter.com/xA3iTXAio7
— Aston Martin F1 updates (@startonpole) March 20, 2021
Luckily the former World Champion escaped with just minor injuries. But the weekend could have gone extremely wrong for both McLaren and Alonso
So read: Max Verstappen Reveals Fernando Alonso Was Never Even Considered For Red Bull Seat
Fernando Alonso was sent flying at 275 km/h collision
Fernando Alonso was chasing down the Haas of Esteban Guttierez. The Spaniard was tailing the Mexican's car, using the slipstream to make a maneuver on the outside of Turn 3.
Guttierez however lifted off his foot from the throttle, breaking early. And unable to correct his path, Alonso went head-on crashing into the back of the Haas.
Alonso's McLaren hit the concrete barricade at a speed of 275 Km/H with a force of 46 Gs. Mind you, even a force of 6 Gs is enough to kill an adult human being.
F1 Alonso & Gutierrez crash at Melbourne GP 2016 pic.twitter.com/MZ0jtryTRW
— Kev South (@kev_south) March 20, 2016
Fernando's car went sliding further into the grass, which caused the car to lift up. The car was sent flying into the barrier, flipping over.
Soon, cameras spotted Alonso wiggling out of his wreckage. Looking at his McLaren MP4-31 piled up against the barrier, it was a relief that he made it out alive.
So read: "It Was Quite Difficult To Work Together": Felipe Massa Accuses Fernando Alonso for Splitting Ferrari When They Were Together
Alonso was lucky to be alive
Fernando Alonso suffered minor injuries to his back and ribs. His disfigured McLaren has airlifted race was subsequently red-flagged to clear the debris spewed on the circuit.
After the car hit the barrier, it finally stopped. Alonso managed to find space and crawled out of his car. A concerned Esteban Guttierez walked in to check on the Spaniard who was still in a state of shock.
Alonso described the moment he was sent flying saying, "You are not exactly aware of where you are. You are bouncing and then you see the sky, you see the ground, then the sky, and you don't know where you are going."
Our image of the day comes from the 2016 Bahrain Grand Prix and features Birthday boy @svandoorne. Vandoorne drove the McLaren in place of an injured Fernando Alonso, and was even able to score McLaren's first point of the season. We hope you have a great Birthday Stoffel!





pic.twitter.com/KZDSmIgfA2
— Motorsport Images (@MSI_Images) March 26, 2019
Alonso claims he could not speak for some time following the crash as he was still in a state of shock. He was forced to miss the following race weekend in Bahrain following medical advice from his Doctors.
It was Mercedes driver Nico Rosberg who won the race. But the real winner was Fernando Alonso, the luckiest man that evening!
So read: "I Won't Continue if We Don't Have a Chance" – Fernando Alonso Threatens to Walk Away From $20 Million a Year Job if His Demands Aren't Met