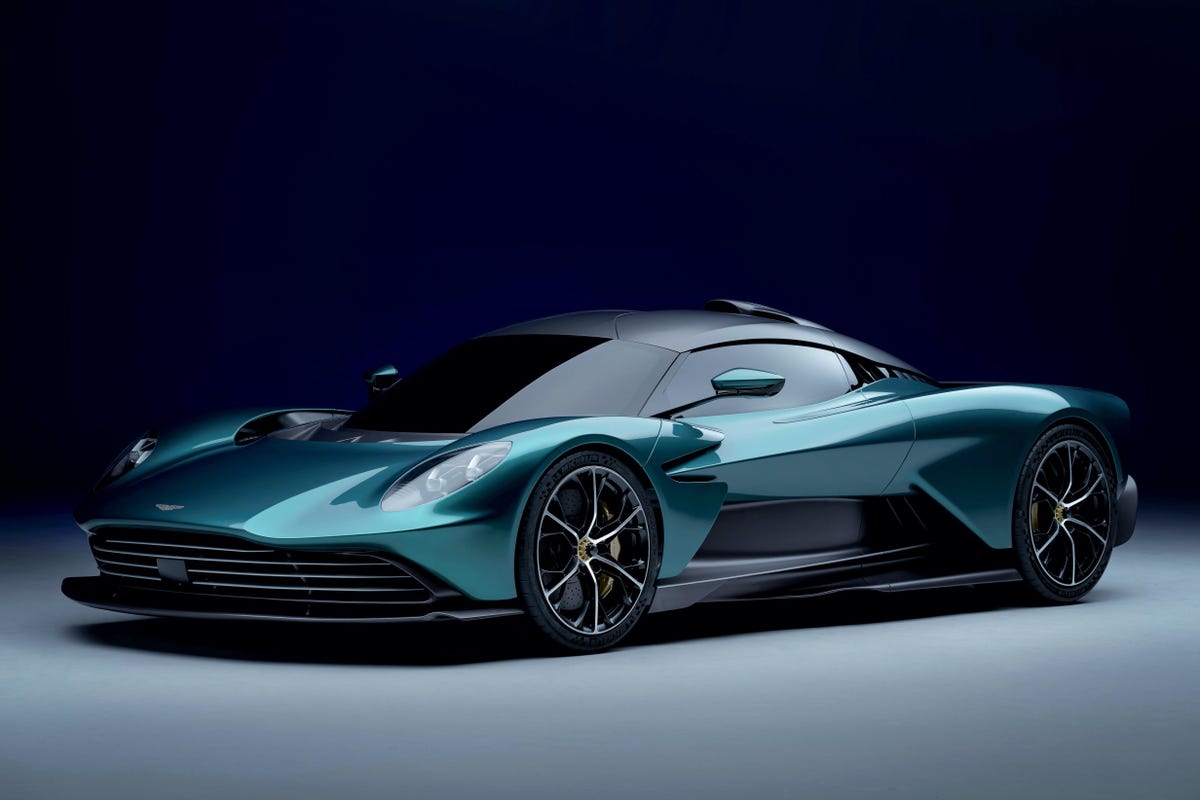 The Aston Martin Valhalla is a hybrid supercar with a biturbo V8 engine and two electric motors

Aston Martin Lagonda

Aston Martin has unveiled the production-ready version of the Valhalla supercar, complete with a 937 hp hybrid drive consisting of a 4.0-liter twin-turbo V8 engine and two electric motors.

This is the production version of the Valhalla concept car featured in the upcoming James Bond film No Time To Die and is being developed with the help of Aston Martin F1 drivers Sebastian Vettel, Lance Stroll and Nico Hulkenburg.

The Valhalla is Aston Martin's first mid-engine production vehicle and will push the British sports car brand to take on Ferrari and Lamborghini in a market where it has never been competitive.

After the tire tracks of the Valkyrie, a limited-edition hypercar, the mid-engine Valhalla is set to become a more affordable, non-limited supercar. At a speed of 7200 rpm, the motor alone sends 740 hp to the rear axle, while two electric motors distribute a further 200 hp to both axles, depending on where they are most needed.

The Valhalla is Aston Martin's first mass-produced mid-engined supercar

Aston Martin Lagonda

The motors are fed by a 150 kW / 400 V on-board network and when the Valhalla is driven in pure EV mode, it sends electrical energy to its front axle, can travel up to 130 km / h and has a range of up to 10.5 miles.

When turned to 11 and using the engine and motors together, the plug-in Walhalla can sprint to 100 km / h in 2.5 seconds and reach a top speed of 217 mph.Aston Martin is aiming for a lap time on the Nürburgring- Nordschleife from 6:30 a.m. Despite the electrical system, Aston Martin is aiming for a dry weight of less than 1,550 kg, which results in an "unrivaled power-to-weight ratio compared to its class rivals".

There's no official word on who these rivals are, but seeing the Valhalla in a double test with the Ferrari SF90 Stradale, another thousand-horsepower hybrid supercar, isn't a fantasy.

Tobias Moers, Aston Martin CEO, said, "Retaining the essence of an exceptional concept car is critical when it comes to getting it into production. With Valhalla, not only have we remained true to our commitment to build a world-leading supercar, we have exceeded our original goals. The result is a pure driving machine. "

The car develops 937 hp and has a time from 0 to 100 km / h of 2.5 seconds

Aston Martin Lagaonda

With its lightweight exhaust system with active flaps and tailpipes, the car should create an "adjustable and authentic Aston Martin sound character".

Power is transmitted through a brand new eight-speed DCT transmission that was designed and built exclusively for Aston Martin and allegedly "specially designed for the hybrid era".

The transmission uses the electric motors for a fully electric reverse gear, saves weight by eliminating the reverse gear and has an electronic limited-slip differential on the rear axle. The electric motors are not only used for reverse gear, but complement the V8 to get the Valhalla off the assembly line and improve responsiveness when engaging. A nice trick of the electric propulsion system is that the engines and the V8 can run different gears of the DCT box at the same time, allowing for a maximum torque output of 1000 Nm (737 ft-lb).

Ralph Illenberger, Head of Powertrain Engineering, said: "Valhalla is our first opportunity to really show what we can do in a real production sense. We developed our own bespoke air-cooled V8 engine with flat crankshaft and combined it with a powerful hybrid system.

The rear has a top exit exhaust system and active aero

Aston Martin Lagonda

The Valhalla is based on a new carbon fiber tub for maximum stiffness and low weight and features a Formula 1 style bumper front suspension with internal springs and dampers to reduce unsprung masses.

In track mode, the vehicle's ride height drops significantly to maximize downforce. Braking is done by carbon discs powered by brake-by-wire technology, and they sit behind wheels with bespoke Michelin tires developed for the Valhalla. Active aerodynamics front and rear and venturi tunnels underneath help generate 600 kg of downforce at 250 mph.

Open the vertical V-doors and the interior, yet to be shown to the public, features a sleek, F1-style cockpit that Aston says is "shamelessly focused on the driver." A new infotainment system has a central touchscreen that offers both Apple CarPlay and Android Auto. The Valhalla is offered in both left and right hand drive versions with adjustable pedals and steering column while the seat base is attached to the chassis.

The increased footwell gives the Valhalla a seating position similar to that of a Formula 1 car (and the even more extreme Valkyrie). Despite the reduced racing car feeling, the cabin benefits from a two-zone air conditioning system, while the safety functions include automatic emergency braking, front collision warning, active cruise control, monitoring of the blind spot and a reversing camera.

Aston Martin has yet to say how much the Valhalla will cost or when it will go on sale.

The post Aston Martin unveils 937 hp Valhalla hybrid supercar first appeared on monter-une-startup.