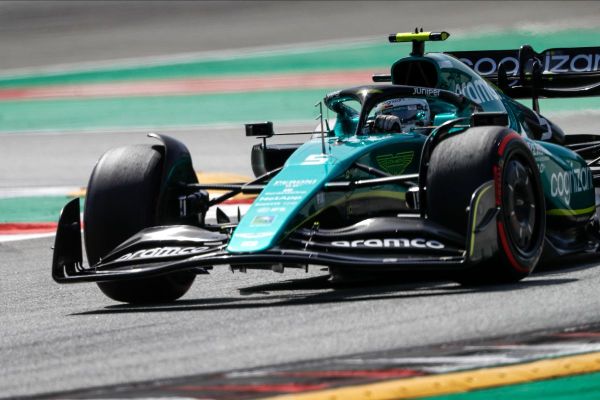 22.05.2022: Pirelli Spanish Grand-Prix
Circuit Barcelona Catalunya
May 20-22th, 2022
Saturday, May 21st 2022

Lance: We need to see how we can improve set-up moving forward

In Numbers

Sebastian Vettel
FP3 P12 1.20.944 24 Laps
Q1 P16

Pirelli Spanish Grand-Prix
Circuit Barcelona Catalunya
May 20-22th, 2022
Saturday, May 21st 2022
Lance: We need to see how we can improve set-up moving forward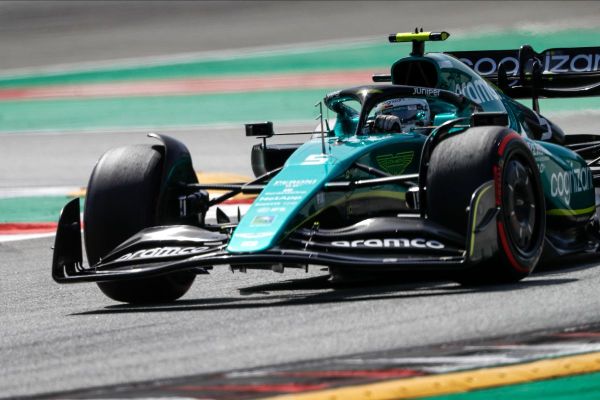 In Numbers
Sebastian Vettel
FP3    P12    1.20.944    24 Laps
Q1    P16    1.20.954    06 Laps

Lance Stroll
FP3    P16    1.21.520    23 Laps
Q1    P18    1.21.418    06 Laps

Soundbites
Sebastian Vettel
"We were looking stronger in free practice and I honestly thought we would do better in qualifying. This afternoon, however, I struggled with the balance: I had a lot more oversteer and could not really carry speed into the corners without losing the rear.
Still, the team has done an incredible job to bring two all-new cars to this race – that was a huge effort. The reward of all that effort is not showing quite yet, but I am sure it will come. Tomorrow is a new day and we will be pushing hard. It does not help when you start farther back, but I think we should be able to make up some ground in the race."
Lance Stroll
"It is a disappointing result today. I have struggled with the balance of the car all weekend and, when you do not feel comfortable, you cannot set fast laps. We know it is early days with this package, though, so we need to make sure that we understand the reasons for today and see how we can improve the set-up moving forward.
Now, it is about focusing on tomorrow. The conditions are likely to be very hot and the tyres need to be managed, so maybe we can make up ground with a good strategy. We will see."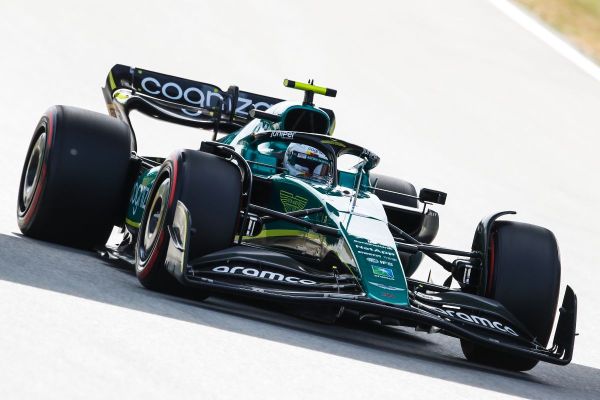 Mike Krack, Team Principal

"Clearly, we are disappointed with today's qualifying performance, having successfully got one of our cars through to Q3 in both of the last two Grands Prix – but, with today's high temperatures, we had oversteer and traction issues. We will now work hard over the next few hours to give ourselves the best possible chance to score points in tomorrow's race."

– Matt Bishop, photos Aston Martin

Scuderia AlphaTauri F1 Spanish GP qualifying – get the most from the car

21.05.2022  Pirelli Spanish Grand-PrixCircuit Barcelona CatalunyaMay 20-22th, 2022Saturday, May 21st 2022  Yuki Tsunoda (AT03-02, Car 22)Third Practice Session – Best lap: 1:21.449, pos. 15th, 22 lapsQualifyi more >> Williams Racing F1 Spanish GP qualifying – Impoved balance for both drivers

21.05.2022 Pirelli Spanish Grand-PrixCircuit Barcelona CatalunyaMay 20-22th, 2022Saturday, May 21st 2022 •    Alex Albon qualified 19th and Nicholas Latifi 20th for the Spanish Grand Prix•&nb more >> McLaren Racing F1 Spanish GP qualifying – little work to do

21.05.2022 Pirelli Spanish Grand-PrixCircuit Barcelona CatalunyaMay 20-22th, 2022Saturday, May 21st 2022 "There is still a little work to do to get the most from our new parts"DANIEL RICCIARDOFP3      1m20 more >> Scuderia Ferrari F1 Spanish GP qualifying – Number 13 for Leclerc in Barcelona

21.05.2022 Pirelli Spanish Grand-PrixCircuit Barcelona CatalunyaMay 20-22th, 2022Saturday, May 21st 2022Charles Leclerc strikes again! In very hot conditions and in another closely contested session, the Monegasque more >> Spanish Grand Prix Qualifying result – Leclerc takes pole from Verstappen and Sainz

21.05.2022 FIA FORMULA 1 ChampionshipCircuit Barcelona CatalunyaMay 20-22th, 2022Saturday, May 21st 2022LIVE here1  &n more >> Spanish Grand Prix Free Practice 3 result -Leclerc leads Verstappen and Russell

21.05.2022 FIA FORMULA 1 ChampionshipCircuit Barcelona CatalunyaMay 20-22th, 2022Saturday, May 21st 2022LIVE here

& more >> Alfa Romeo F1 Team ORLEN Spanish GP practices – productive day

20.05.2022 Pirelli Spanish Grand-PrixCircuit Barcelona CatalunyaMay 20-22th, 2022Friday, May 20th, 2022     Alfa Romeo F1 Team ORLEN returned to action on practice day for the Spanish Grand Prix, the sixth round of th more >> Pirelli F1 Spanish GP practices – what we learned today

20.05.2022 Pirelli Spanish Grand-PrixCircuit Barcelona CatalunyaMay 20-22th, 2022Friday, May 20th, 2022•    Ferrari driver and championship leader Charles Leclerc set the fastest time of the day in FP2 (1m19.670s) ahead of more >> Williams Racing F1 Spanish GP practices – not we'd like to be

20.05.2022 Pirelli Spanish Grand-PrixCircuit Barcelona CatalunyaMay 20-22th, 2022Friday, May 20th, 2022 Dave Robson, Head of Vehicle Performance: We tried some new components on the car today and collected some useful more >> McLaren Racing F1 Spanish GP practices – hoping for better day tomorrow

20.05.2022 Pirelli Spanish Grand-PrixCircuit Barcelona CatalunyaMay 20-22th, 2022Friday, May 20th, 2022 "There's a lot of analysis to do this evening – but hopefully we're in good shape for qualifying" more >> Scuderia Ferrari F1 Spanish GP practices – a study day in Barcelona

20.05.2022 Pirelli Spanish Grand-PrixCircuit Barcelona CatalunyaMay 20-22th, 2022Friday, May 20th, 2022  By the end of Friday practice for the Spanish Grand Prix, Scuderia Ferrari has accumulated plen more >> Oracle Red Bull Racing Spanish GP practices – Pushing hard

20.05.2022 Pirelli Spanish Grand-PrixCircuit Barcelona CatalunyaMay 20-22th, 2022Friday, May 20th, 2022      MAX VERSTAPPENFirst Practice Session: 1:20.164, Position: 3, Laps: 28Second Practice S more >> Haas F1 Spanish GP practices – another small step tomorrow

20.05.2022 Pirelli Spanish Grand-PrixCircuit Barcelona CatalunyaMay 20-22th, 2022Friday, May 20th, 2022     Event: Free Practice 1 & 2 for the Spanish Grand Prix – Friday May 20Location: Circuit de Barcelona – Catalunya, more >> Aston Martin Aramco Cognizant F1 Spanish GP practices – moving in the right direction

20.05.2022 Pirelli Spanish Grand-PrixCircuit Barcelona CatalunyaMay 20-22th, 2022Friday, May 20th, 2022In NumbersSebastian VettelFP1    P16    1.22.164& more >> Mercedes AMG Petronas F1 Spanish GP practices – Positive signs

20.05.2022 Pirelli Spanish Grand-PrixCircuit Barcelona CatalunyaMay 20-22th, 2022Friday, May 20th, 2022   Positive signs on practice day in Barcelona for the Mercedes-AMG Petronas F1 Te more >> BWT Alpine Racing F1 Spanish GP -productive practices

20.05.2022 Pirelli Spanish Grand-PrixCircuit Barcelona CatalunyaMay 20-22th, 2022Friday, May 20th, 2022 BWT Alpine F1 Team began its preparations for this weekend's Spanish Grand Prix with a smooth Friday Practice at the Circuit de Barce more >> Scuderia AlphaTauri F1 Spanish GP practices – smoothly under Spanish sun

20.05.2022 Pirelli Spanish Grand-PrixCircuit Barcelona CatalunyaMay 20-22th, 2022Friday, May 20th, 2022Pierre Gasly (AT03-04, Car 10)First Practice Session – Best lap: 1:21.422, pos. 8th, 23 lapsSecond Practice Session – Best lap: 1:20.917, pos. 11th, 2 more >> Spanish Grand Prix Free Practice 2 result – Leclerc leads Russell and Hamilton

20.05.2022 FIA FORMULA 1 ChampionshipCircuit Barcelona CatalunyaMay 20-22th, 2022Friday, May 20th, 2022LIVE here     &nb more >> Spanish Grand Prix Free Practice 1 result – Leclerc leads Sainz and Verstappen

20.05.2022 FIA FORMULA 1 ChampionshipCircuit Barcelona CatalunyaMay 20-22th, 2022Friday, May 20th, 2022LIVE here        Round 6 o more >> Robert Kubica to take part in Barcelona practice

19.05.2022     Alfa Romeo F1 Team ORLEN reserve driver, Robert Kubica, will step into the cockpit of the team's C42 for the first practice session of this weekend's Spanish Grand Prix in Barcelona.Robert, who was the first to take more >> Fernando Alonso hopes for trouble-free home race

18.05.2022 PIRELLI GRAN PREMIO DE ESPANACircuit Barcelona Catalunya20-22 May 2022

 
 
Fernando Alonso: "I have raced many years in Barcelona, so I know the track and place well. It's a track that more >> Esteban Ocon toughts ahead Spanish GP – We can be competitive

18.05.2022 PIRELLI GRAN PREMIO DE ESPANACircuit Barcelona Catalunya20-22 May 2022Esteban Ocon: "Barcelona is one of those circuits all teams, and all drivers, know very well. We have raced and tested there for a while now, but of course it does more >> BWT Alpine F1 Team previews the 2022 Formula 1 Spanish Grand Prix

18.05.2022 PIRELLI GRAN PREMIO DE ESPANACircuit Barcelona Catalunya20-22 May 2022BWT Alpine F1 Team previews the sixth race weekend of the 2022 FIA Formula 1 World Championship, the Spanish Grand Prix.Otmar Szafnauer: "Firstly, the more >> HomeTown Glory: Alpine becomes partner of French Grand Prix

18.05.2022 •    Alpine teams up with French Grand Prix to create the Esteban Ocon Grandstand and Alpine Grandstand•    The grandstands will be excellent viewing opportunities for fans to view the action at the superb Le Castelle more >> Three questions to Carlos Sainz

18.05.2022 PIRELLI GRAN PREMIO DE ESPANACircuit Barcelona Catalunya20-22 May 2022CARLOS SAINZ, #55 SCUDERIA FERRARI DRIVERThe track for your home race is very well known to all the drivers, given more >> Scuderia Ferrari pre Spanish Grand Prix – The start of the European season

18.05.2022 PIRELLI GRAN PREMIO DE ESPANACircuit Barcelona Catalunya20-22 May 2022The Formula 1 World Championship is back in Europe and the Spanish Grand Prix marks the start of a return to more classic circuits. From now until the Italian Gran more >> Daniel Ricciardo ahead the Spanish GP -Keep pushing

18.05.2022 PIRELLI GRAN PREMIO DE ESPANACircuit Barcelona Catalunya20-22 May 2022″I'm looking forward to going to Spain! There were some good battles in Miami with great support as always from the fans, but it proved to be a tou more >> Lando Norris quotes on Spanish GP: Mixture challenges and speeds

18.05.2022 PIRELLI GRAN PREMIO DE ESPANACircuit Barcelona Catalunya20-22 May 2022″I'm excited to be heading back to Europe and racing in Barcelona this weekend. I like the circuit in Spain as it has some nice features, a mixt more >> McLaren F1 – Everything you need to know for the Spanish Grand Prix

18.05.2022 PIRELLI GRAN PREMIO DE ESPANACircuit Barcelona Catalunya20-22 May 2022″It will be interesting to see how our car will perform with the upgrades we've made"After the madness of Miami, w more >> Max Verstappen ahead of Spanish GP -Clean start on Friday

18.05.2022 PIRELLI GRAN PREMIO DE ESPANACircuit Barcelona Catalunya20-22 May 2022″We had an incredible week in Miami, I've had some time to rest with my family since and now I'm looking forward to driving in Barcelona again. more >> Sergio Perez ahead of Spanish GP -welcome to Emilio with great result

18.05.2022 PIRELLI GRAN PREMIO DE ESPANACircuit Barcelona Catalunya20-22 May 2022CHECO"Miami was a crazy week for us all and, while Max got the win and I collected important points, I didn't leave satisfied. I always want to b more >> Oracle Red Bull Racing Spanish Grand Prix preview

18.05.2022 •    Max's win at the 2016 Spanish GP is famous as the Dutchman became the youngest driver ever to win a Grand Prix, but at the time he was also the tenth different winner in a run of ten consecutive Spanish Grands Prix.  Three of those winners were Red Bull Racing drivers', Mark Webber in 2010 and Sebastian Vettel in 2011. more >> Valtteri Bottas on Spanish GP – Doing our homework

18.05.2022 PIRELLI GRAN PREMIO DE ESPANACircuit Barcelona Catalunya20-22 May 2022Valtteri Bottas (Car 77)"We had a really strong showing in Miami and, with every good result, comes the confidence to push for more. We hea more >> Zhou Guanyu thoughts ahead Spanish Grand Prix – Confidence grows with every race

18.05.2022 PIRELLI GRAN PREMIO DE ESPANACircuit Barcelona Catalunya20-22 May 2022Zhou Guanyu (Car 24)

 
"Barcelona is another important stage in this season: it's a track the team knows well and I want to make the most of it to more >> Frederic Vasseur ahead of Spanish GP – Curious about updates

18.05.2022 PIRELLI GRAN PREMIO DE ESPANACircuit Barcelona Catalunya20-22 May 2022Frédéric Vasseur, Team Principal"We head to Barcelona with the aim of extending our positive streak at the start of the season: I feel we more >> Alfa Romeo F1 Team ORLEN – Barcelona, revisited

18.05.2022 PIRELLI GRAN PREMIO DE ESPANACircuit Barcelona Catalunya20-22 May 2022 Alfa Romeo F1 Team ORLEN is heading to familiar ground for the sixth round of the 2022 Formula One World Championship, the Spanish Grand Prix in Barcelona. more >> Aston Martin Aramco Cognizant Formula1 Team Spanish Grand Prix preview, notes and quotes

18.05.2022  
PIRELLI GRAN PREMIO DE ESPANACircuit Barcelona Catalunya20-22 May 2022Talking PointsLance Stroll& more >> Yuki Tsunoda ahead of Spanish GP – will not be easy

17.05.2022 PIRELLI SPANISH GRAND GRIXFormula1 round 6Circuit de Barcelona-Catalunya, Spain20-22 May 2022"Miami was a mixed weekend. At first there was a big gap to my team-mate in free practice, but I managed to progress an more >> Pierre Gasly ahead of Spanish GP – Always important race for us

17.05.2022 PIRELLI SPANISH GRAND GRIXFormula1 round 6Circuit de Barcelona-Catalunya, Spain20-22 May 2022"I am looking forward to starting the European part of the season and even if the result in Miami was not what we were looking more >>