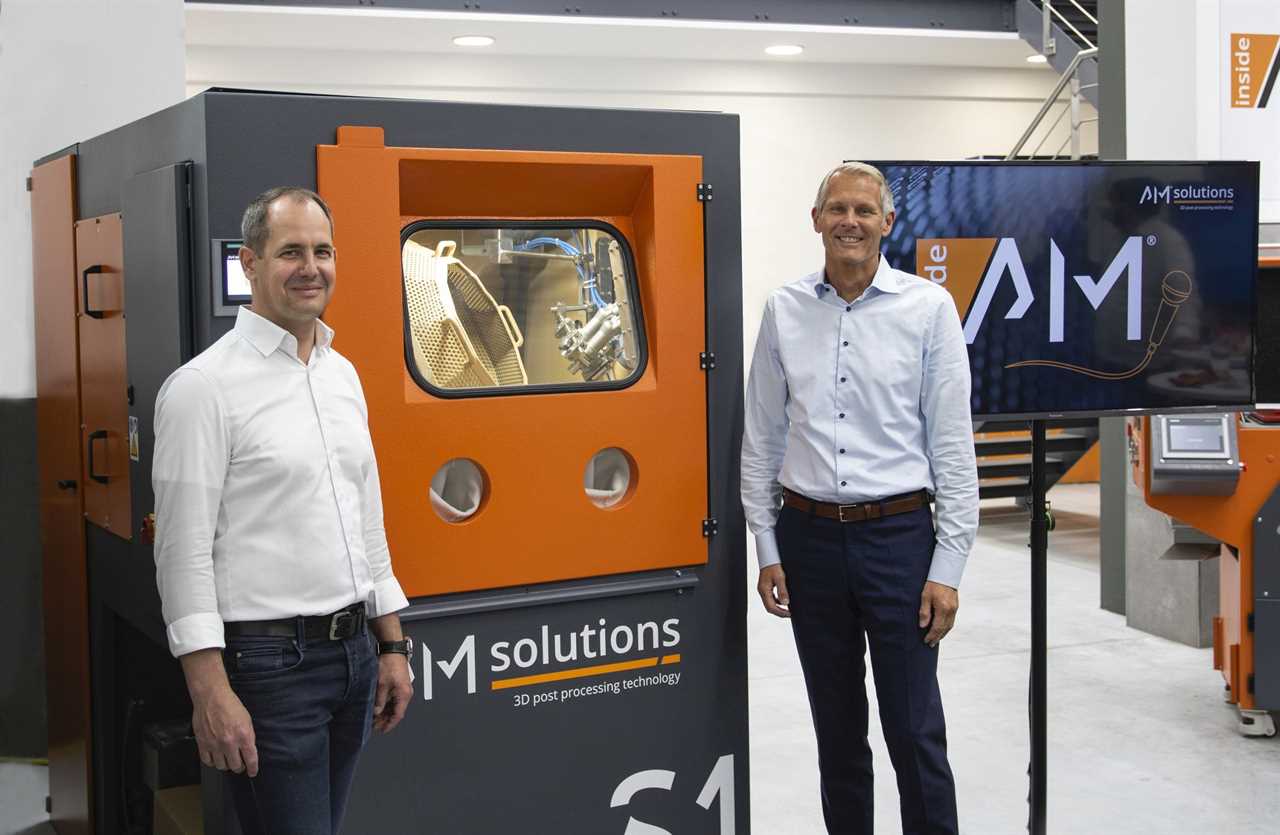 The Alfa Romeo Racing ORLEN Formula 1 team has teamed up with AM Solutions, the Rösler Group's Italian 3D printing subsidiary, to support the post-processing of its 3D-printed racing car components.
The racing team will acquire three S1 systems from AM Solutions to bring their post-processing capabilities to greater automation, economy and repeatability. This will enable Alfa Romeo to use the partially and fully automated post-processing of 3D printed polymer and metal parts for "all 3D printing technologies".
"Additive manufacturing is playing an increasingly important role in Formula 1 and each new iteration of our racing cars includes more 3D-printed parts – in addition to those used in other business areas of the company, from wind tunnel models to experimental parts," said Frédéric Vasseur , Team Principal at Alfa Romeo Racing ORLEN and CEO of Sauber Motorsport.
Christoph Hansen, Director of Technology & Innovation of Sauber Engineering, with Stephan Rösler, President & CEO of the Rösler Oberflächentechnik GmbH. Photo via Rösler Group.
The 3D printing data of Alfa Romeo F1
For both its road and racing vehicles, Alfa Romeo has been integrating 3D printed parts into its production process for some time. In terms of road vehicles, Alfa Romeo's parent company Fiat Chrysler Automobiles has introduced additive manufacturing for various projects over the past six years, most recently in collaboration with Fraunhofer IAPT to produce a 3D printed suspension part for one of its sports cars.
In terms of Formula 1, Alfa Romeo is part of the Sauber group, an established racing team that has been at the start since 1993. Sauber has been working with Alfa Romeo since 2019 to build his fortune and move up in the sports championship.
Last season's car, the C39, featured a total of 143 3D-printed parts, and for this year's C41 the team more than doubled that number to 304. In order to produce the lightweight components quickly, the team used the MetalFAB1 3D printer from Additive Industriess, with the parts supposedly costing around 90 percent less than those produced in conventional production.
By working with AM Solutions, Alfa Romeo will try to achieve further efficiency and cost advantages with its post-processing functions.
"AM Solutions' innovations help us make parts faster, more efficiently and with less scrap, which means we save time and money, two resources that are very limited in our sport, while also improving the sustainability of our operations . "Continued Vasseur. "It's all part of the marginal profits we get in every aspect of our business as we move to the top of the grid."
Alfa Romeo's 2021 F1 car during pre-season testing. Photo via Alfa Romeo F1.
The post-processing technology from AM Solutions
The Rösler Group has been offering surface finishing services for more than 80 years and now handles its additive manufacturing activities entirely through its subsidiary AM Solutions. Initially, AM solutions only covered post-processing of additively manufactured parts, but expanded their capabilities in 2019 to offer a range of 3D printing services.
The company's post-processing systems include its multifunctional platform for surface finishing of 3D-printed metal and plastic parts, RapidFinish, and its automated S1 system, which is specifically designed for post-processing of 3D-printed plastic and metal components.
As part of Alfa Romeo's partnership with AM Solutions, the company will acquire three S1 systems for automatic de-powdering and cleaning of its small to medium-sized quantities of 3D-printed racing car components.
The S1 offers both automatic and manual sandblasting to enable automatic and effective removal of powder residue after printing and continuously rotates the printed parts during the cleaning process to ensure repeatable and consistent blasting results without damaging the surface of the component.
"We are very pleased to be working with Alfa Romeo Racing ORLEN in the area of ​​post-processing of additively manufactured parts," said Stephen Rösler, President and CEO of Rösler Oberflächentechnik. "As an early adopter of 3D printing, Sauber recognized the importance of post-processing in terms of automation, economy and repeatability in the AM production chain."
The new basket design of the S1 enables optimal distribution and circulation of the 3D-printed parts and is equipped with a specially developed wear protection lining made of stain-free, antistatic polyurethane. The system is characterized by ATEX conformity, ergonomic and safe machine handling and, thanks to its small footprint, can be easily integrated into any production line.
Post-processing system S1 from AM Solutions. Photo via AM Solutions.

According to Rösler, the partnership will bring benefits and insights for both parties when they work together to improve the automation, efficiency and repeatability of post-processing of 3D printed parts for the racetrack.

"Your in-depth knowledge and experience will help us to further improve our solutions and increase awareness of our still young AM Solutions brand," adds Rösler. "We will bring our decades of know-how in surface finishing combined with our tailor-made solutions for the needs and challenges of AM on the track.

"With this partnership we create a perfect win-win situation for two highly innovative companies that always strive for the maximum."

Subscribe to the 3D Printing Industry Newsletter for the latest news in additive manufacturing. You can also stay connected by following us on Twitter and liking us on Facebook.

Looking for a career in additive manufacturing? Visit 3D Printing Jobs for a selection of positions in the industry.

Subscribe to our YouTube channel for the latest in 3D printing video shorts, reviews, and webinar replays.

Featured image shows Christoph Hansen, Director of Technology & Innovation of Sauber Engineering, with Stephan Rösler, President & CEO of the Rösler Oberflächentechnik GmbH. Photo via Rösler Group.

The post Alfa Romeo and AM Solutions cooperate for the automated post-processing of 3D-printed racing car parts first appeared on monter-une-startup.
Did you miss our previous article...
https://formulaone.news/alfa-romeo/giovinazzis-father-explains-why-he-has-avoided-mercedes-advances-in-signing-with-ferrari