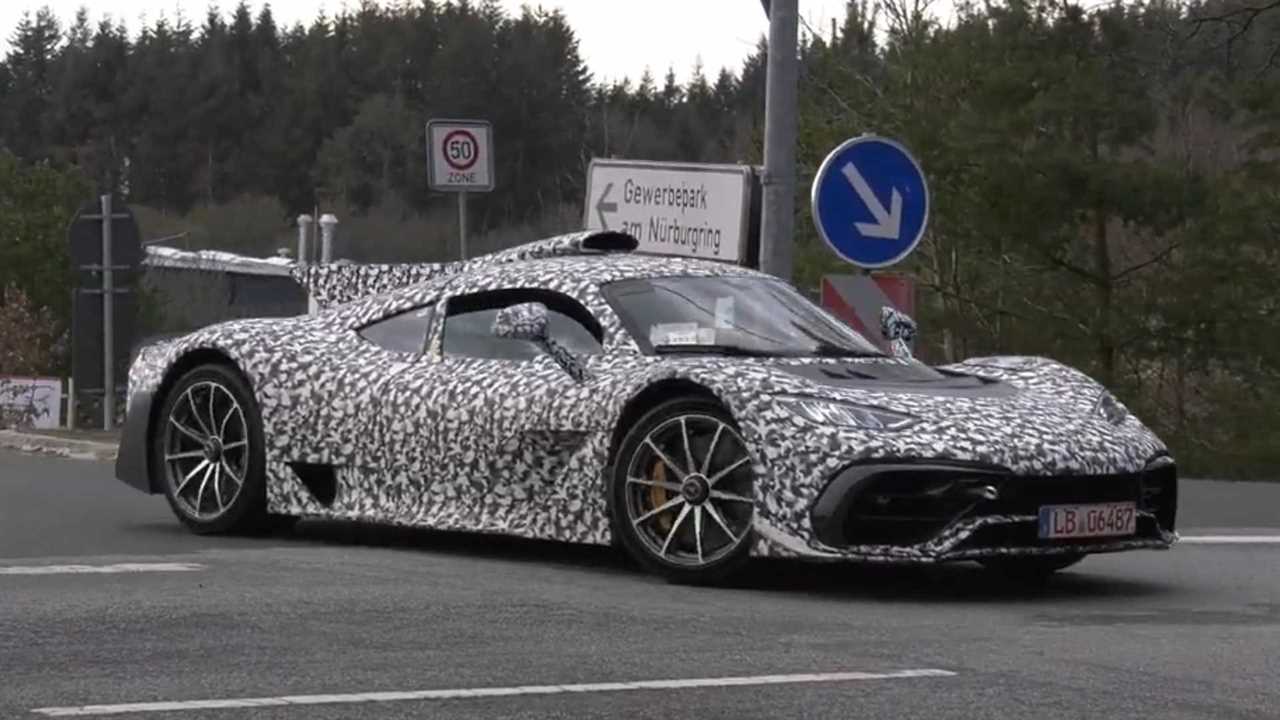 The wild howl of the spectacular soundtrack of the Mercedes-AMG One is no secret, even if the car continues to test under camouflage films. However, it makes excellent noise even at low speeds, with all of the mechanical rattle and clatter paired with the slow splash of the F1-derived V6 engine. The latest spy video from the CarSpyMedia YouTube channel shows the super sports car on the streets around the Nürburgring.
The driver never steps on the accelerator, but that doesn't make the audio track any less convincing. The turbocharged 1.6-liter V6 is said to reach up to 11,000 rpm, despite being part of the supercar's hybrid powertrain. The engine is paired with four electric motors with a combined total output of over 1,000 hp (746 kilowatts). The all-wheel drive hypercar will reach a top speed of 350 kilometers per hour and is fully street legal.
13th photos
It has been four years this September since Mercedes unveiled the car that was then called Project One. The car took the bumpy road to production, delayed by its Formula 1-derived engine based on the Mercedes F1 W06 hybrid racing car that required work to be road legal. The factory put the car back at least nine months during development as engineers worked to reduce idle speed and meet stringent emissions regulations. The fragile engine also has to be completely overhauled every 50,000 kilometers.
Shipments to customers are slated to begin before the end of the year, so a full reveal with a full rundown of the statistics should be imminent. However, Mercedes could wait for a proper launch until the final quarter of the year only to annoy us and reveal the production body, which is still covered in camouflage. Mercedes could hide a few design tweaks from prying eyes. The company will only produce 275 copies of the supercar, each costing at least $ 2.7 million.
The post Mercedes-AMG One Spied makes loud noises during test drives first appeared on monter-une-startup.
Did you miss our previous article...
https://formulaone.news/mercedes/watch-valtteri-bottas-indulges-in-a-passionate-hobby-to-pay-tribute-to-a-finnish-legend