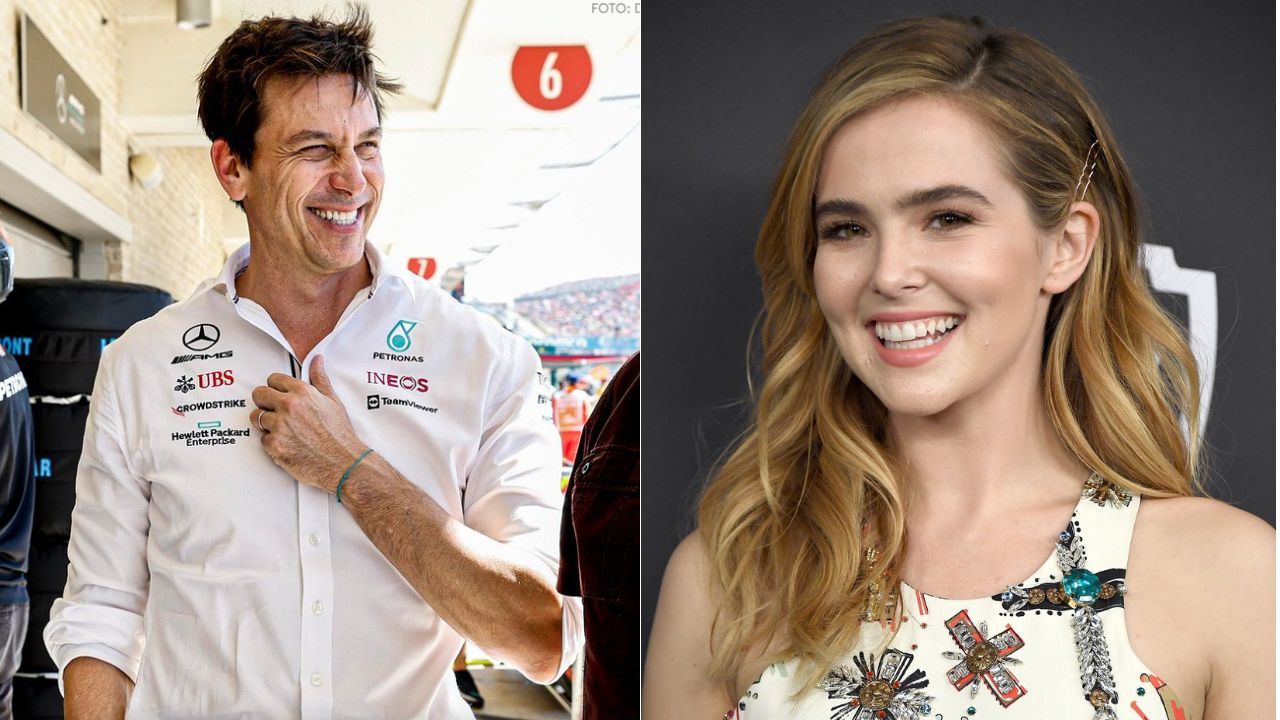 Formula 1 paddock is loaded with good-looking men and it is not just about the F1 drivers. Team principals also make it into the category of good-looking, handsome men in F1. Zoey Deutch, the American actress, for one thinks that Mercedes boss Toto Wolff rules all.
Speaking in the podcast, Armchair Expert with Dax Shepard, Deutch said that she is obsessed with Wolff because 'he is so nice' even though she already has a boyfriend.
The host of the show agreed with Deutch and further elaborated that if he had been asked who is the 'bada**' of F1, he would have definitely named Wolff.
In Deutch's opinion though, Wolff was not as cold as he is now, a while ago. She believes that he is elegant and 'hot as hell.' A lot of fans would agree with Deutch about Wolff and his intimidating personality.
So read: Why Lewis Hamilton Is Zoey Dutch's Favorite F1 Driver
The intimate personality of Toto Wolff
Heading the Mercedes F1 team, Wolff has dominated the past decades winning 8 constructors' titles and 7 drivers' titles. His management of the team has been praised by many of his peers.
He has also been at the center of a lot of rivalries that Mercedes has gone through. The most extreme battle coming in the 2021 season against Red Bull's Toto Wolff. On top of that, Netflix's F1 docuseries 'Drive to Survive' brought more attention to the off-track wars between him and his rivals.
Especially with Red Bull team boss Christian Horner, Wolff had a lot of war of words during the 2021 season. Many saw his interviews in Drive to Survive and sly comments as arrogant behaviour.
But on the other hand, his way of dealing with things was also praised by many as that intimidating personality had only brought him and his team immense success.
Liked by Toto Wolff.



pic.twitter.com/jO8CYHxnsH
— Mercedes-AMG PETRONAS F1 Team (@MercedesAMGF1) August 2, 2022
Wolff opens doors for someone else to take over his job
Wolff, who apart from being the team principal of the team is also a co-shareholder of Mercedes, says that he won't hesitate even for a second to let someone else take over his job.
The Austrian explained that being a co-shareholder his main interest is that the team prospers and wins on the track. 90% of what he does is taking his team to a new height. The remaining 10% is the business/financial aspect of the job.
So if one day he feels like there are shortcomings in a few areas, he would not hesitate from hiring a person to look over that job or someone who could do what he does.
So read: George Russell Highlights Importance Of Spending A Season With Lewis Hamilton As Teammate