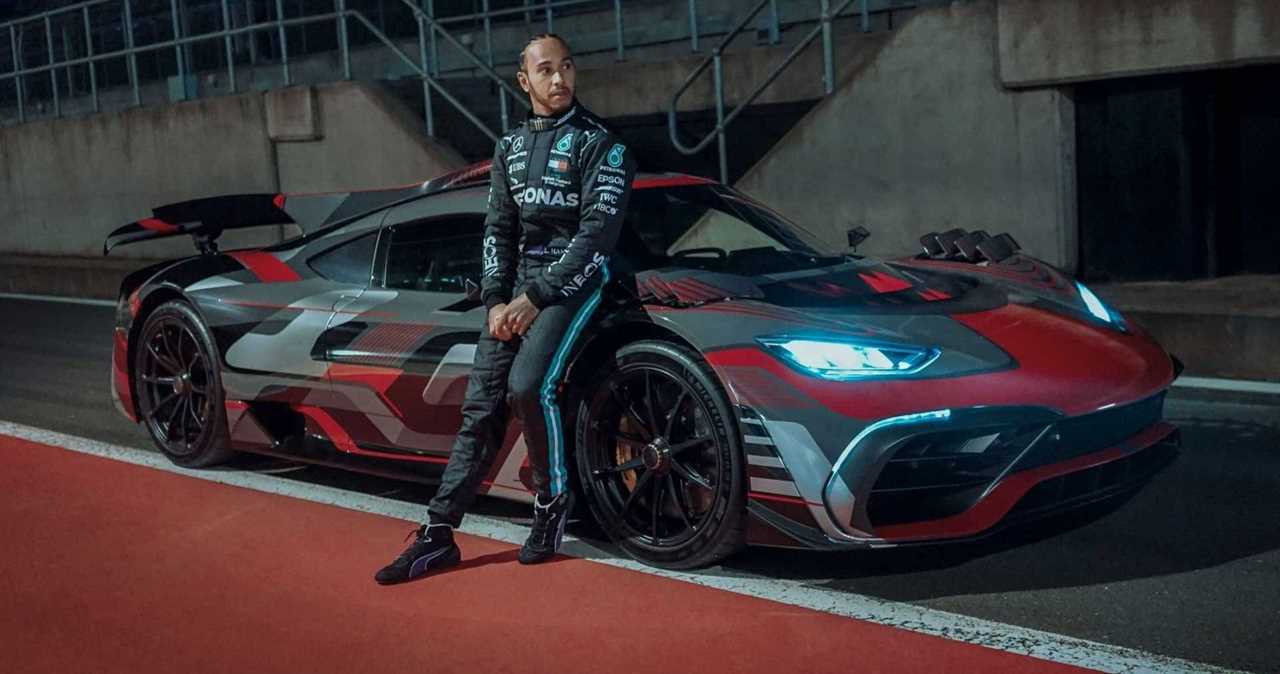 Lewis Hamilton is a living legend. The British racing driver, currently competing in Formula One for Mercedes, is among the most celebrated sporting personalities in the world. Statistically, the greatest F1 racing driver of his generation, Hamilton is the winner of a joint-record seven World Drivers' Championship titles and holds the records for the most wins, pole positions, and podium finishes among many others.
His love for cars is not limited to the F1 track. Ever since Hamilton was a kid, he was attracted to cars. And he loves spinning around in stellar vehicles when he's not working his magic on the racing circuit. The F1 star houses some expensive cars in his garage.
For the British racing driver, it's all about the quality of the automobile. And quality always comes at a cost. Not that spending the big bucks is a strain for Hamilton, who features among the wealthiest celebrities in the world, alongside the likes of LeBron James and Cristiano Ronaldo, who are always out on the celebrity car watch.
Which are some of Hamilton's favorite cars? Let's find out. Here's what Lewis Hamilton drives.
A Car Produced By His Previous Employer
Via: GQ Magazine
In 2012, Lewis Hamilton switched his F1 allegiances from McLaren to Mercedes-Benz. While he has been successful for the Mercedes F1 team, he probably fancied a dose of nostalgia. Not long after leaving the McLaren F1 team, he purchased a McLaren P1 for a mouth-watering price. One of the finest to have come out of the McLaren production facility, the P1 is designed, engineered, and built to be the best driver's car in the world.
Hamilton's McLaren P1 is a tribute to another McLaren legend: McLaren F1, the first road car built on a carbon fiber tub. With a record-breaking top speed of 240.1 miles per hour, the McLaren F1 was ahead of time. The McLaren P1 follows suit and delivers a mix of style and substance. Each part of Hamilton's P1 gets the same aerodynamic consideration as if it was part of an aircraft or a Formula 1



car.
On the outside, it looks dramatic and beautiful. Powered by twin turbochargers and a single electric motor hybrid technology, the 3.8L V8 engine propels the P1 to produce over 900 hp. The results? A 0 to 60 miles per hour time of 2.8 seconds and a top speed of 217 miles per hour. Being rich has its perks, and one of Hamilton's many perks is the lavish properties he owns around the globe. His McLaren sits pretty at his Monaco residence.
Related: Check Out Tennis Legend, Rafael Nadal's Impressive Car Collection
He Owns Ferrari's First-Ever Hybrid Road Car
Via: Sportsrush
Ferrari's most ambitious project is a part of Lewis Hamilton's garage. The Ferrari LaFerrari is one of his favorite cars. It is the benchmark of the most advanced and innovative technical solutions, which, in the future, were filtered down to the rest of the Ferrari range.
The LaFerrari is renowned for being the company's first-ever production car equipped with the F1-derived hybrid solution – the HY-KERS system – that combines an electric motor with the most robust incarnation of Ferrari's classic V12 yet.
LaFerrari's architecture represents the pinnacle of innovation even by Ferrari's legendary standards. The objective is to increase aerodynamic efficiency, deliver ideal weight distribution, lower the car's center of gravity, and integrate the new hybrid system without compromising cabin space, comfort, or accessibility.
The interiors are quality and reminiscent of Ferrari's legacy. It boasts a top speed of 217 miles per hour. Its acceleration numbers are excellent as well. Hamilton's LaFerrari can go from 0 to 60 miles per hour in 3 seconds, 0 to 120 miles per hour in 7 seconds, and 0 to 180 miles per hour in 15 seconds. The F1 race driver parks his Ferrari LaFerrari at his Los Angeles residence.
Related: The Best Features Of The Lamborghini Huracan Tecnica
Hamilton Hates His Rare Pagani Zonda LH
Lewis HamiltonVia Facebook
While Lewis Hamilton adores the McLaren P1 and the Ferrari LaFerrari, there's a car that he doesn't like at all. The expensive car that he hates is his exclusive Pagani Zonda LH. However, despite his dislike for the Zonda LH, it was far from hate at sight. It was, in fact, the other way round.
The British F1 driver was keen on owning one. We all know his appetite for fast cars, and Pagani is renowned for being one of the best in business when it comes to producing hypercars that give you thrills. Hamilton splashed well over a million to get a customized version of the Pagani Zonda LH for himself.
It felt like nothing could go wrong, and Hamilton would remember the Zonda LH as one of his favorite cars. It was a customized car. So exclusive that Hamilton was the sole owner of that model. Pumping out an incredible 760 hp, it boasted a top speed of 225 miles per hour.
He also opted for a manual gearbox. However, fate had other ideas, and such was the turn of events that Hamilton came around to hate his customized hypercar. The sports star publicly expressed his dislike towards the Zonda LH – citing it's terrible to handle – after he was involved in a minor crash with three other vehicles. He eventually sold it for a whopping $8 million recently.
Sources: McLaren, Ferrari, Zonda, The Sun, Fox Sports, Instagram