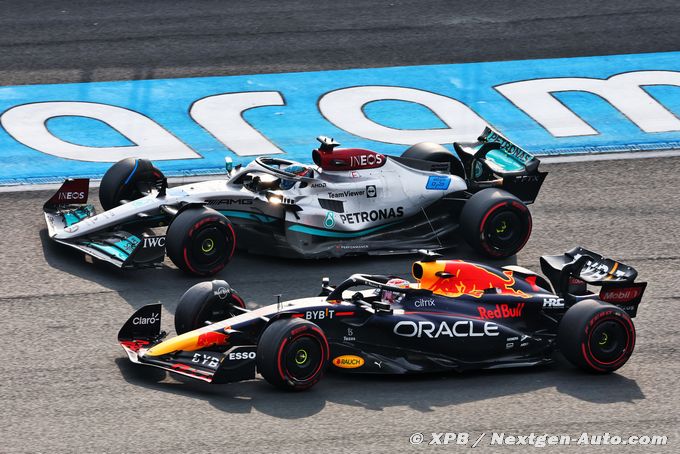 Damon Hill does not rule out that Mercedes F1 could win a race before the end of the season. The 1996 world champion laments the pressure on Brackley's side are currently under, but believes Lewis Hamilton or George Russell could have a chance of success in 2022.
« Believe me, when you are in this situation in this sport, you know there is enormous pressure from the media. But we always wonder if Mercedes can win a race. explains Hill.
« Something is going to happen, we always have a wild ride somewhere between now and the end of the year, there is going to be a wild ride and Mercedes might just get that win. »
« It would ruin Max's chances [Verstappen] to win all the races until the end of the season. But we'll see. There's going to be rain, one of them is going to be wet, Suzuka is going to be wet! »
Red Bull will limit its development on the RB18, and this is one of Mercedes' chances according to Hill: « If they don't do more development now on this car, Ferrari and Mercedes will be on them before they get to Abu Dhabi. »
Hill admits Verstappen no longer needs to take risks or force his talent until the end of the season, thanks to his 116-point lead: « He doesn't take risks. He doesn't need to anymore, he has everything under control. He's in great shape. »
« At Zandvoort you could see him putting the car to the side of the track at the entrance to that almost right-hander at the top of the back of the circuit, where you go up a hill. He was keeping an eye on the apex and knew exactly where the edge of the car was on the left side without putting a wheel on the sand, it was amazing to watch. »
A period of dominance for Red Bull?
Hill doesn't think Red Bull is embarking on a period of dominance as big as Mercedes F1 did in the hybrid era. However, he expects to see the Milton Keynes side on top and in contention for victory.
"When the rules changed to hybrid in 2014, Mercedes dominated the whole era, only losing in the last season of that rule. And then with the new rules, Red Bull started well. it's going to be their period of dominance? I'm not sure, because it's quite close. »
« Mercedes came up with a concept, they might revisit it, but they're all going to be able to look at what Red Bull is doing this year and react. I think Ferrari could do the same. I don't know if it'll be that easy to dominate, but Red Bull started off on the right foot. »