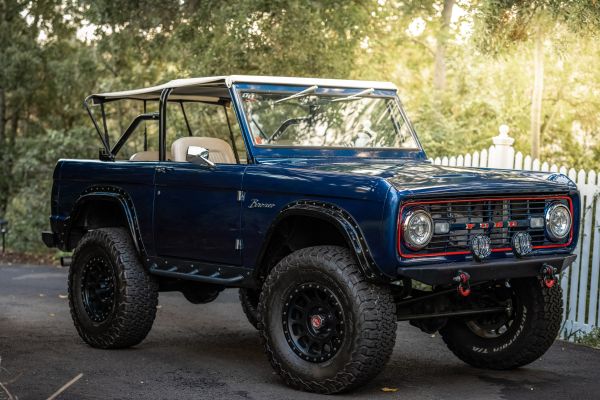 | | |
| --- | --- |
| | Jan 13, 2022: Worldwide tender is now open for extensively improved Ford 4X4 of the first generation A fully restored 1970 Ford Bronco owned and driven by 2009 Formula 1 World Champion Jenson Button makes its debut on the Collecting Cars auction platform today. |
Worldwide tender is now open for the first-generation Ford 4X4, which has been extensively improved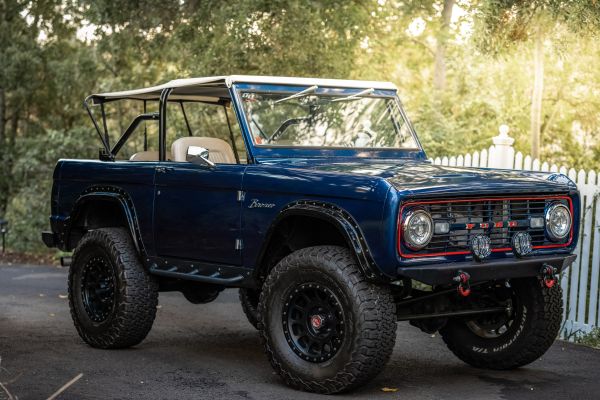 A fully restored 1970 Ford Bronco owned and driven by 2009 Formula 1 World Champion Jenson Button makes its debut on the Collecting Cars auction platform today.
The Ford Bronco Custom Truck from 1970 will be offered to a worldwide bidding public until January 20th by the US company Collecting Cars in Los Angeles and is based on the first generation of the robust 4×4 from Ford.
Power is generated by a naturally aspirated, fuel-injected Bronco V8 that drives all four wheels through a three-speed automatic transmission. Upgrades include Fitech fuel injection, Edelbrock filter, and push button start MSD primer. Additional components include an Optima battery and a battery isolator switch.
This Bronco is kept in an elegant dark blue and has black glossy wheel arch extensions and side protection rails. It was further individualized with the "side window deletion" treatment with red accents around the front grille, tow hooks and the "Ford" emblem.
The bespoke Bronco features upgraded headlights complemented by classic KC driving lights, as well as satin black 17-inch Method alloy wheels wrapped in 35-inch BFGoodrich tires. Its suspension has been raised and is now equipped with Bilstein shock absorbers. Wilwood front disc brakes have also been added.


The interior includes new cream-colored leather with the contemporary seats. Over the back seat there is a half roll cage in black as well as a light roof frame and a new bimini top. A Borgeson power steering gear and a new polished steering column were installed along with a wooden steering wheel. Other interior options include a Kenwood stereo and USB cable.
Fast facts:
• Collecting Cars is a 24/7 online auction platform. Unlike traditional auctions, cars are sold to a large audience of dedicated buyers within 7 days in a safe and hassle-free process. There are no sales fees – the seller receives 100 percent of the hammer price and keeps the car until the successful buyer picks it up.
• To date, the global platform has sold more than 5,400 lots, with a total sales value of over $ 269 million to sellers.
• The global auction company is headquartered in London, has offices in Munich and Sydney and now also in Los Angeles and Toronto.
• With registered bidders in more than 90 countries around the world, sellers can be confident that their car will be marketed to a truly global audience.
• The best-selling brand in Collecting Cars is Porsche, with more than 700 cars sold since launch, including over 500 of each generation 911 from the 1960s.
• More than 90 percent of sales since launch have been completed without a physical visit, demonstrating the great confidence that buyers have in the platform.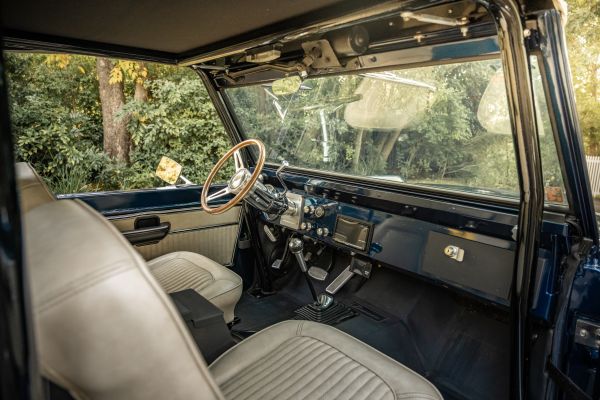 – Jeff Perlmann – Photos CollectionCars

Restorers dream: 1982 Lamborghini Countach LP500S, £ 257,600

01/08/2022 Hagty's picks of the most influential global classic car sales of 2021. It seemed like a basket case, a supercar in pieces and urgently to be saved. But this 1982 Lamborghini Countach LP 500S Resto more >> Online Landmarks: Ferrari F40, £ 1,000,500

01/08/2022 Hagty's pick of the world's most influential classic car sales of 2021. The July sale of the 'F40 BLU', a 1989 Ferrari F40, for £ 1,000,500 was another turning point: the first time more >> The Ugly Duckling: 1993 Jaguar XJ220, £ 460,000

01/08/2022 Hagty's picks of the world's most influential classic car sales of 2021. An exceptional XJ220 with just 385 miles on the clock at the Monza Red factory and a clean health certificate from brand specialist Don Law Racing, its sale can be more >> Group B stuns again: 1988 Audi Sport Quattro, ?? 2.017M

01/08/2022 Hagty's selection of the most influential global classic car sales of 2021. An undoubted high point of Artcurial Paris sales of February 2021, which has exceeded its expectations by the greatest amount and for more >>. on sale is Destroyed exotic: 1960 Jaguar XK150 S Drophead, £ 90,000

01/08/2022 Hagty's picks of the most influential global classic car sales of 2021. There are some auction results that will surprise even the seasoned observer who believes has seen it all. This car, offered by Bonhams MPH in May, was more >> Going Japanese: 1998 Subaru Impreza STi 22B, $ 317,555 (£ 240,000)

01/08/2022 Hagty's picks of the world's most influential classic car sales of 2021. As Hagerty has written a lot this year, auto values ​​have skyrocketed in the Japanese domestic market (JDM) in America. So more >> Formula 1 license fee: 2010 McLaren MP4-25, £ 4.73m

01/08/2022 Hagty's selection of the most influential global classic car sales of 2021. The first of Lewis Hamilton's F1 races and Grand Prix winning cars ever to be offered to the public, it won the 2010 Turkish Grand Prix. More >> Most valuable: 1995 McLaren F1, £ 15.5m

01/08/2022 Hagty's picks of the world's most influential classic car sales of 2021. Starting with the biggest sale of 2021 – the 1995 McLaren F1, which was sold by Gooding & Company in Pebble Beach in August. The end result was $ 20,465,000 (& p more >> Hagerty Ranks Most Influential Auction Sales of 2021 – Report

01/08/2022 £ 310.8million in classic and collector's cars sold at auction in 2021 £ 15.5million for 1995 McLaren F1 at Pebble Beach Ex-Lewis Hamilton F1 car sold at British Grand Prix for £ 4.7million in 1998 Subaru Impreza STi 22b breaks records for £ 240,000 more >> Collection cars auction platform debuted in 2006 Spyker C8 Spyder

12/24/2021 Exotic Dutch sports car has only 9,333 miles on its odometer more >> 2011 Pagani Huayra- Pacchetto Tempesta debuts on the auction platform for collecting cars

12/10/2021 Rare super sports car with 730 hp, 6.0-liter twin turbo-charging Mercedes-AMG V12 & n more >> Silverstone Auctions are returning to the Riyadh Car Show

11/13/2021 At the invitation of Seven Concours, Silverstone Auctions is returning to Saudi Arabia for the Riyadh Car Show 2021; is considered the most influential automotive event in the Middle East. The Riyadh Car Show 2021 auction of Seven Concours is taki more >> Extremely rare 1991 Alfa Romeo SZ debuts on US car collecting auction platform

October 29, 2021 One of just 1,036 examples from legendary Italian automaker Collecting Cars today announced the debut of an extremely rare, low-mileage Alfa Romeo SZ from 1991 on its US auction platform. Global bids are made through more >> Bonhams Royal Flush at The Zoute Sale

04/10/2021 Thursday, October 7th, from 10:00 a.m. CEST, Bonhams Saleroom, Knokke-le-Zoute, Albertplein, 8300 Knokke, Belgium The classic Cadillac is accompanied on the Knokke-Heist red carpet by a 1960s Maserati, the first seen in a Fellini film and formerly owned by the Saudi prince Sultan Bin Saoud. more >> Extremely rare 2012 Koenigsegg Agera S debuts on the global auction platform for collecting cars

09/21/2021 Extremely rare Koenigsegg Agera S from 2012 makes its debut on Collecting Cars' global auction platform Swedish super sports car with 5.0-liter V8 engine with twin turbocharging and 1,030 hp and 811 lb-ft of torque & n more >> 2015 Porsche 918 Spyder Weissach Hypercar Hits Collecting Cars US auction platform

07/19/2021 Rare Porsche offered with less than 5,000 miles on odometer more >> Collecting Cars announces auction of ex-Richard Burns Subaru Impreza S4 WRC2000

05/22/2021 2000 UK RALLY WINNER Billed as "the world's most original rally car" Collecting Cars today announced the live auction of ex-Richard Burns and Robert Reid Subaru Impreza S6 WRC2000, which will be featured in more >> The first Lewis Hamilton F1 winning car to be auctioned live at the 2021 British GP

05/18/2021 • Formula 1® and RM Sotheby's announce the sale of the winning chassis of the 2010 Turkey Grand Prix on Saturday, July 17th in Silverstone. • The auction will take place live as t more >> Mitsubishi UK Heritage auction ends with the world record hammer price of £ 100,100 for its Lancer Evolution VI Tommi Mäkinen

05/05/2021 Mitsubishi Motors in the UK Heritage Fleet auction ended on April 30, 2021 with 51 lots sold with no reserve.Several vehicles fetched record prices at UK auctions while the main attraction, the Mitsubishi Lancer Evolution VI TME, is being sold at a world record hammer price Innovative online-only auction platform more >> Collectors Xchange launches first mobile-native online collector's car auction platform

04/27/2021 Ferrari 348 tb, Panoz Esperante Spyder GT, Corvette 427/435, BMW Z3M and Corvette Grand Sport will be the first to cross the "virtual auction block" from April 30th and present a completely new platform for the collector's car more >> Mecum Classic and Collector Car Auction added to Chattanooga Motorcar Festival

April 8th, 2021 15.-17. October The Chattanooga Motorcar Festival announced that it would take place on October 15-16. October will add a live Mecum Auctions collector's car auction to its ever-expanding range of special activities in the Scenic City along the Tennessee River. more >>