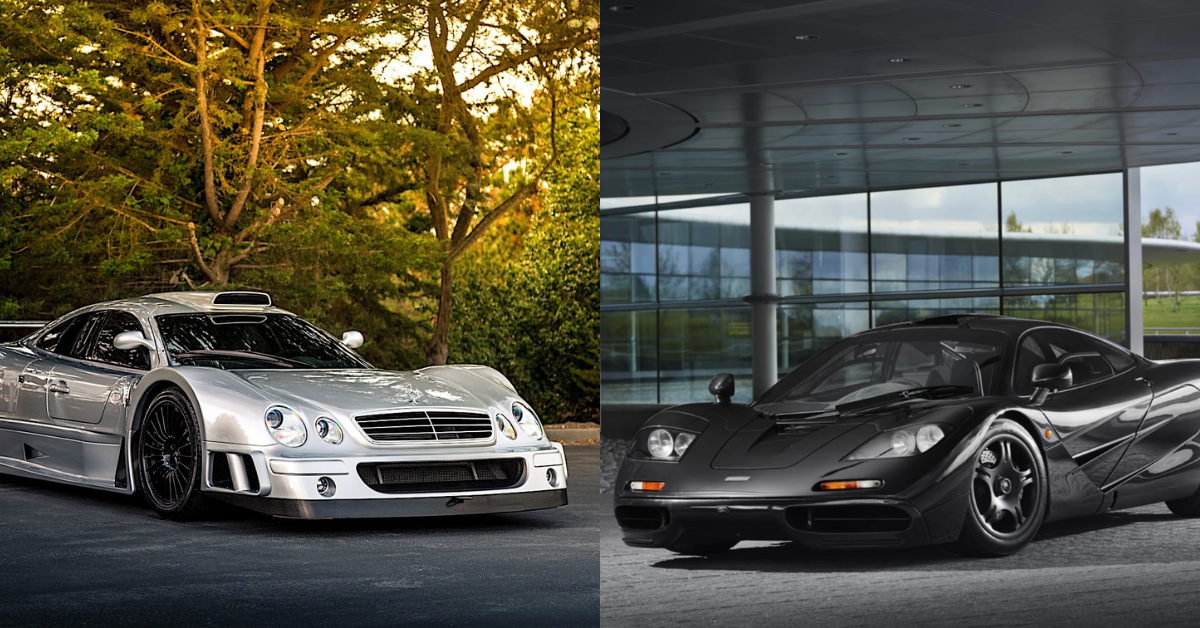 The Mercedes-Benz CLK GTR was a sports car manufactured by AMG, Mercedes-Benz's performance and motorsports partner of the time (and now a subsidiary of Mercedes-Benz). In the homologation process, many race cars need to have some road legal variants, this creates a set of unicorn cars called "homologation specials". The same goes for Mercedes Benz CLK GTR, a supercar built to appear the guidelines of the FIA ​​GT Championship.
The CLK GTR's limited production numbers are due to the road version's creation to meet homologation standards for the FIA ​​GT Championship series. Two prototypes and seven examples were dispatched to the racetrack right away. Following that, Mercedes only made 20 road-ready sports cars and six convertibles, which were all produced in 1998 and 1999.
In May 1992, the McLaren F1 became the company's first road-legal production car. In the late 1980s, Gordon Murray, McLaren's technology director, first sketched the F1 as multiple supercars. Murray was named head of McLaren Cars in 1991, and he persuaded Ron Dennis to develop the car, as well as contributing to the design of the F1. It bore no resemblance to any other supercar on the market at the time. It had a race-inspired design, multiple layouts with the driver in the center, and a reasonable ride for a vehicle of its type.
It's been 25 years since the F1 was first introduced, and it's already regarded as a classic. The F1 is one of the few dynamic supercars created in the 1990s, which still resells for millions of dollars.
Mercedes-Benz CLK GTR vs McLaren F1: Design And Engine
Mercedes Benz AMG CLK GTR Best Features
Powered by a naturally-aspirated 6.9-liter V12 engine producing 600HP and a top speed of 214MPH, the Mercedes-Benz CLK GTR is impressive even by today's standards. The CLK GTR also had incredible acceleration with a 0-60 time of 3.8 seconds achieved by the excellence of Mercedes' engineering. The CLK GTR had a peak torque of 572 lb-ft channeled to the wheels through its paddle-shifting 6-speed transmission. With its high performance, it's obvious that the Mercedes CLK GTR dominated the FIA ​​GT Championship in 1997 and 1998 seasons winning 17 out of 22 races alongside two team titles and two drivers' championships.
Via NetCarShow
The style of the McLaren F1 was inspired by prototype race vehicles and was similar to early 1990s supercars, it had a low front hood, a canopy-like roof, big doors, and a long rear deck. While similar vehicles from Lamborghini, Ferrari, and Bugatti continued to use wedge-type elements from the 1980s, the F1 had a more rounded shape reminiscent of the Le Mans prototypes of the time. The turn signals and daytime running lights flanked the nose, and the headlamps were mounted high on the front fenders. The front featured two enormous intakes supplying air to cool the front brakes.
The F1 also featured a Kenwood 10-disc CD speaker system, as well as SeKurit automatic windscreen and side panes, power windows, and remote central locking, all of which were unusual in early 1990s sports vehicles. The latter was a compact unit designed specifically for the F1. The McLaren F1 has a peak torque of 5600 rpm with a displacement of 6-liter V12 and a 0-60 time of 3.2 seconds
Related: Supercar Icons: Ferrari F50 Vs Mercedes-Benz CLK GTR
Mercedes-Benz CLK GTR vs McLaren F1: Pricing
Via McLaren
The McLaren F1 started at $815,000 in 1992 and cost around $1.4 million in 2016, making it significantly more expensive than other supercars. Despite the high price tag, McLaren was able to sell all 71 road cars it produced until 1998. There were 64 normal F1s, five LM-spec models based on the GTR race car, and two GT versions based on the GTR "Longtail," it's worth noting. McLaren also produced 28 GTRs and seven prototypes, for a total of 107 cars.
via CAR Magazine
Although McLaren F1 isn't even three decades old, it still brings a lot of money at auctions. Several models have changed hands for more than $3 million in recent years. The Mercedes-Benz CLK GTR AMG was the most expensive production car ever constructed at the time, according to Guinness World Records, with a price tag of $1,547,620.
Two road car prototypes were built, however, they lacked the numbered plaques found on the door sills and center console of subsequent production automobiles. A plaque with the words "Limited Edition" is attached to these prototypes. Bonhams auctioned the second prototype (VIN WDBA2973971Y000002) for 800,000 euros in 2003.
Facts And Figures About The McLaren F1

readnext

About The Author

Mayank Mishra
(48 Articles Published)


More From Mayank Mishra


Did you miss our previous article...
https://formulaone.news/mclaren/23-celebrity-car-collections-you-need-to-see-to-believe