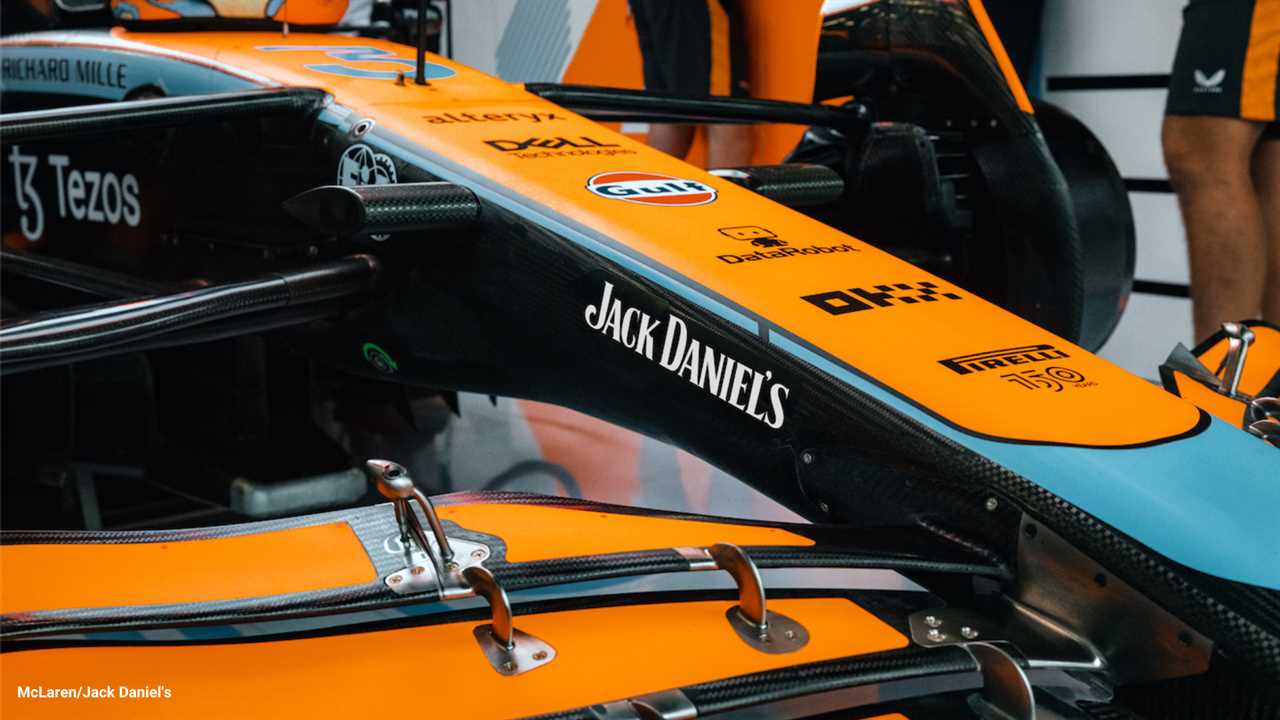 Deal makes Jack Daniel's the official spirits sponsor of McLaren Racing for multiple years starting in 2023McLaren/Jack Daniel's
Jack Daniel's Tennessee Whiskey today is announcing that it is entering F1 for the first time in 2023 with a new global partnership with McLaren, the latest sponsorship coup by the English racing team. The deal makes Jack Daniel's the official spirits sponsor of McLaren Racing, and it is for multiple years and starts next year. The payment fee from Jack Daniel's to McLaren is unclear, but F1 team sponsorships run well into the seven figures at a minimum. Assets include Jack Daniel's getting branding on the nose of McLaren's two F1 cars, driver firesuits and pit crew helmets — plus co-branded retail activations, at-track hosting opportunities, ad campaigns on digital and social media and the launch of a limited- edition bottle in select markets. McLaren started talking to Jack Daniel's last year and the English-based car company and a large contingent of execs from the team went to the distiller's Lynchburg, Tenn., HQ for an initial in-person meeting, according to Nick Martin, McLaren's group director of partnership development.
NOT THEIR FIRST GREEN FLAG: This is not the first time that McLaren has had a liquor sponsor, nor the first time that current McLaren CEO Zak Brown has worked on such a deal — as his former Just Marketing International Agency was involved in the partnership that Johnnie Walker had with McLaren in 2005. Brown-Forman SVP & Global Managing Dir of Jack Daniel's Brands Sophia Angelis told SBJ that the brand wanted to get into F1 sponsorship because it saw how the sport was growing both globally and in the US and how it is specifically doing so with younger consumers. Angelis: "As a brand, we're looking to remain relevant with the next generation of consumers and always looking for relevant platforms to partner with and therefore McLaren and F1 present an absolutely brilliant and unrivaled global platform to really amplify the presence of Jack Daniel's , the world's most valuable premium spirits brand. Of course, F1 comes with a fanbase that is on a worldwide basis so that in and of itself is really appealing and thanks to Netflix's 'Drive to Survive,' it's brought in a younger and more diverse audience and has created incredible momentum." Angelis and Martin both cited how their two respective companies are brand fits in that they are global leaders with rich heritages and whom had founders who were renowned craftsmen.
ACTIVATION STATION: Jack Daniel's will hire a sports marketing agency to help the brand run the McLaren deal, but Angelis said she was not prepared to yet divulge the name of the firm that the brand will be working with. She identified some of the key markets that F1 races in as the US, Canada, Mexico, Brazil, Australia, the UK, France and Italy, and Jack Daniel's activation will be heaviest in those countries. On top of promoting its brand and products, Jack Daniel's messaging will also include a focus on sustainability and anti-drinking-and-driving themes, the latter of which is always a part of any motorsports sponsorship that the company has been involved with over the years, Angelis said. Jack Daniel's was formerly a sponsor of Richard Childress Racing in NASCAR. Angelis wasn't ready to divulge specifics on the retail activation plans but made clear that the sponsorship will be promoted in places like grocery and liquor stores across key markets in 2023.
JACK & COKE? Coca-Cola is another McLaren Racing sponsor, but Angelis declined to say if there are plans to do co-promotions with Coke as part of the racing sponsorship. She also declined to say whether Jack Daniel's plans to grow its presence in F1 to other stakeholders eventually such as a partnership with the league. She said that Brown-Forman will be judging the success of the deal firstly by how successful Jack Daniel's is with its retail and hosting activations and secondly by how fans and consumers engage with the partnership on social media and other platforms. McLaren has been on a prolonged hot streak with sponsorship sales under Brown, and this year alone it has added brands including Goldman Sachs, Google, OKX and Gopuff. Brown-Forman recently reported Q1 results for its FY 2023, saying that the Jack Daniel's family of brands had an 11% growth in net sales for the quarter, "reflecting strong demand and higher prices in emerging markets, developed international markets and the travel retail channels."