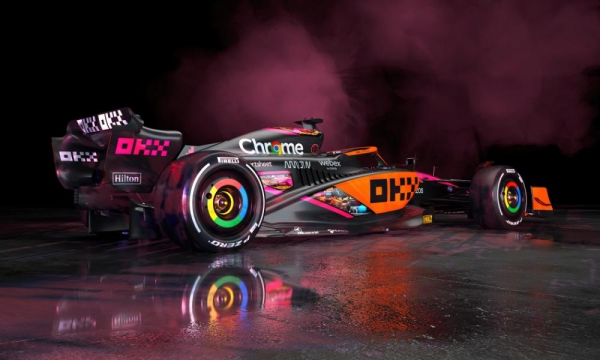 British team will run special edition branding at Singapore and Japanese GPs.
Posted: Sep 27 2022
By: Cian Brittle
McLaren signed a multi-year title sponsorship deal with OKX earlier this year
A limited edition t-shirt will also be released through the McLaren store
The McLaren Formula One team have announced that special livery will run at the Singapore and Japanese Grands Prix to celebrate their partnership with title sponsor OKX.
The livery forms part of the 'Future Mode' campaign, which includes the release of McLaren Racing x OXK Future Mode merchandise via the team's store.
Fans will also be able to use the livery on EA Sports' F1 22 game from 10th October.
McLaren Racing announced in May that OKX would step in as title sponsor for its Formula One and esports teams.
"We're excited to celebrate our partnership with OKX through this bold and vibrant livery for the upcoming races in Asia," said Zak Brown, chief executive of McLaren Racing.
"McLaren and OKX are united in driving ahead and constantly striving to break boundaries, and the Future Mode campaign is an opportunity to champion these values ​​together on our global stage.
"It's fantastic to be returning to race in Singapore and Japan, and these incredible circuits provide a fitting backdrop for us to celebrate our partnership vision together."
Haider Rafique, chief marketing officer at OKX, added: "It was incredibly fun for us and McLaren to co-design the livery for Asia.
"This new livery signals the arrival of bold new technology, and that is what OKX is all about. The cyberpunk design we created celebrates the influence of Web3 on popular culture and brings this exciting partnership to life on the racetrack.
"Making its debut at the night race in Singapore, this future-facing design mirrors the 24/7 nature of OKX and the cryptocurrency markets that never sleep.
"We are far from done when it comes to pushing the boundaries of financial opportunity, and I can't wait for the fans to experience what OKX and McLaren have in store for them."