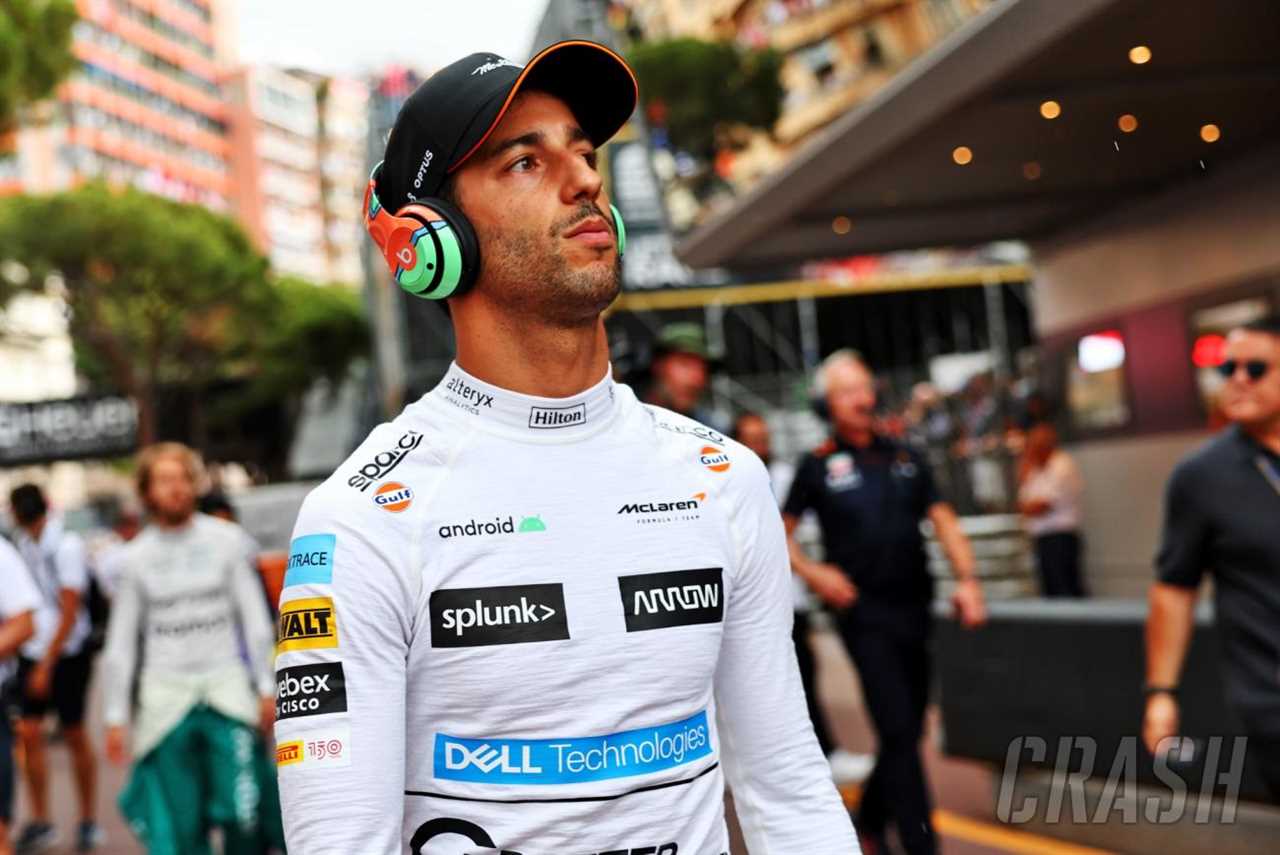 The charismatic Australian has been comprehensively outperformed by teammate Lando Norris since his arrival, enduring a particularly difficult first season at Woking in 2021.
Ricciardo hoped 2022 would be a different story, particularly after his brilliant breakthrough victory at Monza last year, but seven races into the new campaign and very little appears to have changed.
​​​​Ahead of the Monaco Grand Prix, McLaren CEO Zak Brown even admitted that "mechanisms" exist which would allow the team to terminate the underperforming Ricciardo's contract earlier than its end-of-2023 conclusion.
Speaking to Crash.net in an exclusive interview at the recent Spanish Grand Prix, Ricciardo opened up on his struggles and why he is determined to prove his doubters wrong.
Related Articles
"It kind of ebbs and flows where sometimes I'll get down on myself," Ricciardo says. "But then other times, I'm fired up and motivated to prove a lot of people wrong and prove myself right.
"More times than not, I'll kind of chuckle at the doubt. Because even last year, for sure, there were times where I was trying to figure it out.
"But already in April and May [last year] there were articles like 'he's lost it' but six months earlier in 2020 I was regarded as one of the standout drivers of that season.
"The reality is I've not forgotten how to drive in six months, I haven't lost my competitive edge, it's just kind of a moment in time that I knew I could come out of.
Related Articles
"You are always going to get people saying this and that. It is what it is. It's up to me in the car to prove them wrong.
"But no one's going to get into me more than myself as well, so someone telling me that I need to pull my finger out is not going to change me because if they are telling me to pull my finger out then I'm telling myself much more."
The most important season of Ricciardo's F1 career?
Dour displays in Barcelona and Monaco have only further increased the pressure on Ricciardo.
Considering Brown's critical remarks, if Ricciardo cannot quickly get on top of the characteristics of McLaren's car and turn things around, he could find himself at genuine risk of losing his seat.
Should they decide to cut their losses, McLaren would not be short of options for 2023 with half of the grid out of contract. One of the most appealing candidates for a potential opening would surely be Pierre Gasly, who has no chance of returning to Red Bull now that Sergio Perez has been handed a new two-year deal.
So, has 2022 just become the most important of Ricciardo's entire F1 career?
"They are all important," Ricciardo replies. "I wouldn't put more importance on this one.
"Strictly speaking, probably 2013 was my most important [year] when I was trying to get the Red Bull drive, especially after I knew Mark [Webber] what retiring. I knew that year could have really propelled me to a top team. So that was very, very important at the time.
"Whereas this year, it's more about me proving myself right. Even like Monza, now people are like 'oh it was just a one-off'. You don't just win for free in F1, it doesn't just happen. You have to be a very certain individual to execute a perfect weekend in F1.
"I think long story short, I know I can still do it, and I believe 100% in myself. Even if that wavered a bit last year, it's definitely back. It's easy to look on paper and be like 'it's no different' but I'll keep at it.
"I think people forget, so right now sitting here today, I'm excited to remind people."
Behind Ricciardo's 'mature mindset'
Towards the end of last year, Ricciardo said he is at peace with the prospect of never winning an F1 world championship should that be the way his career pans out.
It is a mindset not many drivers would admit to having in such a cut-throat sport, where anything short of winning is often regarded as a failure. For Ricciardo, it stems from not wanting to look back on his career with a sense of remorse if he does not end up achieving his ultimate goal.
In hindsight, Ricciardo's decision to quit Red Bull at the end of 2018 for a largely unsuccessful two-year stint at Renault was a poorly-judged move, even if he insists he has no regrets.
After all, it was at Red Bull where Ricciardo built up his reputation and stock higher than ever, becoming known for his infectious personality off-track and daring lunges on it as he wiped the floor with Sebastian Vettel and emerged as a potential championship contender .
"Each year obviously I believed I was good enough to do it [win a title] and obviously I haven't done it," he says.
"I know there are so many variables in this sport and so many things need to go together. It's not tennis, it's not that if I'm hitting the ball better on that day, I'm going to win the game. It's not that black and white.
"It's probably just a bit of maturity and understanding that the sport is so much more complex than just you being the best driver on that given day. So it's knowing that there's more things and I'm not the only controller in this game.
"It doesn't come from a defeated mindset. In 2014 and 2016, I felt that I was world championship material, but I was third in the championship.
"I'm aware that I could feel the best, but it still doesn't happen. All these kinds of things. So that's one part, just being realistic with the sport as a whole.
"The second part is if it's the only thing that will give me real satisfaction from this sport, then I might be left with nothing. So it's kind of that maturity and just through growth and life, you find other things that make you tick, or give you fulfilment.
"There's no guarantee that I will become world champion, so I would hate to look back on a 15-year career, for example, with remorse or anger or displeasure. I would just hate to look back and be like 'oh I wasn' t world champion, so that sucked'.
"Because the truth is, it hasn't. It's been fun, I've seen the world. So there's other little things to still take from it. But would it be better if I was world champion? Absolutely."
Does legacy matter to Ricciardo?
At 32, Ricciardo is closer to the end of his F1 career than the start of it. Despite his recent trials and tribulations, Ricciardo's passion for the sport and desire to succeed still burns strong.

Asked what factor will determine when he eventually decides to hang up his helmet, Ricciardo quickly responds "competitiveness and enjoyment".

"If I started winning every weekend then I think that would definitely increase longevity," he continues.

"If I told you now I'm thinking five years time but in my fifth year I won my first world championship, then I'm definitely going to do more.

"It's kind of like 'take it as it comes'. I know some headlines got picked up about [Las] Vegas being on the calendar and I was like 'Oh I'm not going to retire anymore' and people were like 'are you serious or not?' – obviously, I wasn't.

"I think with the sport as well, you are obviously putting a lot on the line and you are pushing a vehicle to the limit and you are taking risks. So I think whilst I'm still willing to do that, and whilst I can do it at the highest level and be competitive, then I'll keep doing it.

"I've had poles, I've won races but I'm still not world champion. That's really still what I want to get out of it. Even if I was to win it next year, for example, then I'm probably not going to want to retire straight off of that. There's still definitely a good handful of years in me."

So how does Ricciardo want his F1 career to be remembered?

"Not to be nonchalant but legacy is not something I really think about," Ricciardo says. "I'm not too caught up on that sort of stuff.

"I'm more caught up on… I'd like to have a good, positive influence. If some kids look up to me and I've been a good role model for some younger up and coming athletes, then I'd be happy with that.

"Do I want a statue of myself somewhere? That stuff doesn't bother me. Just more to be a good example, and selfishly if I've done it my way and enjoyed the ride, however long I end up being in F1.

"If I look back on those years and say 'that was a kick-arse time' and I'm really happy with that period of my life, then I'll be stoked."


Did you miss our previous article...
https://formulaone.news/mclaren/everything-you-need-to-know-about-the-london-motor-show