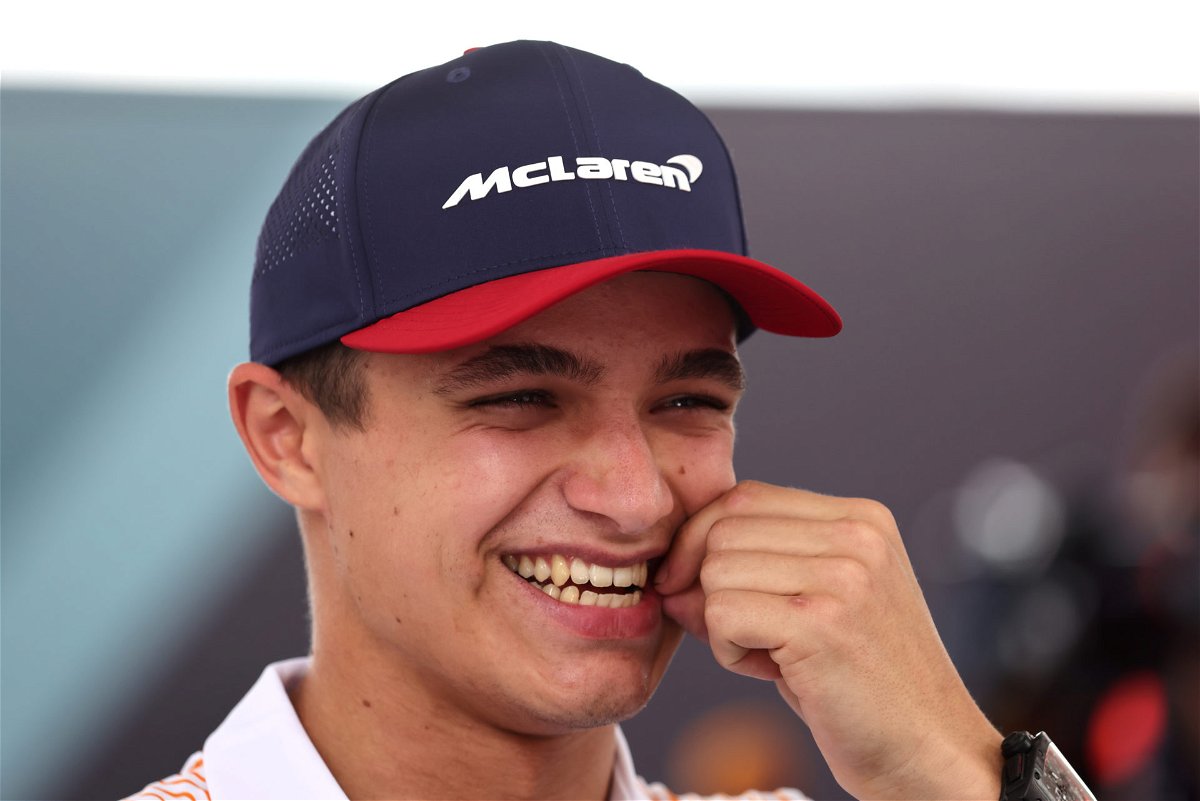 Apart from being a great driver, Lando Norris is also a gifted gamer. The Briton who takes a hefty interest in gaming has often gathered praise from fans for his skills. Inspired by his passion for gaming, the McLaren driver founded a company named Quadrant. Quadrant is a gaming and lifestyle brand that combines Lando's love for gaming, lifestyle, content, and apparel. However, where did he get all the money from? Does he have a sugar daddy?
ADVERTISEMENT
Article continues below this ad
The answer is no. The McLaren driver doesn't have a sugar daddy, as he made a cheeky confession in a recently surfaced video. As per the video doing the rounds on Twitter, Norris was streaming a battle royale game, and that was when he mentioned the sugar daddy fact.
ADVERTISEMENT
Article continues below this ad
While playing the game, as per the twitter video, Norris shared, "I don't use sugar daddies…" The 23-year-old who is reportedly worth over $25 million currently, further stated, "I am the sugar daddy."
On a side note, Norris, who is the son of British millionaire Adam Norris, has reportedly earned over $15 million from McLaren just as his salary in 2022. He further earned quite a hefty amount from the promotional events. Seeing all this, do you think there can be truth to the "sugar daddy" claim?
When language barriers didn't hold Lando Norris back from a "hook up"
Lando Norris, the young and impressive F1 driver from Great Britain, can do a lot more than driving to impress people. Recently, his steamy video took over the internet, where the Briton didn't need to use his words to impress his fans.

ADVERTISEMENT

Article continues below this ad

Formula One F1 – Dutch Grand Prix – Circuit Zandvoort, Zandvoort, Netherlands – September 4, 2022 McLaren's Lando Norris during the drivers parade REUTERS/Piroschka Van De Wouw

Coming to a similar incident where Norris didn't, or rather couldn't, use words, as per a Brazilian website Sports Buzz, he once supposedly hooked up with an OnlyFans model and volleyball player Key Alves. Alves, who is a BBB 23 (Big Brother Brazil) contestant, told, "I've hooked up with some international guys. I stayed with a pilot [driver], Lando Norris, who went to Formula 1 now. I couldn't speak any English and he couldn't speak Portuguese." [Translated using Google]

"And then I saw his [Instagram] and he sent me a direct [message]. My photos must have appeared to him, I don't know how and then he sent me a direct [message] in English. I went to answer him in English, but I didn't know how to talk and we talked by mime."

ADVERTISEMENT

Article continues below this ad

WATCH THIS STORY: McLaren signs Herta to Formula 1 development deal

Leaving his off-track antics behind, Norris would now be gearing up for the new season with his team. Do you think McLaren can again join the fight for P3 in the championship?


Did you miss our previous article...
https://formulaone.news/mclaren/tesla-model-3-that-crashed-at-pikes-peak-reborn-as-mean-electric-track-weapon