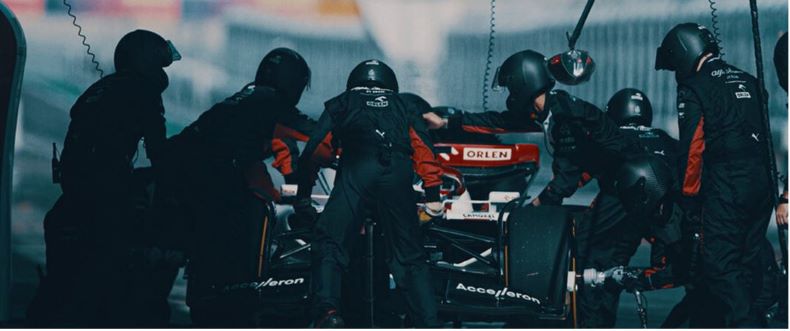 | | |
| --- | --- |
| | 06.07.2022: Alfa Romeo F1 Team ORLEN will take fans Beyond the Visible as the team launches a new docuseries giving a unique glimpse behind the scenes of our Formula One operations. |
Tweet

Alfa Romeo F1 Team ORLEN will take fans Beyond the Visible as the team launches a new docuseries giving a unique glimpse behind the scenes of our Formula One operations.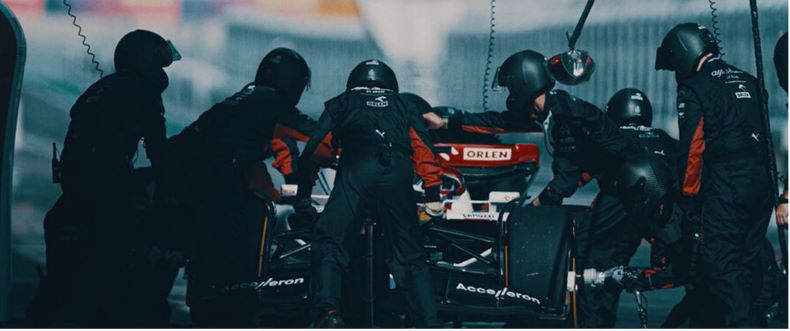 Released on YouTube in five monthly instalments (with two bonus appendixes), with each episode focusing on a different topic, the series will showcase the passion, expertise and dedication of the team as the storylines of the 2022 Formula One season unfold.
The world of Formula One encompasses the most advanced technical platform, in which the smallest margins of performance make the difference between victory or defeat. This is the work of hundreds of individuals – engineers, designers, managers, drivers – who tirelessly pour their energies in the pursuit of perfection.
Only a tiny part of this effort is in the public eye, however: this is where Beyond the Visible steps in, to give the public access to the inner workings of a team, away from the limelight and the deafening sound of engines. Fans will be taken behind the scenes, both at race weekends and at the team's headquarters in Hinwil, Switzerland: they will be able to witness the decision-making process, grapple with the complexities of logistics and experience the daily lives of drivers and other personnel.
Created by Lunartic Productions, the docuseries will adopt a highly cinematic style to give fans a unique insight in the team: from drivers' nutrition to mechanics' training, from car design to a hectic weekend at the Italian Grand Prix in Monza, no topic is left in the dark in the quest to unveil the true soul of Alfa Romeo F1 Team ORLEN.
Frédéric Vasseur, Team Principal of Alfa Romeo F1 Team ORLEN: "One of the key tenets of Alfa Romeo F1 Team ORLEN is to bring our fans closer, and our new Beyond the Visible series is designed to give them the widest possible access.
It is a series designed to shine the light on topics that are not often entertained, either by veteran fans of the sports or the growing number of followers who are just discovering our sport. Even more, Beyond the Visible is a visually stunning approach to the world of Formula One – we cannot wait to showcase it to the world."
Watch the trailer: LINK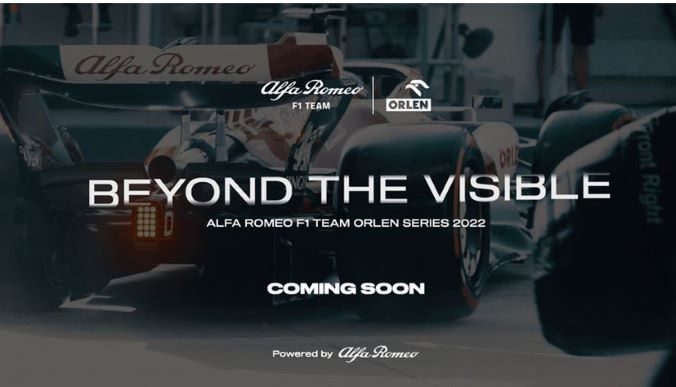 Will Ponissi, photos Sauber

Mick Schumacher ahead of Austrian GP -Good track and "Heidi-esque" vibe

05.07.2022 FIA Formula 1 World ChampionshipRound 11 Austrian Grand PrixRed Bull Ring, SpielbergMick Schumacher – Driver, No.47:Round 11 of the 2022 FIA Formula 1 World Championship is the Austrian Grand Prix, the second more >> Kevin Magnussen ahead of Austrian GP – Still that awesome feeling from weekend

05.07.2022 FIA Formula 1 World ChampionshipRound 11 Austrian Grand PrixRed Bull Ring, SpielbergKevin Magnussen – Driver, No.20:Round 11 of the 2022 FIA Formula 1 World Championship is the Austrian more >> Günther Steiner ahead Austrian GP – our own way

05.07.2022 FIA Formula 1 World ChampionshipRound 11 Austrian Grand PrixRed Bull Ring, Spielberg    Guenther Steiner – Team Principal:Three years on since Haas F1 Team's last double-points score at the German Grand more >> Haas F1 Team is heading straight from Silverstone to Spielberg

05.07.2022 FIA Formula 1 World ChampionshipRound 11 Austrian Grand PrixRed Bull Ring, Spielberg

 
Austria first joined Formula 1's calendar in 1964, at Zeltweg Airport, but from 1970 it moved to the newly-constructed Österreichr more >> Pirelli F1 tyres on track for Austrian Grand Prix

04.07.2022 AUSTRIAN GRAND PRIXRed Bull Ring, Spielberg6-10 July 2022THE TYRES ON TRACK  •    The Red Bull Ring in Austria is a short and sharp rollercoaster with just 10 corners and constant elevation c more >> Aston Martin Aramco Cognizant F1 British GP race – Scoring points at home race

04.07.2022 FORMULA 1 British Grand PrixSilverstone1-3 July 2022Sunday, July 3rd  2022Sebastian: It is nice to score points on my birthday and in the team's home raceIn NumbersSebastian Vettel•&n more >> McLaren Racing F1 British GP race – great to see the British fans

04.07.2022 FORMULA 1 British Grand PrixSilverstone1-3 July 2022Sunday, July 3rd  2022It's been great to see the British fans, they've been amazing all weekend"As it happened• 1/52 A m more >> Oracle Red Bull Racing British GP race – podium for Checo, great day for the team

04.07.2022 FORMULA 1 British Grand PrixSilverstone1-3 July 2022Sunday, July 3rd  2022     Everyone was pushing really hard, my heartrate was pretty high on those last laps. It was a race where it was important not to give up. more >> Mercedes AMG Petronas F1 British GP race – Hamilton's impressive P3

03.07.2022 FORMULA 1 British Grand PrixSilverstone1-3 July 2022Sunday, July 3rd  2022  Lewis scores an impressive P3 for the Mercedes-AMG PETRONAS F1 Team at an action-packed British Grand Prix more >> Williams Racing F1 British GP race – Good performance from Latifi

03.07.2022 FORMULA 1 British Grand PrixSilverstone1-3 July 2022Sunday, July 3rd  2022 Pos    Driver    Team    Time/Gap (Fastest Lap)    Grid12.    N. Latifi &n more >> Alfa Romeo F1 Team ORLEN British GP race – HALO save life

03.07.2022 FORMULA 1 British Grand PrixSilverstone1-3 July 2022Sunday, July 3rd  2022      Alfa Romeo F1 Team ORLEN had a difficult day at the British Grand Prix. Zhou Guanyu was the victim of a gigantic crash from which he eme more >> BWT Alpine Racing F1 British GP race – strong fifth for Fernando Alonso

03.07.2022 FORMULA 1 British Grand PrixSilverstone1-3 July 2022Sunday, July 3rd  2022 Fernando takes strong fifth place after thrilling and incident-packed British Grand Prix  more >> Scuderia AlphaTauri F1 British GP – frustrating race

03.07.2022  FORMULA 1 British Grand PrixSilverstone1-3 July 2022Sunday July 3rd  2022  Yuki Tsunoda (AT03-03, Car 22)Race – pos. 14th  "It's been a difficul more >> Pirelli F1 British GP race – how the compounds made the difference

03.07.2022 FORMULA 1 British Grand PrixSilverstone1-3 July 2022Sunday, July 3rd  2022THE RACE TYRE STORY •    The British Grand Prix was won by Ferrari driver Carlos Sainz from pole more >> Haas F1 British GP race – we couldn't have wished for more

03.07.2022 FORMULA 1 British Grand PrixSilverstone1-3 July 2022Sunday, July 3rd  2022    Layout: 5.891-kilometer (3.66-mile), 18-turn circuitWeather: Partly CloudyAir Temps: 17.7 degrees Celsius (63.8 degrees Fahrenheit)Trac more >> Scuderia Ferrari F1 British GP – race review as Sainz wins and Leclerc finish fourth

03.07.2022 FORMULA 1 British Grand Prix Silverstone1-3 July 2022Sunday, July 3rd  2022Overcast skies, dry. Temperature: air 17, track 28.
 

Start.  As the lights go out, Carlos is overtaken by Max Verstappen, more >> British Grand Prix race result – Sainz wins from Perez and Hamilton

03.07.2022     FORMULA 1 British Grand PrixSilverstone1-3 July 2022Sunday, July 3rd  2022     Round 10 of the 2022 season    Max Verstappen ente more >> British GP standings after 37 laps

03.07.2022     FORMULA 1 British Grand PrixSilverstone1-3 July 2022Sunday, July 3rd  202252 laps    1 Charles Leclerc Ferrari Leader 2    2 Carlos Sainz Ferrari +3.189 2    3 Lewis Hamilton Mercedes +6.109 2    4 Sergio Perez Red Bull Racing +26 more >> Albon and Zhou taken to medical centre after BritishGP Lap 1 crash -update restart 15.56

03.07.2022 FORMULA 1 British Grand PrixSilverstone1-3 July 2022Sunday, July 3rd  2022Williams' Albon and Alfa Romeo's Zhou have been taken to the medical centre after a crash at the start of the British Grand Prix. Both drivers were conscious and evaluated with updates to come.
UPDATE
"Zhou more >> British Grand Prix lap 1 crash brings red flags

03.07.2022 FORMULA 1 British Grand PrixSilverstone1-3 July 2022Sunday, July 3rd  2022LIVE here        Round 10 of the 2022 season        Max Verstappen enters race with 34-point lead at the top of the championship    &nbs more >> British Grand Prix Possible Race Strategies and Pirelli Race Sets

03.07.2022     FORMULA 1 British Grand PrixSilverstone1-3 July 2022Sunday, July 3rd  2022LIVE hereBritish Grand Prix Possible Race Strategies and Pirelli Race Sets more >> Pirelli F1 British GP qualifying – The road to the pole

02.07.2022 FORMULA 1 British Grand PrixSilverstone1-3 July 2022Saturday, July 2nd 2022 •    Ferrari driver Carlos Sainz took his very first pole position after a qualifying session run in rainy conditions from more >> McLaren Racing F1 British GP qualifying – good opportunities

02.07.2022  
FORMULA 1 British Grand PrixSilverstone1-3 July 2022Saturday, July 2nd 2022LANDO NORRISFP3      1m29.102s (+1.201s)      20 laps      7th more >> Oracle Red Bull Racing British GP – good qualifying for both drivers

02.07.2022 FORMULA 1 British Grand PrixSilverstone1-3 July 2022Saturday, July 2nd 2022

 
It was a good qualifying, I felt comfortable out there. It will be a close battle tomorrow but hopefully we can finish ahead. more >> Williams Racing F1 British GP qualifying – Q3 for Latifi,but difficult day

02.07.2022 FORMULA 1 British Grand PrixSilverstone1-3 July 2022Saturday, July 2nd 2022
 

 
Pos    Driver    Team    Q1    Q2    Q310 more >> Alfa Romeo F1 Team ORLEN British GP qualifying – very challenging

02.07.2022 FORMULA 1 British Grand PrixSilverstone1-3 July 2022Saturday, July 2nd 2022     Alfa Romeo F1 Team ORLEN battled the weather conditions to claim another Q3 as Zhou Guanyu set the 9th time in qualifying for the Bri more >> Scuderia Ferrari F1 British GP qualifying – pole for Sainz, Leclerc third

02.07.2022 FORMULA 1 British Grand PrixSilverstone1-3 July 2022Saturday, July 2nd 2022Rain falls five minutes before the start of the session. Temperature: air 16°, track 22°Q1.  The rain means eve more >> Mercedes AMG Petronas F1 British GP qualifying outcome P5 and P8

02.07.2022 FORMULA 1 British Grand PrixSilverstone1-3 July 2022Saturday, July 2nd 2022  P5 and P8 for the Mercedes-AMG PETRONAS Team at the end of a rain-soaked qualifying session at Silverstone more >> BWT Alpine Racing F1 British GP qualifying – Alonso qualifies 7th and Ocon 15th

02.07.2022 FORMULA 1 British Grand PrixSilverstone1-3 July 2022Saturday, July 2nd 2022All to play for at Silverstone as Fernando qualifies seventh and Esteban fifteenth BWT Alpine F1 Team will star more >> Scuderia AlphaTauri F1 British GP qualifying – not really happy

02.07.2022  FORMULA 1 British Grand PrixSilverstone1-3 July 2022Saturday, July 2nd 2022 Pierre Gasly (AT03-04, Car 10)Third Practice Session – Best lap: 1:29.885, pos. 15th, 23 lapsQualifying – more >> Haas F1 British GP qualifying – wasn't a smooth day today

02.07.2022 FORMULA 1 British Grand PrixSilverstone1-3 July 2022Saturday, July 2nd 2022      Layout: 5.891-kilometer (3.66-mile), 18-turn circuitWeather: RainAir Temps: 16.9 degrees Celsius (62.42 degrees Fah more >> Aston Martin Aramco Cognizant F1 British GP qualifying – not the pace today

02.07.2022 FORMULA 1 British Grand PrixSilverstone1-3 July 2022Saturday, July 2nd 2022Sebastian: We did not have the pace today and we know we can do betterIn NumbersSebastian VettelFP3&nbs more >> British GP Qualifying result – Sainz takes pole from Verstappen and Leclerc

02.07.2022     FORMULA 1 British Grand PrixSilverstone1-3 July 2022Saturday, July 2nd 2022LIVE here    Round 10 of t more >> Sir Lewis Hamilton honoured with Hawthorn Memorial Trophy

02.07.2022 British driver Sir Lewis Hamilton has been presented with the Hawthorn Memorial Trophy for an 11th time, extending his record-breaking run in the history of the prestigious award.

 
The Hawthorn Memorial Trophy is awarded annually by Motorsport more >> British GP Free Practice 3 result – Verstappen leads Perez and Leclerc

02.07.2022     FORMULA 1 British Grand PrixSilverstone1-3 July 2022Saturday, July 2nd 2022LIVE here

 
 & more >> British Grand Prix Pirelli tyre sets available after FP2

02.07.2022 FORMULA 1 British Grand PrixSilverstone1-3 July 2022Friday, July 1st, 2022Formula 1 Lenovo British Grand Prix 2022  Tyre sets available after FP2 -Anthony Peacock, photo Pirelli more >> Pirelli F1 British GP practices – What we have learned today

02.07.2022 FORMULA 1 British Grand PrixSilverstone1-3 July 2022Friday, July 1st, 2022 •    A typical Friday in England was characterised by wet and dry weather in the two free practice sessions a more >> Alfa Romeo F1 Team ORLEN British GP practices – A smooth day at Silverstone

01.07.2022 FORMULA 1 British Grand PrixSilverstone1-3 July 2022Friday, July 1st, 2022     Alfa Romeo F1 Team ORLEN completed the first day of on-track action at the British Grand Prix. The Silverstone ci more >> Aston Martin Aramco Cognizant F1 British GP practices – positive experience

01.07.2022 FORMULA 1 British Grand PrixSilverstone1-3 July 2022Friday, July 1st, 2022 Lance: My first experience of the upgrades was positiveIn NumbersSebastian Vettel more >>