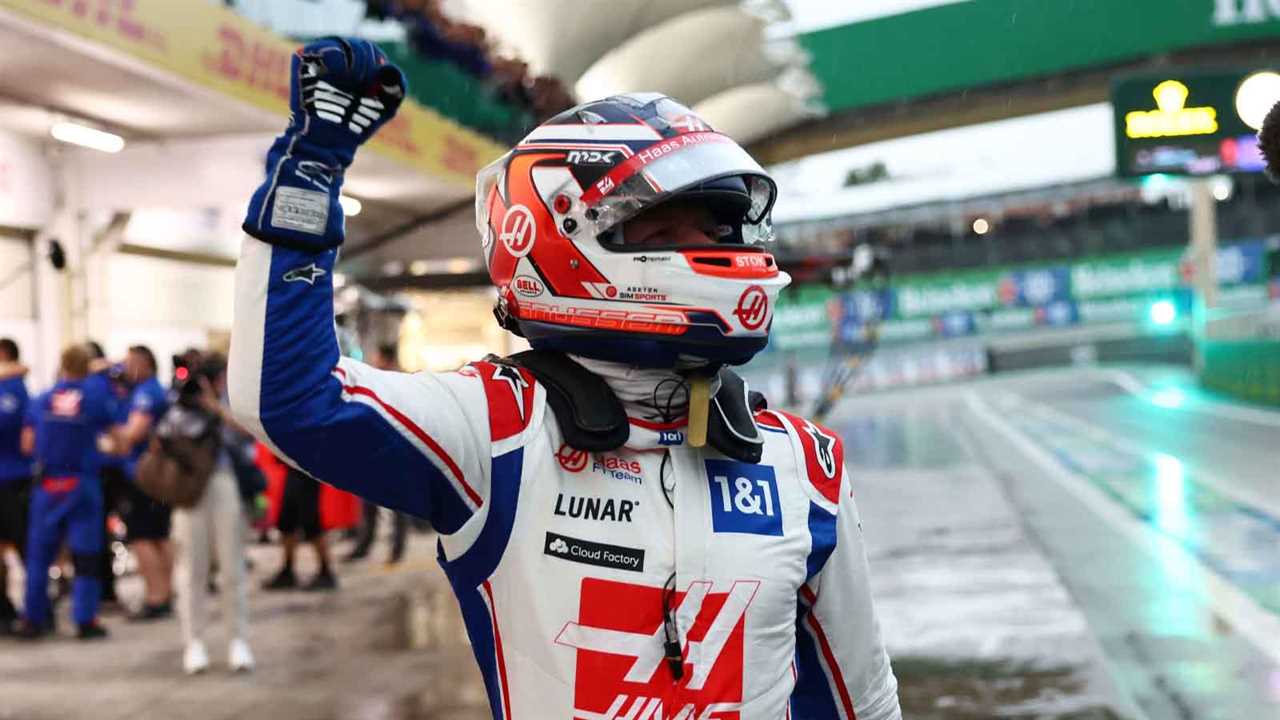 Kevin Magnussen believes his attitude towards Formula 1 has changed after his year away from the sport, as well as becoming a father.
Magnussen was granted a second lease of life in Formula 1 at the start of 2022, when Haas called upon the Danish driver to request a comeback to replace the ousted Nikita Mazepin.
It was an unlikely turn of events, kicked off by Russia's commencement of military action in neighboring Ukraine with Haas releasing Russian racer Mazepin and title sponsor Uralkali in response.
Magnussen, despite very little preparation time for 2022, hit the ground running with a stellar fifth place to kick off the season. While that early success marked the high point of the year in terms of points, Magnussen would score his and the team's maiden pole position with the unlikely result coming his way in a rain-affected qualifying session in Brazil.
Magnussen, who drove for Haas already between 2017 and 2020, has been open about feeling more relaxed during his second stint in the sport – the Dane has turned 30, married and had his first child, and had already come to terms with the loss of his Formula 1 career after starting up a burgeoning sportscar career.
Kevin Magnussen: I thought being World Champion was the ultimate achievement
Speaking in an interview with the Dutch subsidiary of Motorsport.com, Magnussen spoke about his attitude and how he feels it has changed since 2020.
"The biggest pressure is my own expectations," he said.
"When I was a kid, I thought life was all about F1 and getting to the top of the sport. I thought becoming World Champion in F1 was the ultimate achievement in life. Now I realize this is not the case. That takes some pressure off and that's a good thing."
Taking a more relaxed approach to his racing and enjoying life with the team he's been associated with since the end of 2016, year out aside, Magnussen said he's been able to relax the mental pressure he put on himself during this first tenure.
PlanetF1.com recommends
Kevin Magnussen confirms hand surgery success as F1 2023 recovery begins
Helmut Marko again questioned about a Red Bull team boss role for Sebastian Vettel
Helmut Marko weighs in on the good and the bad of PIF's 'supposed' $20b bid
"I enjoy Formula 1 more now," he admitted.
"When I was in my old mindset, everything felt very scary because of the pressure I put on myself. I was afraid that I wouldn't experience happiness if I didn't succeed in sports. That of course gives a lot of pressure.
"Then there is pressure from all the other people. This sport is a very tough competition in many areas. I think it's more positive now. People often joke that you lose two-tenths of speed when you become a father, but that's definitely not the case. I think it's the other way around.
"There is weight on my shoulders now. Of course, I still have big expectations of myself and big ambitions, but it's just different now. It's all OK. I'm happy."
Kevin Magnussen facing a fresh challenge in 2023
Having had the stern challenge of returning to F1 with unfamiliar machinery in 2022, Magnussen also had to assume the team leadership role due to his veteran status compared to the inexperienced Mick Schumacher.
For 2023, Magnussen faces a very different dynamic as Nico Hulkenberg returns from a three-year break from racing in F1, aside from occasional 'super-sub' appearances for Racing Point and Aston Martin.
Magnussen and Hulkenberg had a notoriously poor relationship as rivals several years ago but, with age and maturity, both sides have indicated a willingness to co-operate and work cohesively together. Only time will tell if the arrival of Hulkenberg into Magnussen's territory will ignite a less amiable Dane…