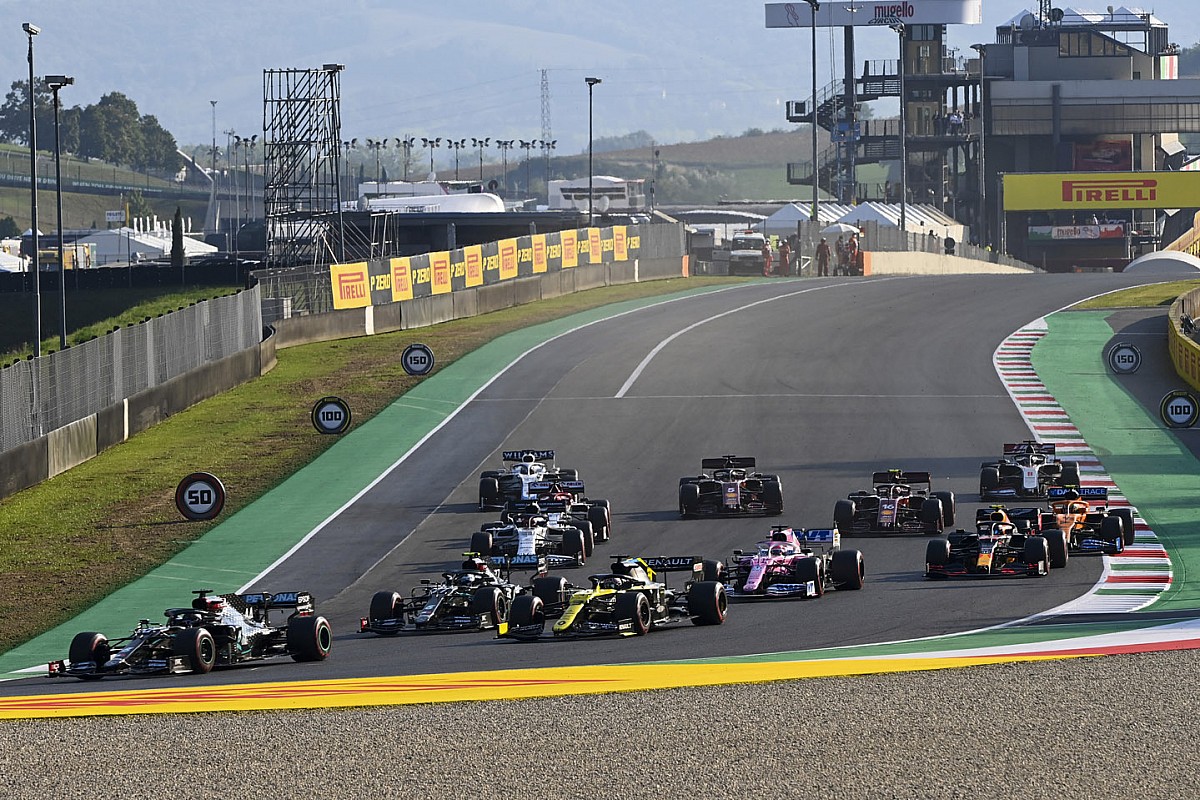 The Sustainable Circuits Index whitepaper, produced by Enovation Consulting and Right Hub, uses 21 different industry and United Nations criteria to assess the environmentally friendly rankings of racetracks around the world.
The report released on Wednesday was based on evidence gathered between August and December last year. It is to become an annual report to assess how the racetracks are improving their credentials.
For the report, a total of 96 permanent circuits were analyzed, of which only 31 have and disclose some proof of sustainability.
The most sustainable track was Mugello in Italy, which hosted the Tuscan Grand Prix last year and a regular MotoGP venue.
Trademark of the Mugello circuit
Photo by: Glenn Dunbar / Motorsport Images
The route uses 100 percent renewable energy and produces 25 percent of its annual energy requirement on site with solar panels. It also has a rainwater recovery system for toilet and irrigation purposes.
There are also numerous water fountains available for fans and team staff to minimize the need for plastic bottles.
Mugello scored 48/100 on the criteria used, ahead of Barcelona (38/100) and Paul Ricard (33/100). All three routes were awarded three stars out of a maximum of four.
Of the other permanent F1 circuits on the calendar, only four more could earn a single star as it is impossible to give a final number to temporary street eateries. It was Silverstone, Hungaroring, Monza and the Circuit of the Americas. The full list can be found below.
Also read:
Dr. Cristiana Pace, a member of the FIA's Environment and Sustainability Commission and founder and chief executive of sustainability advisor Enovation, believed the report would open the door for change to drive track improvements.
"Too often, motorsport has been accused of greenwashing, where stakeholders have used nice words and loose promises," she said.
"The Sustainable Circuits Index proposes a solid assessment of the sustainability performance of racetracks based on disclosed data and a well-developed framework, with the aim of enabling motorsport events to evaluate each other and ultimately to accelerate action and change. Because the time for ambiguities is up. "
The Chairman of the Grand Prix Drivers Association, Alex Wurz, welcomed the report.
"As a driver, GPDA chairman and track designer, I have been concerned with the safety and sustainability of racetracks for many years," he explained.
"And while I would argue that great improvements have been made in terms of safety, I also know that there is still a long way to go to make sustainability a reality for racetracks around the world.
"Although cycles have started to change their approach to sustainability, more guidance is needed on what sustainability means and how a cycle can be sustainable."
This is how the F1 calendar ranks
The Sustainability Circuits Index provides an outline rating between zero and four based on the performance of each permanent circuit. A score of four means a high score, while a zero is the lowest score.

Here are the results of the tracks of the F1 calendar 2021.

Bahrain International Circuit – 0/4

Autodromo Enzo E Dino Ferrari – 0/4

International Autodrom Algarve – 0/4

Barcelona-Catalonia Circuit – 3/4

Circuit de Monaco – No data available

Baku City Circuit – No data available

Circuit Paul Ricard – 3/4

Red Bull Ring – 0/4

Silverstone Circuit – 1/4

Hungaroring -1/4

Circuit de Spa-Francorchamps – 0/4

Zandvoort race track – 0/4

Monza National Circuit – 1/4

Sochi Autodrome – No data available

Intercity Istanbul Park – 0/4

Suzuka International Racing Course – 0/4

Circuit of the Americas – 1/4

Autodromo Hermanos Rodríguez – 0/4

Autodromo Jose Carlos Pace – 0/4

Jeddah Street Circuit – No data available

Yas Marina Circuit – 0/4

The post Mugello, Barcelona, ​​Paul Ricard lead the new sustainability index first appeared on monter-une-startup.