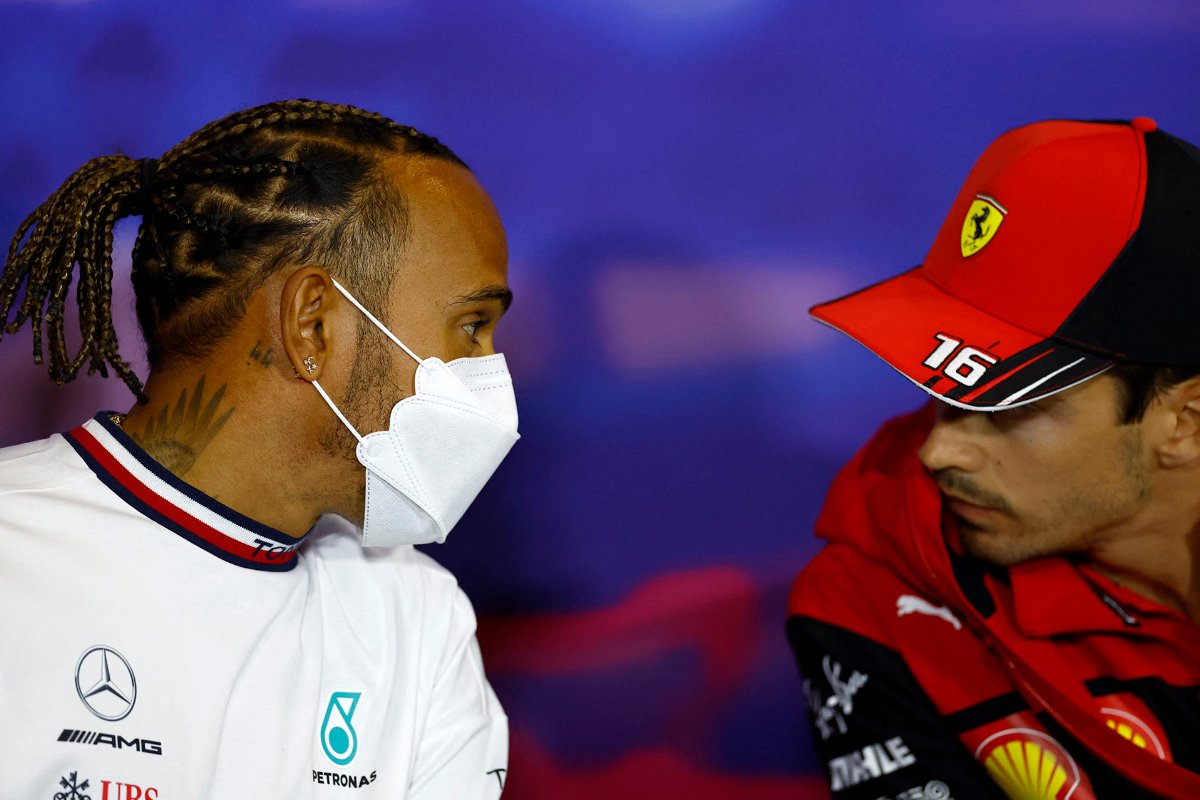 Ferrari driver Charles Leclerc has got into an interesting conversation with his Mercedes counterpart Lewis Hamilton. The Monegasque saw the Silver Arrows ace express his curiosity on Instagram as Leclerc shared a photo of himself from Monaco.
ADVERTISEMENT
Article continues below this ad
The Maranello-based team driver shared a photo of him on Instagram with a caption that read, "It's cold".
ADVERTISEMENT
Article continues below this ad
To which Hamilton asked, "how cold?" Leclerc later responded to him, "as cold as the hard tires in Barcelona winter testing."
As a matter of fact, F1 usually has their preseason testing in the city of Barcelona, ​​Spain. As of 2022, there was nothing different as the teams hit the Catalunya circuit for testing. The testing took place in the second week of March when the weather is usually pretty cold.
Moreover, Charles perhaps used the hard tire context since it is the hardest set to warm up. Hard tires take the longest to heat up during any session.
How things are going for Lewis Hamilton and Charles Leclerc lately?
What was supposed to be Hamilton's hunt for the eighth world championship didn't work out quite the way he would have liked. The seven-time world champion is already out of the championship race now, as he only has almost half of what the Red Bull driver and championship leader, Max Verstappen, has picked up.
As for Leclerc, the season went downhill for the young Monegasque. Even though 2022 started brilliantly for the Ferrari driver. However, a series of misfortunes and his team's miscalculated strategic decisions left him way behind in the championship battle.
ADVERTISEMENT
Article continues below this ad
Formula One F1 – Bahrain Grand Prix – Bahrain International Circuit, Sakhir, Bahrain – March 20, 2022 Ferrari's Charles Leclerc celebrates on the podium after winning the race with third place Mercedes' Lewis Hamilton REUTERS/Thaier Al-Sudani
Lewis Hamilton amassed 168 championship points as compared to Charles Leclerc's 219. Even though the Ferrari driver is technically still in the championship race, things don't look so good for the Maranello-based team, as they need to overcome Max Verstappen's mammoth 335 points .
WATCH THIS STORY: Lewis Hamilton Kicks Off Mammoth $140 Million Hollywood Passion Project
ADVERTISEMENT
Article continues below this ad
Both Charles Leclerc and Lewis Hamilton are enjoying the brief vacation they got after the conclusion of the Italian Grand Prix at Monza. The canceled race in Russia due to the Russia-Ukraine conflict has resulted in the short two weeks off for the drivers.
As F1 gets back in Singapore in late September, it'll be interesting to see how things ramp up for the Mercedes driver as well as his Ferrari counterpart.