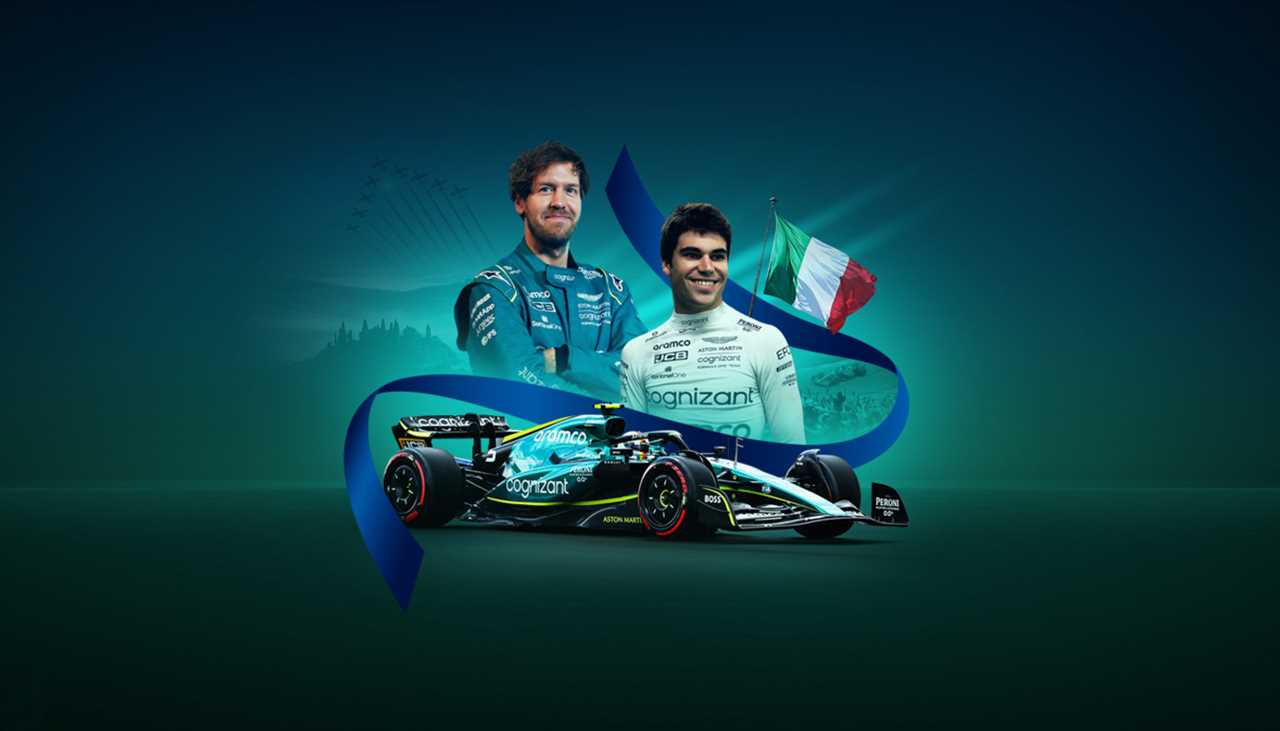 all the news
feature
From where to watch the race to how you can feel the passion inside the Aston Martin F1 garage, this is your guide to Monza presented by Peroni Nastro Azzurro 0.0%.
Welcome to 'La Pista Magica'.
A regular fixture on the Formula One calendar since the inception of the Championship in 1950, Monza has enchanted us with its irresistible charms for decades. Ferociously fast, steeped in history and home to the Tifosi, the passion for our sport runs deep here.
From every corner of the globe, fans make the pilgrimage to this hallowed ribbon of asphalt, creating an atmosphere like no other.
Whether you're able to join us at the track or are following us every step of the way from home, we've teamed up with Peroni Nastro Azzurro 0.0% to provide you with the dos and the don'ts to ensure you #FeelThePassionInside a unique race weekend that holds a special place in all our hearts.
Do enjoy the high-speed hijinks
Monza is known as 'the temple of speed' for good reason. One of the fastest and most power-sensitive circuits on the calendar, its many straights see speeds of around 200mph, while drivers spend three quarters of the lap at full throttle and there's plenty of slipstreaming.
Teams look to run as little downforce as they can to reduce drag in the pursuit of straight-line speed. However, shedding too much can hinder stability, particularly under braking, and that's not something any driver wants to be short of heading into Monza's heavy braking zones.
Turn One is a prime overtaking opportunity at the end of the start finish straight and one of the best places to watch the race. Frequently the scene of heavy lock-ups and drivers out-braking themselves, the variant del Rettifilo is a tricky right-left chicane that rarely sees every car escape unscathed on the opening lap.
Meanwhile, the Ascari chicane later in the lap is a high-speed left-right-left, where there's plenty of laptime to be found. A strong exit out of here is important for the run down to Parabolica, which was renamed Curva Alboreto in honor of the late Michele Alboreto, who raced for Ferrari in the mid-1980s.
It's another iconic corner and a great place to watch driver and machine in full flow: cars are pushed to the limit of adhesion around the long right hander as drivers aim to carry as much speed as possible onto the main straight.
Do go down memory lane
Curva Alboreto brings back memories of Monza's high-speed, banked oval – where Italian Grands Prix originally took place.
Built in 1922, the Autodromo Nazionale Monza has been on the calendar for every year of the Formula One World Championship calendar but one, and the fearsome, old banking – last raced on in 1961 due to a high-speed crash that killed Wolfgang von Trips and 15 spectators – remains visible today.
Don't forget to stretch your legs and go for a walk in the park
Commissioned by Napoleon's stepson, Eugene de Beauharnais, Monza's 688-hectare Royal Park is the largest walled park in Europe and where the Autodromo Nazionale Monza resides along with the imposing royal villa.
It's an oasis of calm and beauty – until the cars take to the track and the roar of racing engines echoes through the trees.
Don't miss the chance to feel the passion inside the AMF1 garage
Milan is just a stone's throw away from Monza and it's where you'll be able to find 'Il Pitstop' on 7-11 September.
The innovative, multi-sensory experience we've developed with Peroni Nastro Azzurro 0.0% is located in Piazza Ventiquattro Maggio and immerses fans in the sights, sounds and smells of the sport – featuring the replica AMF1 racer, pitstop challenges and a unique AMR22 soundscape experience.
AMF1 Driver Ambassador Jessica Hawkins will also be there on Thursday evening to meet fans and may just have a few prizes to give away.
PERONI NASTRO AZZURRO 0.0%
Feel the passion inside the AMF1 garage with 'Il Pitstop'
Multi-sensory experience from Peroni Nastro Azzurro 0.0% immerses fans in the sights, sounds and smells of F1.
learn moreIl Pitstop
Do see The Last Supper… with Sebastian
Da Vinci, Michelangelo, Giotto, Caravaggio, Modigliani. Italy is the birthplace of some of the greatest artists who have ever lived and we're adding to its rich history of artistic flair and invention while we're there.
Peroni Nastro Azzurro 0.0% has commissioned an artist to paint a special mural of Sebastian Vettel in Piazza Ventiquattro Maggio. If you're in Milan, take a selfie with the freshly painted Sebastian, before visiting the convent of Santa Maria delle Grazie to gaze upon one of the most celebrated and renowned murals of all time.
A 30-minute walk, or 20-minute tram ride, from 'Il Pitstop', the convent is home to 'The Last Supper'. Standing 4.6-metres tall and 8.8-metres wide, Leonardo da Vinci's huge painting has captivated, fascinated, and inspired for generations.
Do visit the Duomo
Take a 20-minute trip underground on the metro from 'Il Pitstop' to the Piazza del Duomo and you'll find yourself in the spectacular historic heart of Milan. The piazza is home to the iconic symbol of the city, a colossal Gothic cathedral with a design so elaborate it's akin to the intricacies of an F1 car.
Construction began in 1386 and, despite more than six centuries of work, it can be argued that the cathedral has never been finished – routine restorations and cleaning continue to take place to ensure the signature pink-hued marble never stops gleaming.
Climb the 250 stairs to the top of the cathedral and you'll be treated to a view of Milan's skyline that must be seen to be believed.
Once you've caught your breath, head back into the Piazza del Duomo and grace the enchanting Galleria Vittorio Emanuele II – one of the oldest shopping centers in the world.
Made of marble, iron and glass, within the four-story double arcade can be found luxurious restaurants, cafes and boutiques – many of the latter belonging to some of the world's most venerable fashion houses.
Make your way through the majestic Galleria and you'll arrive at La Scala, the renowned theater that's been the stage for some of the most remarkable performances from the finest singers in the world since 1778.
For more in the way of music, the Volo and Cavalli clubs are a couple of the city's most popular nightspots.
Peroni Nastro Azzurro 0.0%
Sebastian Vettel on his bucket list, F1 & mentorship
Join us at the bar with Sebastian Vettel for a candid insight into the four-time F1 World Champion.
From mentorship to competitive spirit, bucket list dreams to the causes close to his heart, get closer to Sebastian and #FeelThePassionInside with a Peroni Nastro Azzurro 0.0% in hand.
Watch here
Sebastian Vettel
Do join us at the bar with…
Sebastian Vettel, Reserve Driver Nico Hulkenberg, Driver Ambassador Jessica Hawkins, Team Principal Mike Krack and No. 1 Mechanics Scott Taggart and Mikey Brown.
Created in collaboration with Peroni Nastro Azzurro 0.0%, 'At The Bar With' has returned for a second series.
Watch as we catch up with AMF1 team members over a drink to discover more about the passion that drives them and the moments that have shaped their lives and careers.
Do dress your best
In addition to starring in the second episode of the new series of 'At The Bar With', Scott and Mikey will be kitted out a little differently this weekend to bring an added touch of style to the Monza pitlane.
See if you can spot them throughout the weekend, and show your support wherever you are in the world by donning your favorite AMF1 clothing from our official store.
Don't eat pasta for your main course
When most people think of Italy, phenomenal food isn't far behind – the nation has had an immeasurable influence on the cuisine.
But it's not just as simple as ordering a big bowl of spaghetti. Did you know that pasta is usually reserved for a first course – not for a main – or that cappuccinos are only to be drunk at breakfast?
You also shouldn't have eggs first thing in the morning – and certainly never have cheese with a fish dish. But don't let that stop you enjoying some of the most delicious food on the continent.
Do mix it up
For something to sip on while you're eating spaghetti (traditionally with no meatballs) – or just to celebrate the fact it's the weekend – enjoy a Peroni Nastro Azzurro 0.0%, perhaps in one of the limited-edition Peroni Nastro Azzurro 0.0% glasses for winners of the Box Box competition.
Watch Sebastian's 'At The Bar With' episode above and see how to make the perfect pour, with Global Brand Ambassador Simone Caporale.
Do watch out for special giveaways across the weekend
To help commemorate the momentous Italian GP weekend, we're giving you the chance to win a Monza-edition race poster, signed by the AMF1 drivers.
Keep your eye on our social media channels for your chance to win.
Don't forget to give Sebastian, Lance, Nico and Jess a call
A handful of I / AM members will join Sebastian Vettel, Lance Stroll, Nico Hülkenberg and Jessica Hawkins on an exclusive Peroni Nastro Azzurro 0.0% video call live from Monza this week.
Whether it's asking Sebastian about what his plans after he retires from F1, learning about Lance's aims for the rest of the season, quizzing Nico on what he's been working on in the simulator, or discovering more about Jess's latest W Series campaign and how she's helping the team, it's a chance for our competition winners to pose the questions they've been desperate to ask our team of drivers.
Do 'box box'
Ahead of this weekend, we gave I / AM members the chance to win a Box Box. Full of AMF1 merchandise and treats from Peroni Nastro Azzurro 0.0%, it's the perfect accompaniment to the Italian Grand Prix.
For those I / AM members lucky enough to win and #FeelThePassionInside the Box Box, share how you're celebrating this weekend with us on social wherever you are in the world.
Don't miss out on exclusive competitions
Unlock access to competitions where you can win once-in-a-lifetime experiences and unforgettable prizes, such as the Peroni Nastro Azzurro 0.0% driver call and Box Box, by joining I / AM.
Our membership program is free to join and brings you closer to the team, giving you the opportunity to attend unmissable events, enjoy AMF1 store offers, connect with passionate AMF1 fans, and receive the latest AMF1 content and news direct to your inbox, from exclusive team insights into messages from the drivers.
Do stay for the podium ceremony
Located above the start-finish straight, Monza's podium is one of the best, as fans flood onto the circuit to stand beneath it and join the celebrations as the trophies are handed out.
If you can make it to the podium before the champagne corks fly, it's an experience not to be missed. If you can't make it, make sure you're near a screen to watch it and start spraying some bottles of Peroni Nastro Azzurro 0.0%.
Do savor the best moments of the weekend
Back from the summer shutdown with a fresh, new look, INSIDER gives you unrivaled access to the team. Featuring exclusive insights and behind-the-scenes moments, every episode of INSIDER is a chance to see a race weekend from a different perspective – and the 2022 Italian Grand Prix will be no exception.
Follow @AstonMartinF1 for updates on when it's about to drop.
And, finally, don't forget to sit back, relax…
…and #FeelThePassionInside as you watch the Italian Grand Prix with a bottle of Peroni Nastro Azzurro 0.0% in hand.
Salute!
Race preview by Cognizant
Italian GP
membership programs
Join I / AM
All in. All welcome. All celebrated. Sign up to open up a world of I / AM benefits and once-in-a-lifetime experiences.
Register now