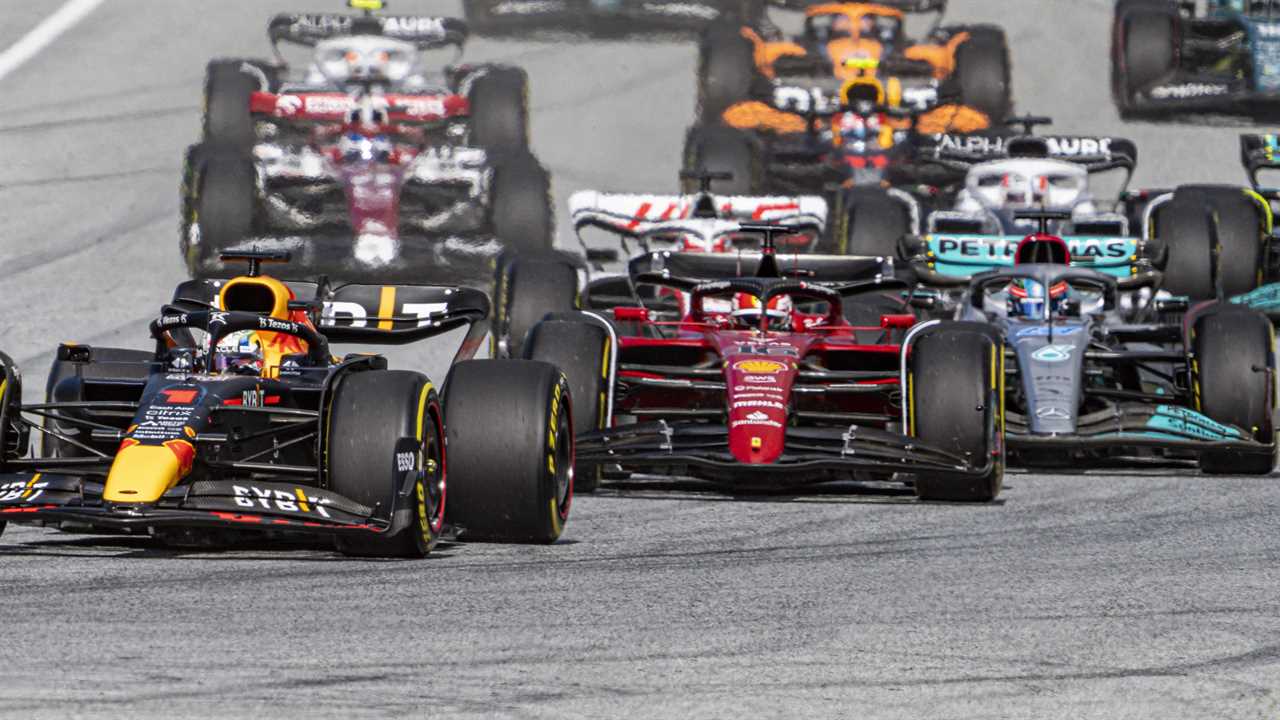 Whether it's the fight for drivers' and constructors' glory, the battle for midfield mastery, or simply the struggle for supremacy between team mates, there are plenty of rivalries to be excited for this season. Here are seven big potential flashpoints to keep an eye out for once the racing action gets under way in 2023…
1. A six way battle up front?
If last year's Sao Paulo Grand Prix and Sprint proved anything, it's that Mercedes are still a formidable team, Lewis Hamilton and Max Verstappen will always provide fireworks, and that it's always worth tuning in – even if the championships have been wrapped up.
This season, Mercedes will be on the warpath to make sure their fall to third place in the 2022 constructors' championship is a one-off – and Hamilton himself will be looking not only to make amends for a winless 2022 season, but the championship that got away from him in 2021. George Russell, who took his maiden win at Interlagos, could be right there too, if the Silver Arrows can deliver the hardware.
READ MORE: Lawrence Barretto's 5 bold predictions for the 2023 season – how many of these will come true?
Will Hamilton have the car to take on Verstappen this season?
Of course, Verstappen is in a team who have taken the new era of F1 by storm; the Dutchman took a record-breaking 15 Grands Prix wins last season and Red Bull barely put a foot wrong after a stuttering start on the reliability front.
Verstappen's teammate Sergio Perez wants to prove himself this season too. The Mexican driver has already made it clear that he's not looking to settle for the rear-gunner position and will be going all out to beat the reigning champion on the other side of the Red Bull garage.
READ MORE: 'I'm pretty much at my best' – Perez setting his sights on title challenge in 2023
Enter Ferrari, and the chase for the championships becomes even tastier. The Scuderia started last year strongly but fell back from Red Bull as the season wore on.
Having started so well only to miss out on title glory Charles Leclerc and Carlos Sainz will be hungrier than ever this season. We know those drivers won't play nice with Red Bull and Mercedes, but will they play nice with each other?
Either way we could have six drivers fighting it out tooth and nail for the championship this year, which is a mouth-watering prospect.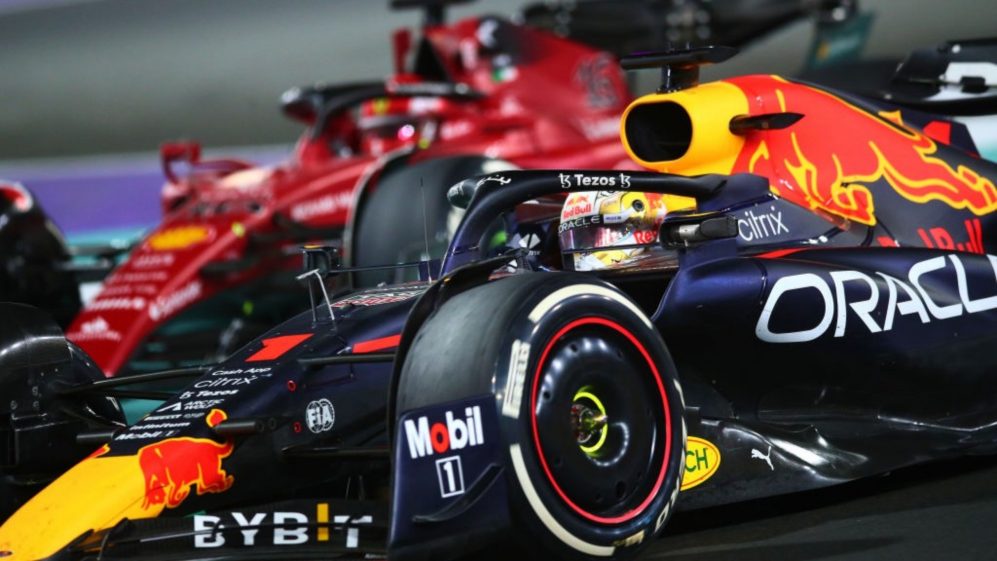 Red Bull are the hunted going into 2023 – with Ferrari looking for a first title since 2008
2. McLaren vs. Alpine
Two outfits with higher aspirations than fourth in the standings, McLaren and Alpine will be looking to make it a five-way team fight at the front this year. Even if they don't manage to prove a thorn in the side of the front-runners, the midfield leaders will certainly be fighting toe-to-toe against each other over the next 23 rounds.
Add in the fact that Oscar Piastri is about to begin his rookie campaign for McLaren after leaving Alpine in somewhat controversial circumstances, and there's plenty more to this rivalry than meets the eye.
READ MORE: Hamilton names two midfield teams he hopes can join 2023 championship battle
McLaren's Lando Norris is driving at an incredible level but Esteban Ocon is a consistent points scorer – and a race winner, and now he has the proven talent of compatriot Pierre Gasly alongside him at the French team.
Alpine took P4 in last year's constructors' championship over McLaren but the pair were neck-and-neck as the season progressed and in the end the difference was just 14 points. We can't wait for round two…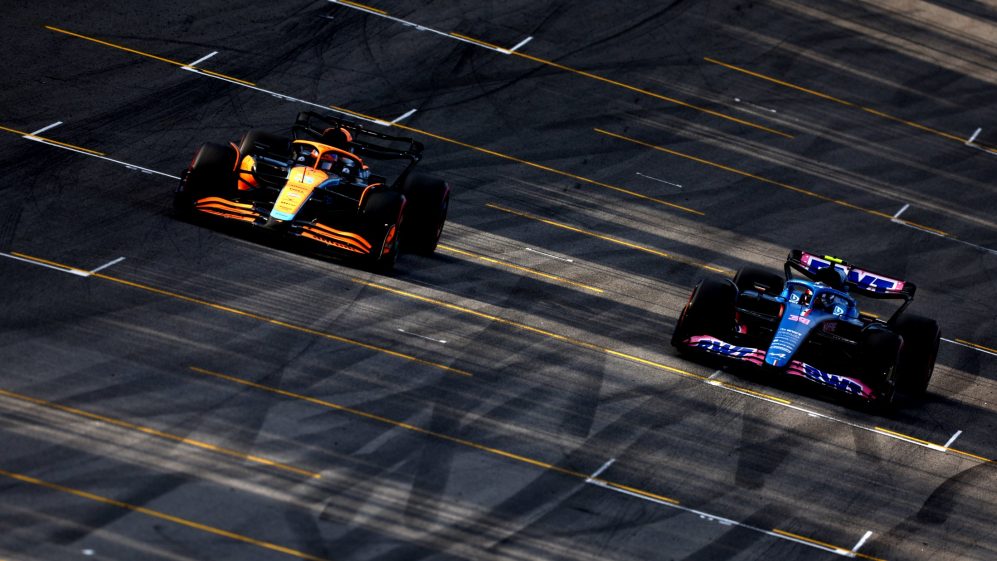 Two giant teams facing off in the midfield this season – but can they challenge at the very front?
3. Ocon vs Gasly
So we expect the Alpine vs McLaren battle to be exciting, but could the intra-team rivalry between Gasly and Ocon at Alpine also be a spicy one?
Gasly and his former AlphaTauri teammate Yuki Tsunoda had a largely harmonious relationship, although they did crash out in the 2022 British Grand Prix. When it comes to Ocon, however, you don't need to look too far back to see sparks fly between himself and ex-teammate Fernando Alonso. Look a bit further and you'll remember the Ocon-Perez battles at Force India, too.
READ MORE: 'It was a hell of a ride' – Gasly says AlphaTauri spell made him a 'better driver' as he gets set for Alpine switch
Alonso and Ocon battled wheel-to-wheel in Saudi Arabia, but Sao Paulo was where their rivalry truly boiled over. The Alpines clashed twice on the first lap of the Sao Paulo Sprint, Alonso getting penalized for his troubles before he said: "It's far from ideal when it's your team mate, but it's been a little like this all year long."
Fellow Frenchmen who came up through the junior ranks together, Ocon and Gasly were once best of friends but now have a complex relationship, after plenty of highs and lows. Will we see fireworks between the two of them when the racing gets under way in 2023?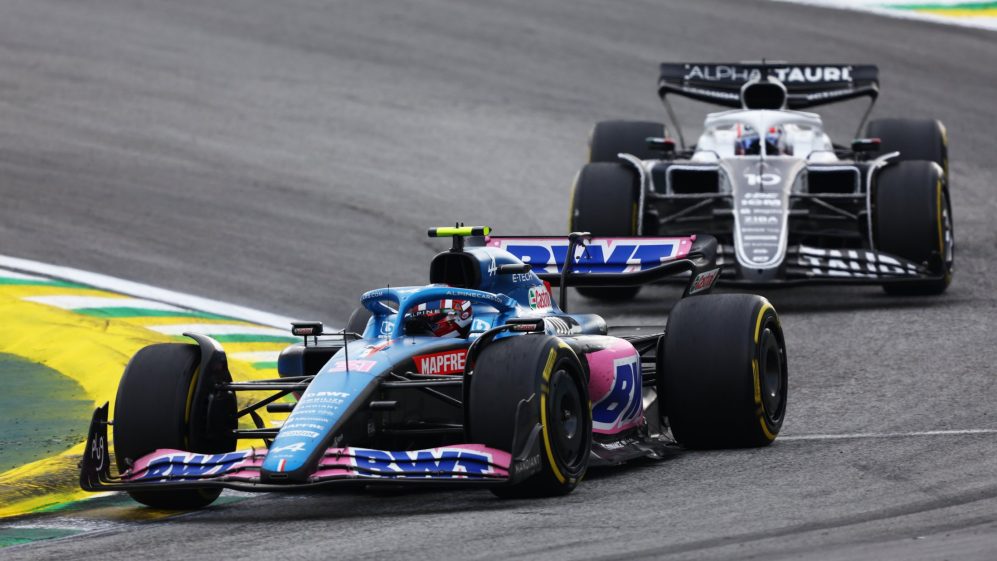 It's an all-French line-up at the French team – but will Ocon and Gasly get along?
4. Aston vs Alfa
Aston Martin and Alfa Romeo ended 2022 on the exact same points total – and though the latter team started the season well, it was the Silverstone-based outfit that showed a greater improvement over the second half of the year and only missed out on P6 in the championship because Alfa Romeo's Valtteri Bottas scored the best race finish out of the four drivers from the two teams.
This year, both squads will be seeking to build on what was a solid start to the new era of F1 but given they finished so close last year, will we see another midfield melee?
READ MORE: Aston Martin excited to work with 'very motivated' Alonso as they set out 'realistic' target for 2023 season
With their stated aim of ultimately looking to compete for the world championship, Aston Martin will do everything to try to vault up the grid in 2023, and with new recruit Fernando Alonso racing as hard as ever, we could see the two-time champion and his team mate Lance Stroll taking on the likes of Alpine and McLaren too, if the engineers can give them the car to do it.
Stroll is no pushover either – as was clear when he and then team mate Sebastian Vettel diced in Sao Paulo in 2022 – so there's plenty of kindling in the fire at Aston Martin.
As for Alfa, in Bottas they have a proven race winner leading the team, alongside Zhou Guanyu who will be that bit sharper this season having now got his rookie campaign under his belt.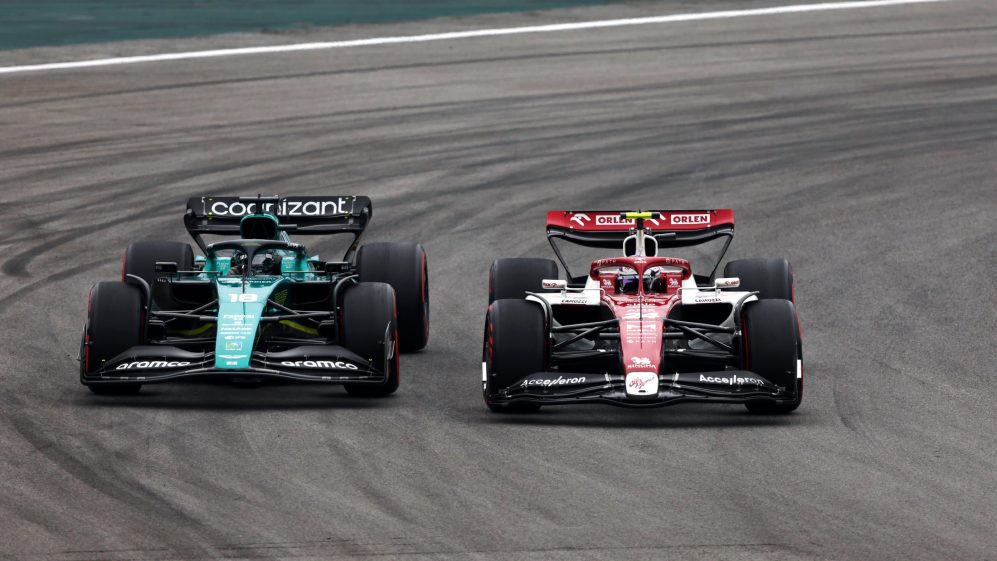 Two midfielders looking to move up the chain could get in each other's way…
5. Hulkenberg vs Magnussen
Nico Hulkenberg and Kevin Magnussen are two drivers who also have something of a checked history – but will this season link up as team mates at Haas.
Their rivalry first came to a head at the 2017 Hungarian Grand Prix when they clashed on track and then had a now infamous verbal exchange in the TV pen after the race. That was back when Hulkenberg raced for Renault and Magnussen was in his first year at Haas.
Magnussen has since played down the incident. "It was kind of the first time we laughed about what happened back then in Hungary," he said after Hulkenberg was announced as his team mate for 2023. "It's a funny thing that has been joked about many times since. It's going to be fun."
READ MORE: 'Mick did a good job, but we need a driver to carry us' – Steiner on why Haas went for Hulkenberg over Schumacher
But we know that neither driver will want to concede to the other, with Hulkenberg seeking to prove his talent after two years on the sidelines, and Magnussen determined to lead the team.
And we've seen sparks fly between Haas drivers before: Magnussen and Romain Grosjean drew the ire of Team Principal Guenther Steiner back in 2019 after a series of on track incidents – let's just hope the Haas motorhome doors have been reinforced ahead of this year. ..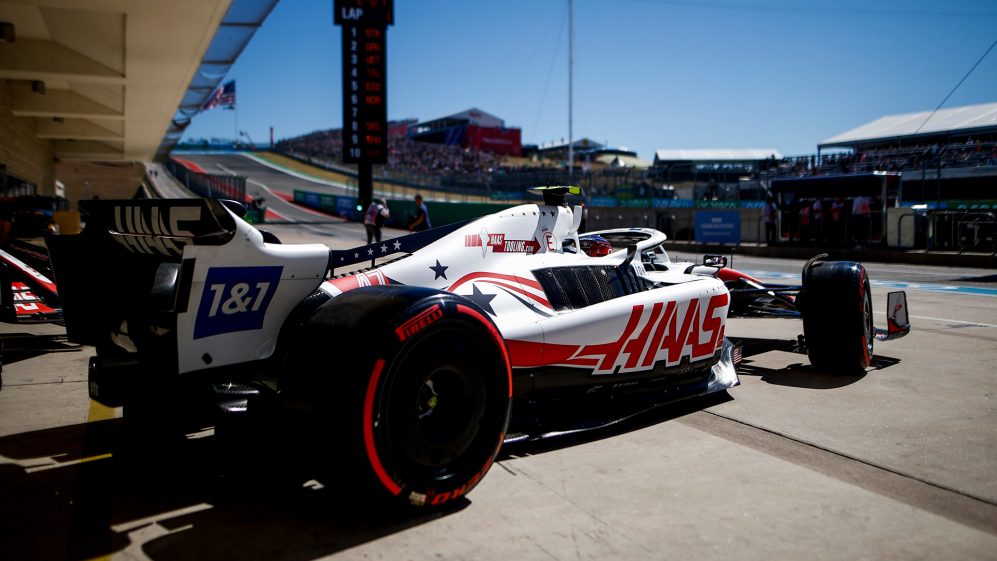 Will it be all smiles at Haas by the end of 2023?
6. Haas vs Alpha Tauri
Haas have plenty more to focus on than any potential animosity between their two drivers, as AlphaTauri finished just two points behind them in 2022. The Red Bull-powered team ended up a historic low of ninth in the constructors' championship and their Team Principal Franz Tost will hope for a quick response this time around.
With a new title sponsor and an experienced driver pairing, Haas will also be looking to kick on from last season and will prove tough opposition for Tost's team. How will his drivers Yuki Tsunoda and Nyck de Vries respond to the challenge?
READ MORE: 'It's been a hard year, but I've learned a lot' – Tsunoda insists he and AlphaTauri will 'be back strong' in 2023
Williams ended up a bit further behind as they finished 10th in the standings with eight points – but Alex Albon and Logan Sargeant could prove a formidable driver pairing.
We should therefore have plenty of excitement up and down the grid in 2023 – but there's one more thing to look out for…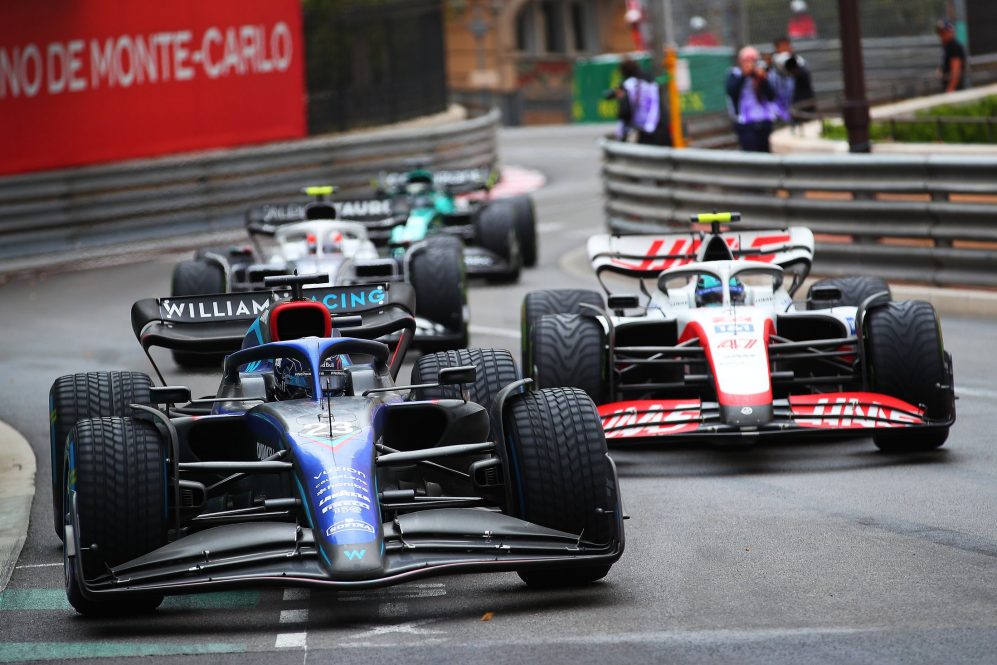 Williams will be eager to join the AlphaTauri-Haas scrap this season
7. Battle of the Rookies
We have three highly-rated rookies on the grid this season and each has plenty to fight for in their maiden F1 season.
McLaren's Australian debutant Piastri stayed on the sidelines as a reserve driver in 2022 but made plenty of headlines after a contract dispute with Alpine who wanted him to race for them in 2023 – which just underlines how highly-rated Piastri is. There will be plenty of pressure on him to deliver in his debut campaign, after he won both the F3 and F2 titles at the first time of asking.
READ MORE: 'He's a very strong team mate to learn from' – Piastri excited to work with Norris at McLaren
AlphaTauri's new hire Nyck de Vries also has a trophy shop past. Like Piastri, the Dutch driver is a Formula 2 champion but he also has a Formula E title under his belt. And he has already had a taste of Formula 1 action, having stood in for Williams driver Alex Albon at Monza last year, when he impressed by scoring points in his first ever Grand Prix.
Meanwhile Williams also have a rookie in Logan Sargeant, the first American driver in the field since Alexander Rossi raced for Marussia in 2015. Sargeant is the only 2023 debutant to have graduated straight from Formula 2, where he finished fourth in last year's standings.
So, with 20 of the world's greatest drivers, 23 Grands Prix and six Sprints, we're all set for epic rivalries and plenty of fireworks. Roll on March 5 and the 2023 Bahrain Grand Prix…