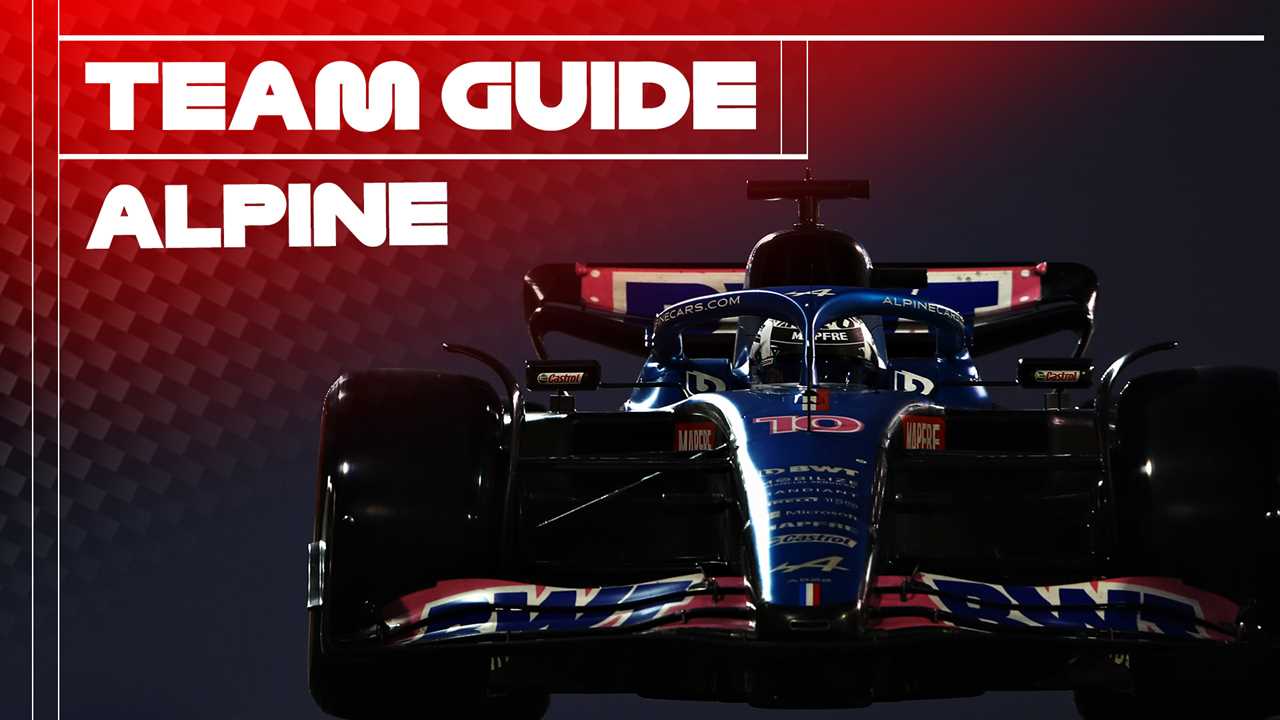 The Renault-operated Alpine team beat McLaren to fourth in the 2022 constructors' standings – but now have their sights set on challenging Red Bull, Ferrari and Mercedes at the very sharp end of F1. Here's everything you need to know about the Enstone-based team ahead of the 2023 season…
Drivers for 2023
Pierre Gasly #10: 1 win, 3 podiums, 332 points, 108 starts
Esteban Ocon #31: 1 win, 2 podiums, 364 points, 111 starts
Following spells at Manor and Force India/Racing Point, former Mercedes junior Esteban Ocon has made the Alpine team – owned by Renault – his home in recent seasons.
Indeed, building on his maiden F1 win at a wet/dry 2021 Hungarian Grand Prix, Ocon became only the second driver – after Jenson Button – to out-score two-time champion Fernando Alonso as a team mate in 2022, albeit with the Spaniard suffering more technical-related DNFs.
READ MORE: Lawrence Barretto's 5 bold predictions for the 2023 season – how many of these will come true?
A new team mate and challenge awaits Ocon this year, though, with Alonso's move to Aston Martin opening the door for long-time Toro Rosso/AlphaTauri driver Pierre Gasly, who breaks free from the Red Bull family in his quest for more success.
Former childhood buddies Ocon and Gasly – who hold almost identical F1 records to date – will form the first full-time all-French driver line-up at a Renault-backed team since Alain Prost and Rene Arnoux back in 1982.
Ocon and Gasly will join forces for 2023 at an all-French Alpine team
Last season
Renault returned to F1 as a works team in 2016 after several years on the sidelines, but it was not long before company chiefs triggered a rebrand to promote their sportscar arm, Alpine.
During a transitionary 2021, Alpine retained P5 in the constructors' standings, aided by Ocon's aforementioned win and a podium finish for Alonso during his comeback season, before setting about climbing up the grid under new team boss Otmar Szafnauer.
READ MORE: From Magnussen's mega comeback to the pursuit of Piastri – 8 crazy storylines from the 2022 season
Red Bull, Ferrari and Mercedes remained out of reach in 2022, and the first year of F1's rules reset, but Alpine were at least able to make that next step forward by beating McLaren to P4 in a season-long scrap.
However, McLaren took victory off the track in a dramatic battle for Oscar Piastri, who was announced as Alonso's replacement by Alpine, but had already signed for the Woking team – the latter deal later backed by the Contract Recognition Board.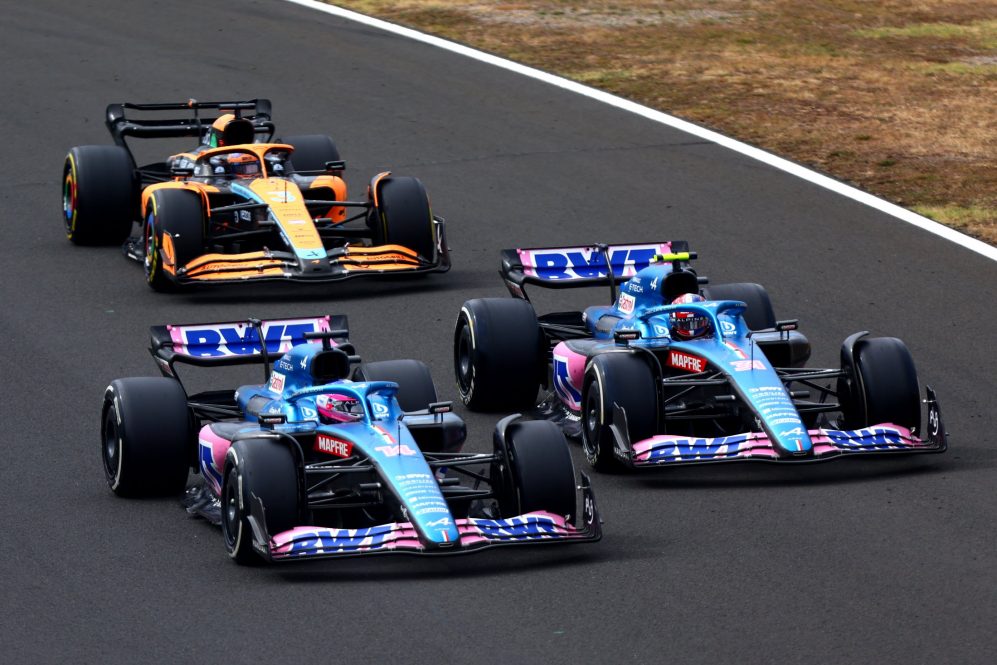 Alpine got the better of McLaren for P4 in the constructors' standings last season
History
Alpine's history stretches all the way back to 1981 and the formation of Toleman, then based in Witney, a market town in West Oxfordshire. Five years later, the Benetton Group bought and renamed the team, before moving it 11 miles up the road to Enstone.
READ MORE: 'It was definitely very special' – Gasly 'emotional' after driving Alpine for first time at Abu Dhabi test
With the flamboyant Flavio Briatore at the helm, and Michael Schumacher in the cockpit, Benetton won the 1994 and 1995 drivers' titles, along with the 1995 constructors' crown. Former engine supplier Renault then took over operations in 2000, fully rebranding it two years later.
The Renault guise would soon add to Benetton's earlier success by taking the 2005 and 2006 constructors' titles, while the up-and-coming Alonso won back-to-back drivers' championships.
When Genii Capital secured a majority stake, a somewhat confusing phase of Lotus naming iterations followed from 2011 to 2015, but Renault's second takeover ensured the return to factory status from 2016. A rebrand to Alpine took place for 2021.
Greatest Achievement
The greatest achievement of the current Alpine team identity must be winning the 2021 Hungarian Grand Prix with Ocon, followed by taking a podium at that year's Qatar Grand Prix with Alonso, and rising from P5 to P4 in the constructors' standings in 2022 – no mean feat.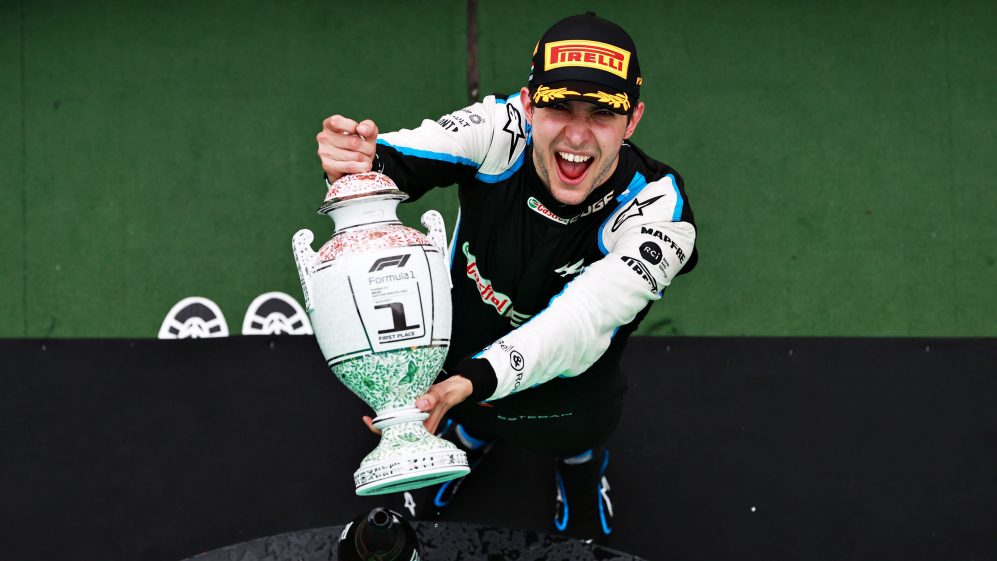 Ocon won his maiden F1 race during the first year of Alpine's rebranding
This season
While reliability issues cropped up throughout the 2022 campaign, Alpine CEO Laurent Rossi hailed the team's recovery from a "shambles" pre-season to maintain an upward trajectory and edge closer to F1's big three.

"[P4] is important, not just financially, but also for the momentum. We said we would try and progress every year to catch up as much as we can with the top teams. It's important not to miss the first step," said the Frenchman.

READ MORE: 'He can take us to the next level' – Alpine set out what they expect new recruit Gasly to bring to the team

Given the pace advantage that Red Bull, Ferrari and Mercedes – despite the latter's relative struggles – enjoyed over the midfield last year, Alpine will need some winter magic to join the fight up front, but they are already on Lewis Hamilton's radar.

Other factors that will help Alpine over the coming season are F1's tightening budget cap, which should further level the playing field, and the sliding scale of wind tunnel test time, which is based on the previous year's constructors' standings.

Breaking into the top three would be a major achievement for the team – time will tell if it's a step too far at this stage.


Did you miss our previous article...
https://formulaone.news/aston-martin/f1-champ-max-verstappens-private-jet-has-a-sim-racing-rig-in-it