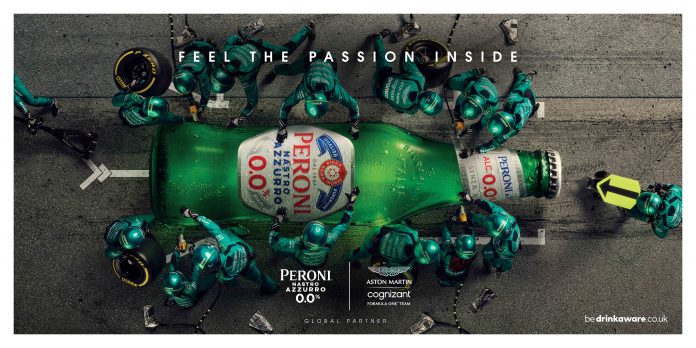 · Peroni Nastro Azzurro 0.0% partners of the Aston Martin Aramco Cognizant Formula One



Team are set to bring fans the passion from inside the garage to city centers across Europe via a new​ multi-sensory experience called, 'IL PITSTOP'
The multi-sensory experience will immerse fans in the sights, sounds and smells of the Aston Martin Aramco Cognizant Formula One



Team garage, whilst providing a unique and elevated opportunity to trial the crisp and refreshing Italian taste of Peroni Nastro Azzurro 0.0%
'IL PITSTOP' will visit 11 European cities including, London, Milan, Amsterdam and Budapest.
With less than 20% of Formula One



fans having been to a race in the last 5 years[1]super premium Italian beer brand Peroni Nastro Azzurro 0.0% are bringing fans from across Europe the opportunity to feel the passion from inside the Aston Martin Aramco Cognizant Formula One



Team garage via a new​ multi-sensory experience called 'IL PITSTOP'.
The custom designed mobile, multi-sensory experience will travel across 11 European cities including London, Budapest, Amsterdam and Milan for their British, Hungarian, Dutch and Monza Grand Prix, as well as other key cities including Belfast, Manchester, Birmingham, Sopot, Gothenburg, Berlin and Bucharest.
Guests will have the opportunity to view the Aston Martin Aramco Cognizant Formula One



Team car up close, and in person whilst also partaking in a pit stop challenge. Guests will also feel transported to the garage with a unique soundscape experience offering them the noise of the AMR22 being drafted into Il Pitstop. Samples of the new Peroni Nastro Azzurro 0.0%, offering the same crisp and refreshing Italian taste experience as Peroni Nastro Azzurro but with 0.0% alcohol will be available to sample.
Richard Ingram, Global Brands Director at Asahi Europe & International said: "Only a select few people will ever experience the true passion of a Formula One garage, but with IL PITSTOP, Peroni Nastro Azzurro 0.0% are inviting fans from across Europe to experience access all areas within a Formula One team. This multi-sensory experience will immerse fans in the sights, sounds and smells of the Aston Martin Aramco Cognizant Formula One



Team garage, whilst providing a unique and elevated opportunity to trial the crisp and refreshing Italian taste of Peroni Nastro Azzurro 0.0%."
Sebastian Vettel, Aston Martin Aramco Cognizant Formula One



Team racing driver said; "It's really important to encourage open conversations about moderation and the positive impact it can have on wellbeing, both physically and mentally. Peroni Nastro Azzurro 0.0% tastes great and Il Pitstop will be the perfect opportunity for fans to engage in the sport I love whilst enjoying a non-alcoholic beer."
The IL PITSTOP TOUR SCHEDULE:
Thursday 16 – Sunday 19 June – Belfast
Friday 24 – Saturday 25 June – Manchester
Monday 27 – Tuesday 28 June – Birmingham
Thursday 30 June – Sunday 3 July – London
Tuesday 26 – Sunday 31 July – Budapest
Wednesday 3 – Sunday 7 August – Sopot
Thursday 11 – Saturday 13 August – Gothenburg
Thursday 18 – Monday 22 August – Germany
Friday 26 August – Sunday 4 September – The Netherlands
Wednesday 7th – Monday 12th September – Milan
Saturday 17 – Sunday 25 September – Bucharest