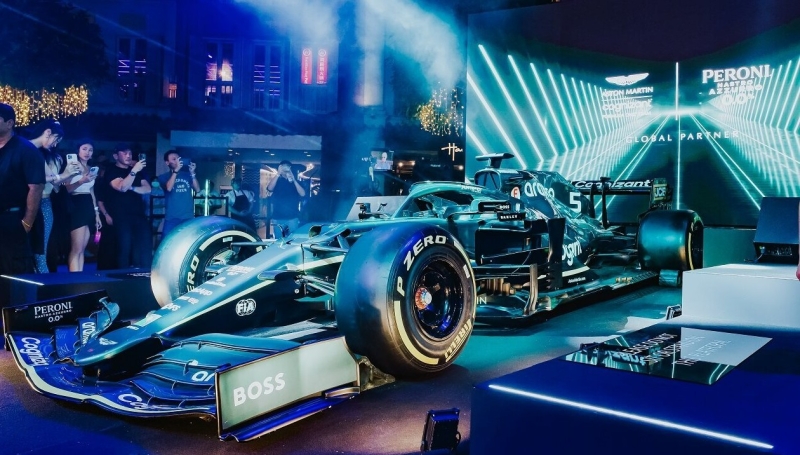 Peroni Nastro Azzurro 0.0%, the beer brand's alcohol-free variant, is leveraging the return of live events to create a buzz of its own in the lead-up to the Singapore Grand Prix. In partnership with the Aston Martin Aramco Cognizant Formula One Team, the brand has unveiled a replica car at Clarke Quay to give fans a behind-the-scenes insight into the F1 team. It has also created an exclusive food menu that reflects the beer brand and is collaborating with bar partners including Level Up, Harry's Bar, Yang Club and Kitchen Partner, and Mimi Restaurant & The Riverhouse as part of its "Back With Passion" activation until 2 Oct. There will be live performances for consumers over the next 18 days.
Dennis Chia, GM, Singapore and Malaysia, Asahi Beer Asia told MARKETING-INTERACTIVE the entire activation for the replica car and beer experience costs approximately SG$1 million, with GOVT Singapore in charge of the activation. This follows the agency's appointment as Asahi's Beer Asia's activation agency for Singapore and Malaysia. In addition, GOVT Singapore will also be developing plans to activate the Asahi and Peroni brands in Singapore and Malaysia in the near future.
"It's great to have brand activation work back in full swing. It's always been a passion of ours to connect people with brands via immersive brand experiences. This event with Peroni Nastro Azzurro 0.0% is a great way to get going again. We're grateful for the opportunity to bring the roar and excitement of racing back to Clarke Quay," said Alvina Seah, GOVT Singapore's MD.
The Clarke Quay activation is accompanied by an integrated campaign covering channels including OOH and involves dentsu Singapore, which Chia said "played a huge role" in its ATL activation.
The five-year partnership with the F1 team, which is currently in its second year, brings together two brands with synergies around style, heritage, and passion. It features the Peroni Nastro Azzurro 0.0% logo across the car and all team kit. The drink is also served at events across the global F1 calendar, including in the Aston Martin Aramco Cognizant Formula One Team motorhome, at every Grand Prix and across a number of activations aimed at engaging new and current consumers.
Having grappled with COVID-19 for two years and places up, the beer brand opening wanted to take it up a notch with its "Back with passion" activation and give back to its business partners. "That's what we are about. Our brand motto is to 'Live every moment' and across the next 18 days, we are working with different F&B partners and all proceeds from the event will go to them. We want to give back to Clarke Quay's tenants who have survived COVID-19 and we thought this activation was a nice way to bring to life our brand proposition," he explained.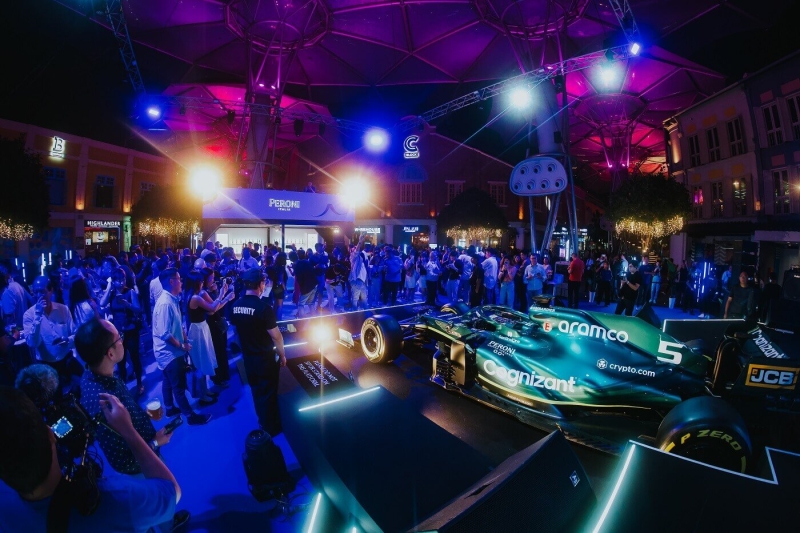 From 30 September to 2 October, Legion of Racers Race Simulators will also be on-site for visitors to simulate a race experience with every purchase of Peroni Nastro Azzurro 0.0%. The brand is giving away three cartons of the drink to the top three fastest racers, among other prizes. Meanwhile, chef Woo Wai Leong was engaged to create the exclusive menu which features five unique dishes inspired by the drink's Italian heritage and the English heritage of the F1 team.
Aside from the F1 replica car, live performances, race simulators food and beer, Peroni Nastro Azzurro 0.0% is dipping his toes into the fashion scene with a fashion show with the Singapore Tourism Board during the Grand Prix Season Singapore, which will take place later this month. The brand wants to build its association with fashion through the show before gradually easing into the scene. Although it did not create any special apparel for the fashion show, Chia said it is an interesting area which Peroni Nastro Azzurro 0.0% plans to look into in the next one or two years should opportunities arise.
(Read also: Aston Martin races off with new branding and iconic wings)
Doubling down on experiential events
The return of live events is an added avenue to bring to live the "Live every moment" brand proposition, Chia said, adding that the company plans to double down on experiential events until the end of the year. "This is just the start of what we are doing and in the next few years, it will be even more impactful and meaningful," he explained.
Chia was candid about where he finds inspiration for experiential events – by checking out competitors' or cross-category events. "Those are two main sources. But my other form of inspiration is that it needs to start out with a very simple idea. You don't do experiential marketing for experiential marketing. You do it to bring to life a very simple, meaningful idea . I see experiential marketing as an enabler," he explained.
While Chia did not offer specific figures for its ROI, revenue, profitability and brand awareness are definitely key areas the brand is keeping an eye on. On top of that, it also wants to ensure that consumers are delighted by the experience, especially with Singapore heading into the endemic phase. "We want to ensure they are happy and we are going to build more meaningful connections with them moving forward. That is the ultimate KPI for me," he said.
The intent to build meaningful connections with consumers ties in with the need for authenticity that consumers these days seek, especially Gen Z. According to Chia, they are able to easily sniff out authenticity very quickly and the team places emphasis on that in its marketing strategies when targeting the younger segment. "We want to encourage Gen Z to live in the moment. This is a representation of who we are as a brand, and we hope that by being honest about what we stand for, they will be drawn to us," he added.
Meanwhile, Kinyi Choo, MD, Asia at Asahi International, explained that as this is the first year the Aston Martin Aramco Cognizant Formula One


Team is racing in Singapore, it is delighted that through the partnership with the team, it is able to bring a truly unique experience to motorsport fans in Singapore. "This is about demonstrating the passion that we both share and creating unique moments that elevate experiences for our consumers, even if you aren't physically at the track," Choo said.
Delve into the regional perspectives on common PR challenges today with MARKETING-INTERACTIVE's PR Asia 2022. Join us on 9 November for a power-packed program as we gather Asia's top PR and communication practitioners in-person in Malaysia. Deep dive into the next necessary steps for PR as we head towards 2022. Register today to learn and connect with the PR gurus in the region!
Related articles:
Peroni Nastro Azzurro partners with local illustrator for graffiti wall in HK
Artist gets an "Aston Martin" after sharing selfie with shower gel