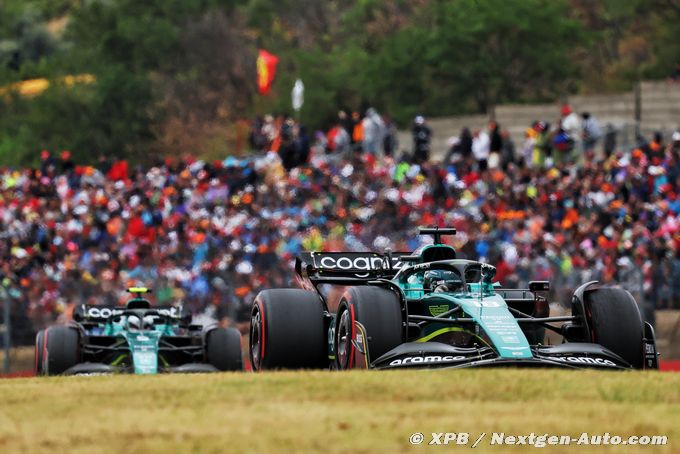 If Aston Martin F1 is only ninth in the constructors' championship with 20 points scored, it still manages to do better than Alfa Romeo or even AlphaTauri in the last races contested. But his poor qualifying results tend to hamper his weekends.
This is also the main weakness of the team according to its driver Sebastian Vettel. The future retiree, who has nine races to go in Formula 1, is aware that his team is not yet lap-fast enough to aim for better race results.
"Our weakness is Saturday in qualifying because in the race I think we will be in the fight once we manage to qualify better," said the four-time world champion.
« In qualifying, we are the 9th or 10th team. On Sundays, we sometimes have a reasonable rhythm allowing us to evolve in the peloton. »
A much better pace in the race
The Hungarian Grand Prix also illustrates the German's words well: starting 18th on the grid, he managed to climb up to 10th place in the race, all without taking advantage of setbacks in the competition.
« I was actually reassured on Friday, which was good. Saturday didn't go the way I wanted and so I didn't have a good evening. But Sunday was much better and I was able to recover during the race. »
Can we say that the Silverstone-based team has taken a step forward at the Hungaroring?
"It doesn't happen overnight. I think our race was solid: we had the right strategy, the right feelings in the car and we made the right decisions. That's a strong point. »
« Not everyone got away with it but we had a plan from the start which is a good thing. But like I said we need better Saturdays if we want to finish 9th, 8th or even 7th in the race. »
Vettel came back to Ocon at the end of the race in Hungary
To illustrate his remarks, Vettel recalls that he had come back close to the Alpine F1 of Esteban Ocon at the end of the race, and this when the Frenchman started 5th in the Grand Prix. And if not for the late appearance of the virtual safety car, he might have had a chance to overtake him.
« After the second pit stop I was a bit struggling with my tires. I think we got the balance of the car wrong. »
« Then we corrected that at the third stop and it was much better. I think I could have had a chance to pass Esteban at the end, but obviously we missed it a bit. The virtual safety car n «Of course didn't help. The plan we had been working on worked and I was happy with it, but again I prefer to move on. »
« I will now enjoy the summer break and then I will try to work as hard as I can in the remaining races. I think there are a lot of things we can improve easily. We will do our best and we will fight until the end. I'm looking forward to my last races in F1. »