Last updated:14 hours ago
The Alfa Romeo F1 team finished the 2022 season of Formula 1 in sixth place, a monumental result for them.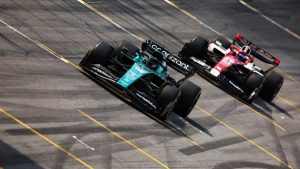 Aston Martin's Lance Stroll racing with Alfa Romeo's Valtteri Bottas in the penultimate race of the 2022 season (Image Credit: Dan Istitene – Getty Images)
In 2021, Alfa Romeo had six points finishes, four for Kimi Raikkonen and two for Antonio Giovinazzi. This season they doubled that number, with nine points finishes going to Valtteri Bottas and three to Zhou Guanyu.
On top of that, when the team did finish in the points this season they finished higher than the eighth, ninth, or tenth they managed in 2021. Consistently having the pace to finish in the points meant that going into the final race of the season , they were five points ahead of Aston Martinwho sat in seventh.
For Alfa Romeo team principal Fred Vasseur, it was a tense final race. With the Aston Martin drivers racing with and ahead of Bottas and Zhou, there was always a possibility that sixth place would get taken away. Towards the end, drama in the race threw a wrench into Alfa Romeo's race.
In the end, Alfa Romeo didn't score any points, and Aston Martin scored exactly five points. Both teams ended the season on 55 points, but the countback rule awarded sixth in the constructors' championship to Alfa Romeo.
"I was very relaxed but when lewis retired I thought 'okay, we have no margin anymore'," Vasseur told GPFans. "It was the biggest fun with Danny, the last couple of laps.
"It was more tight in the end, it was one point, one position to the last lap. For the team, they deserve it and I'm more than pleased."
Bottas' reaction
2022 was a big switch for Bottas, who moved from the reigning constructor's championship to a team that had finished ninth in 2021.
But a sixth-place finish at the season opener in Bahrain was a great result for Bottas and the team, and it wasn't a fluke. While the pace of the car trailed off towards the end of the season, he went on to take eight more points finishes, the best of which was fifth place in Imola.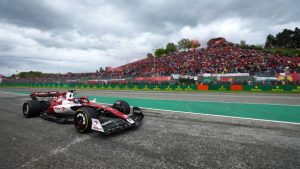 Bottas during the Emilia Romagna Grand Prix where he finished fifth (Image Credit: Lars Baron – Getty Images)
"I am really pleased for the team, it's an important result and you can see what it means for every one of us," said Bottas after the final race.
"It was close, very close in our battle for sixth in the championship, but we did it and I am proud of everyone tonight. The only thing that mattered to us today was the standings results and the strategy we chose was quite defensive, trying to hold position and slow down our rivals when we found ourselves in front of them."
Progression through the season
Bottas echoed Vasseur's sentiment, speaking about the progress throughout the season. "I am proud of how the team came a long way since winter testing: we scored a lot of points at the beginning of the year and those results made all the difference at the end of the season
"The spirit in the team is excellent, we can be proud of our work and this will help us continue our progression next year. There is plenty to look forward to."
"It's a great feeling for the team. It wasn't our best race but we had too much focus on Aston to manage the situation, and to be on track where we had to be. But at the end of the day, it's paid off, and we are more than pleased to be P6. It's a great achievement for the team coming from P9 last year and from [pre-season testing] where we struggled a lot.
So see
"It was a very good team reaction and I'm more than pleased for everybody, not only the race team but all the guys at the factory. It's a great feeling and the best way to start the winter."
Zhou's reaction
It's been a solid rookie season for Zhou at Alfa Romeo. While three points finishes and a best finish of sixth place in Montreal seems a little nondescript, he's been solid throughout the year.
Zhou scored points on debut, helping to give Alfa Romeo a double points finish in Bahrain with his tenth place.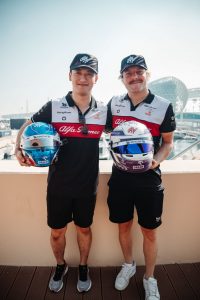 Zhou (left) and Bottas (right) doing a helmet swap ahead of the Abu Dhabi Grand Prix (Image Credit: @ValtteriBottas on Twitter)
It's a great accomplishment to be a part of such a great success for Alfa Romeo as a rookie, but Zhou made sure to give credit to the team.
"I am so proud of this team, not just for tonight but for the whole season," he said after the final race. "We gave everything in the race and despite not scoring points, we achieved our target, which was finishing P6 in the championship.
"We had to sacrifice my strategy to hold on through the last laps, and I think we did a good job with that. We truly gave it all out there, it was an amazing fight on track and I think also the best overtake I've done all season. We got what we deserved after such a long year."
With Sauber set to cut ties with Alfa Romeo after 2023, they couldn't have wished for a better result this season.
Feature Image Credit: @ValtteriBottas on Twitter