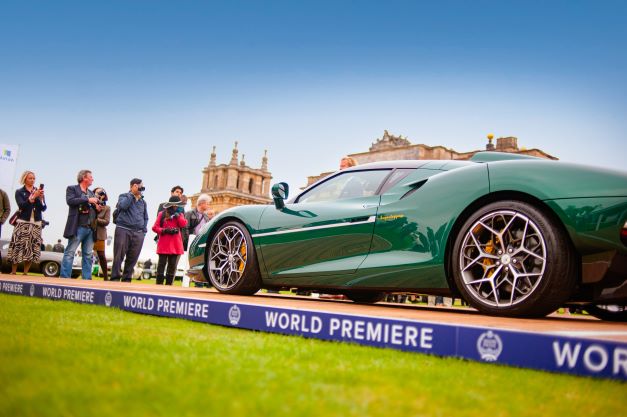 06.07.2022: As one of the worlds most prestigious automotive events, Salon Priv is now in its 17th year, and returns to Blenheim Palace at the end of August.

Blenheim Palace, a UNESCO World Heritage Site and ancestral home of Sir Winston Churchill, will host
Tweet

As one of the world's most prestigious automotive events, Salon Privé is now in its 17th year, and returns to Blenheim Palace at the end of August.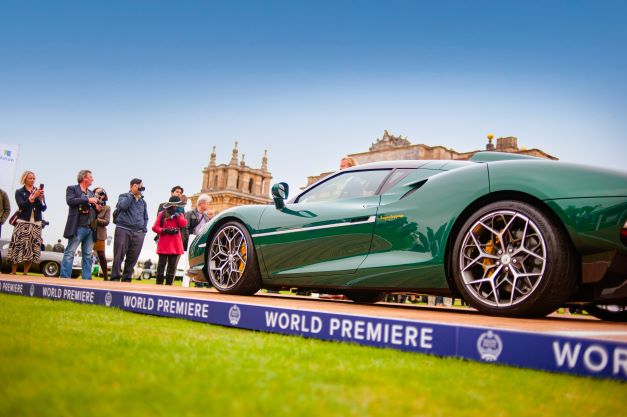 Blenheim Palace, a UNESCO World Heritage Site and ancestral home of Sir Winston Churchill, will host the next Salon Privé, the ultimate end-of-Summer party, from Wednesday 31 August to Sunday 4 September 2022.
With more than 150 of the world's rarest and most desirable cars on display, alongside a wide array of luxury brands, it simply is a must-attend event.
Salon Privé Week 2022:
31 August      – Salon Privé Concours d'Elégance presented by Aviva
1 September – Salon Privé Concours d'Elégance presented by Aviva
2 September – Salon Privé Ladies' Day presented by Boodles
3 September – Salon Privé Club Trophy presented by Lockton
4 September – Salon Privé Classic & Supercar at Blenheim Palace
Tickets can be purchased via the website : www.salonpriveconcours.com



Charity Partner:

Salon Privé is proud to once again have Rainbow Trust Children's Charity as its charity partner. The organisation provides emotional and practical support to families who have a child with a life-threatening or terminal illness, and thanks to the generation donations of guests and Concours entrants, the event has so far raised in excess of £1.1 million for these great causes.


About Salon Privé:


Now in its 17th year, Salon Privé is a must-attend event for any car enthusiast or aficionado. Now hosting two events across the automotive calendar year, Salon Privé Blenheim Palace and Salon Privé London both offer incredible line-ups that cover everything from classics to next-generation hypercars and EVs. All alongside outstanding hospitality and luxury shopping villages that cater to all, the Salon Privé events are now recognised as some of the world's most prestigious automotive events, with Blenheim Palace firmly established as the UK's most exclusive automotive Garden Party.

The next Salon Privé event will be held at Blenheim Palace from 31 August – 4 September 2022, with the prestigious Concours d'Elégance, presented by Aviva and in conjunction with ICJAG (the International Chief Judging Advisory Group), to take place on Wednesday 31 August and Thursday 1 September. Salon Privé London will return to Royal Hospital Chelsea in 2023, with its 'Concours de Vente' set to take place from Thursday 20 April – Saturday 22 April 2023. For more information, please visit www.salonprivelondon.com

Hannah Burgess,Simon Hucknall, photos Salon Privé

All the winners at Heveningham Concours

05.07.2022 The winners in the automotive and aviation categories at this year's charity Heveningham Concours were announced at a summer garden party for owners and guests on Saturday 2nd July at Heveningham Hall in glorious Suffolk.The ju more >> London Concours 2022 closes its gates after a spectacular, Supercar filled third day, and record crowds

02.07.2022     The London Concours closed its doors at the City's Honourable Artillery Company yesterday after welcoming thousands of guests over the three-day event    The final day of this year's event was the dedic more >> Tickets to the 2022 Chattanooga Motorcar Festival Oct. 14-16 Now on Sale

30.06.2022 Registration also open for Canossa Fall Rally Chattanooga, Concours d'Elegance and Pace Grand Prix at the BendTickets to the 2022 Chattanooga Motorcar Festival on Oct. 14-16, 2022, are now on sale more >> Espada 400 GT: the legendary V12 Lamborghini

28.06.2022 In a year full of V12 celebrations, find out about the first four-seat LamborghiniIn 2022 Lamborghini is celebrating the V12: the legendary 12-cylinder engine that has powered its most iconic cars for almost 60 years. They include the more >> E-mobility India Forum 2022 to focalise strategies on EV adoption

28.06.2022 … safety concerns and charging infrastructure developmentDiscussing roadmaps for the adoption and promotion of EVs in India, E-Mobility India Forum powered by NGV India Summit will commence its second edition from 29 – 30 September 2022 at Le Meridien, New Delhi. more >> Our Eclectic Future presented at British Motorsport Day in the Palace of Westminster

27.06.2022 Motorsport UK and the All-Party Parliamentary Group for Motorsport today presented Our Eclectic Future at British Motorsport Day in the Palace of Westminster to showcase the vision of a world powered by a range of use-appropriate systems and fuels. more >> Nigel Mansell reunited with 1992 Williams Racing Championship winning car at Goodwood Festival of Speed

27.06.2022 Williams Racing is delighted to have reunited 1992 Formula One World Driver's Champion Nigel Mansell CBE with his championship winning car, the FW14B, at the prestigious Goodwood Festival of Speed. Closing out the event with a triumphant parade la more >> Wayne Rainey Returns to the Saddle of 1992 YZR500 at Goodwood Festival of Speed

24.06.2022 Three-time 500cc Grand Prix champion Wayne Rainey was reunited with his 1992 championship-winning YZR500 in an emotional display at this year's Goodwood Festival of Speed. The event marked the first time Rainey, who was paralysed from the chest down in an accident at the 1993 Italian Grand Prix, had ridden a race bike since his career-ending crash. more >> Valtteri Bottas wakes Milano up to celebrate Alfa Romeos 112th anniversary

24.06.2022     Alfa Romeo F1 Team ORLEN driver, Valtteri Bottas, took the passion of Alfa Romeo to the immortal streets that gave birth to the brand as he drove his car through the city centre of Milan.It's been 112 years since the foundin more >> All-new McLaren Artura GT4 to make global public debut this week at the Goodwood Festival of Speed

21.06.2022     Artura GT4 to appear at Goodwood Festival of Speed; global public debut for McLaren Automotive's latest customer racing GT4 car    Artura GT4 features all-new McLaren Carbon Lightweight Architecture (MCLA) monocoque, providing a weight reduction over the current 570S GT4    Compact and more >> Lexus and Mark Levinson celebrate their partnership in Audio excellence on World Music Day

21.06.2022     Lexus marks a successful and exclusive partnership with luxury audio specialists Mark Levinson, delivering excellence in in-car systems for more than two decades    Mark Levinson provides an insight into the detailed developmen more >> SKODA AUTO to present innovative sustainability concepts at Berlins GREENTECH Festival

21.06.2022 – ŠKODA AUTO Board Member for Purchasing Karsten Schnake to speak about supply chains and the circular economy at the international event- More than 100 exhibitors at the event dedicated to innovative sustainable technologies and sustainable lifestyles- Visitors able to test drive the all-electric ENYAQ iV 80 more >> Swedish electric motorcycle pioneer CAKE expands operations in France

21.06.2022 Local organization and central Paris storefront to meet rising demand for electric, two-wheeled vehicles in the city of light.  CAKE, the Swedish maker of premium lightweight, electric moto more >> Ford Pushes the Boundaries of Performance and Inclusivity at Goodwood with Electric SuperVan Debut and Very Gay Raptor

21.06.2022 •    Exciting line-up of new Ford product demonstrations at Goodwood Festival of Speed 2022 to include global unveiling of the Ford Pro Electric SuperVan demonstrator•    Next-Gen Ranger Raptor pick-up makes its European dynamic debut and supports Ford Presents Tough Talks live session in "Very Gay Raptor" livery more >> Lamborghini celebrates Goodwood Festival of Speed with the Duke of Richmond

21.06.2022 The essential appeal of Lamborghini at the world's greatest celebration of motorsport and car cultureAs Automobili Lamborghini heads to the 2022 Goodwood Festival of Speed from 23 to 26 June, the Duke of Richmond takes time to drive the Lamborg more >> Hot Wheels Legends Competition Returns to Find UK Vehicle Worthy of Becoming a Toy Car Legend

21.06.2022 •    Hot Wheels



brand wants to make your car into a die-cast legend •    Hot Wheels



Legends Tour returns to the UK to find the ultimate fan-built car to recreate for toy car fans and collectors around the world•    Last year's global winner was a Volvo drag race car more >> MissionH24 invited to the Goodwood Festival of Speed

21.06.2022 Ten days after the end of the 24 Hours of Le Mans week MissionH24 will be back in action on the track from Thursday to Sunday, this time in Great Britain, as H24 Racing's two electric-hydrogen-powered racing prototypes have been invited to the Goodwood Festival of Speed. more >> Ferrari Celebrates 75th Anniversary at Goodwood Festival of Speed with FIVE UK Dynamic Debuts

21.06.2022 296 GTB, SF90 Spider, 812 Competizione, Daytona SP3, and Ferrari SP38Ferrari is celebrating its 75th Anniversary with an incredible display of Prancing Horse cars at this weekend's Goodwood Festival of Speed, i more >> Alfa Romeo prepares for trio of debuts at Goodwood Festival of Speed

21.06.2022     New Tonale will make its dynamic UK debut at 2022 Festival of Speed driven by Alfa Romeo F1 Team ORLEN driver Zhou Guanyu

 
    New Giulia ESTREMA and Stelvio ESTREMA make UK debuts at festival more >> Sports Car Market Magazine at Hilton Head Island Concours dElegance and Motoring Festival

20.06.2022 Sports Car Market Magazine will Present the 2022 Spirit of Motoring Award at the 20th Anniversary Hilton Head Island Concours d'Elegance and Motoring Festival on Nov. 6Sports Car Market magazine, in partnership with The Hilton Head Island Concours d'Elegance and Motoring Festival, will present the "Sports Car Market Spirit of Motoring Award& more >> Automechanika Ho Chi Minh City 2022: The exhibition presents V-Connect for synergy across physical and online spaces

15.06.2022 Since borders reopened in March, enthusiasm for Vietnam's automotive market keeps growing with the organisers of Automechanika Ho Chi Minh City 2022 receiving enquiries about inbound travel, visits to the fair and booth availability. To fulfil both exhi more >> The heroes behind CUPRAs Unstoppable Impulse

15.06.2022     Last week CUPRA held the Unstoppable Impulse, an unconventional six-day event to present its vision of the future and its new models through to 2025    Behind the event is the effort of a team of more than 100 people who worked for three months to realise a dream that was experienced by 4,200 attendees from 44 countries more >> Alfa Romeo inaugurates its new brand identity in Milan

10.06.2022 •    On the occasion of the commercial launch of the Tonale in the main European markets, Alfa Romeo is inaugurating a new flagship store in Milan at the Stellantis &You Sales & Services dealership. •    The first showroom in the world to feature the new Brand Identity, it will provide an immersive sensorial e more >> Ducati Riding Experience Travel Adventures: travelling the Ducati way – registrations

10.06.2022 •    The Ducati Riding Experience season continues with the offer of three travel formats studied in detail to offer enthusiasts unique experiences aboard Ducati models•    DesertX Expedition in Sardinia from 7 to 11 September, Multistrada Expedition between Italy and France from 29 September to 4 October and two appointments of more >> Everrati partners with Henry Poole & Co for Concours on Savile Row, London

09.06.2022 •    Everrati collaborates with one of Savile Row's oldest tailors, Henry Poole & Co, for unique automotive Concours in the heart of London•    Two companies share a similar ethos offering bespoke, custom-made products for discerning global clientele•    Everrati's r more >> FIA ETCR to showcase Next Generation Festival at Circuito de Madrid Jarama-RACE

08.06.2022 • Circuito de Madrid Jarama-RACE to highlight the future of vehicles and motor sport

 
• Jarama Next Generation Festival announced in press conference in Madrid• A Jarama that is sustainab more >> MINI Recharged & Paul Smith: An icon sustainably reinvented

07.06.2022 The British designer converts a classic Mini from the 1998 MINI Paul Smith Edition and reinvents the classic in the process. The customised car is part of the MINI Recharged project, which celebrates the fusion of tradition wi more >> Goodyear to support communities with fifth annual global week of volunteering

02.06.2022 Associates will help build a better future with volunteering activities at 23 locations worldwideThe Goodyear Tire & Rubber Company is holding its fifth annual Global Week of Volunteering from June 2 – 8. The event will include a week of volunteer opp more >> The Aiways difference: Chinese EV makers journey to become an active lifestyle brand in Europe

02.06.2022  •    Aiways Europe at epicenter of influential dialogue in automotive, lifestyle, political and business spheres

•    Aiways U5 SUVs requested as VIP sh more >> 350 GT: the V12 that laid the foundations for Lamborghinis DNA

19.05.2022 In the year of the V12, the story of the first: from its origins to the Aventador Ultimae, the last pure aspirated V12 from the House of Sant'AgataFor Lamborghini, 2022 is the year of the V12, its legendary 12-cylinder engine that has po more >> Lyn St. James Selected as Grand Marshal for Third Annual Chattanooga Motorcar Festival Oct. 14-16, 2022

16.05.2022 Racing champion Brian Redman returns as Grand Ambassador, Corky Coker named Grand Marshal EmeritusJustin Bell's "Torque Show" and road rally created by Canossa Events added to weekend program   more >> Genesis extends partnership with Goodwood Festival of Speed for a further three years

12.05.2022     Relationship continues the Korean brand's ambitious launch in Europe    Genesis will make two exciting product debuts at the Festival    The Genesis stand will showcase the full Genesis range more >> The International Society of Automation Celebrates Automation Professionals with Designated Global Day

12.05.2022 The International Society of Automation celebrated the first-ever International Automation Professionals Day on 28 April. The digital event engaged automation professionals from all around the globe to recognize their efforts in the vastly growing automation industry. more >> 30 years of KW – from a one-man business to a global entrepreneurial group

10.05.2022  
In May 1992, Klaus Wohlfarth created the foundation for an impressive success story by starting his retail business KW Tuning. Today three decades later, the retailer of sporty car tuning and accessories has become a world-renowned manufacturer in the segment more >> Latest star cars announced for Concours of Elegance 2022

10.05.2022     Latest star cars announced for Concours of Elegance's tenth anniversary show in 2022

 
    Running from the 2nd to 4th September at Hampton Court Palace, the line-up will include an ultra-rare 3-seater more >> Top trading and expert advice at Beaulieus Spring Autojumble

10.05.2022 With less than two weeks to go until the greatly anticipated return of Beaulieu's Spring Autojumble, there's still time to get involved with the buying and selling action and meet classic car experts at the packed event on 14th and 15th May. more >> Bruno Senna laps Miami GP circuit in all-new McLaren Artura High-Performance Hybrid

06.05.2022 …to mark its North American dynamic debutTwenty-one years ago, the legendary Ayrton Senna won his final US Grand Prix driving for McLaren at the Phoenix street circuit in Arizona. This week, his nephew more >> Concorso d'Eleganza Villa d'Este 2022 – exclusive concours for historic vehicles

04.05.2022 All the information on this year's edition of the exclusive concours for historic vehicles.
From 20 to 22 May 2022, BMW Group Classic and Grand Hotel Villa d'Este are presenting around fifty of the most beautiful and fastest automobiles of t more >> A hat-trick for the Vintage Bentley team on the Flying Scotsman

04.05.2022 After a 3-year enforced absence, the 12th Flying Scotsman rally organised by HERO-ERA lived up to its reputation as one of the world's most challenging rallies for vintage cars.

 
True to form, the weather in the region at springtime delivered more >>