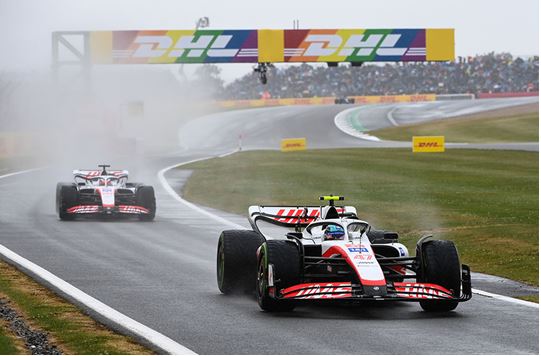 02.07.2022: FORMULA 1 British Grand Prix
Silverstone
1-3 July 2022
Saturday, July 2nd 2022

Layout: 5.891-kilometer (3.66-mile), 18-turn circuit
Weather: Rain
Air Temps: 16.9 degrees Celsius (62.42 degrees Fahrenheit)
Track Temps: 24 degrees Cels
Tweet

FORMULA 1 British Grand Prix
Silverstone
1-3 July 2022
Saturday, July 2nd 2022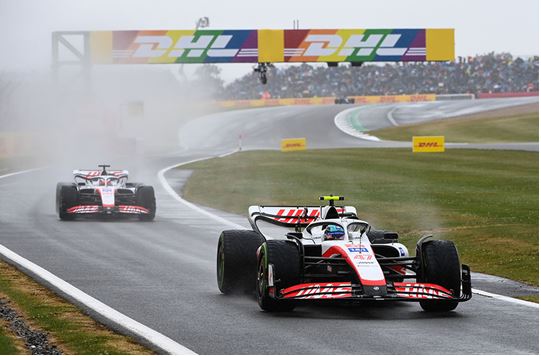 Layout: 5.891-kilometer (3.66-mile), 18-turn circuit
Weather: Rain
Air Temps: 16.9 degrees Celsius (62.42 degrees Fahrenheit)
Track Temps: 24 degrees Celsius (75.2 degrees Fahrenheit)
Team Result: Kevin Magnussen qualified 17th, Mick Schumacher qualified 19th
Free Practice 3 Rundown:
Schumacher: 9th overall (1:29.510), 21 laps completed
Magnussen: 20th overall (1:30.523), 19 laps completed
Fastest: Max Verstappen of Red Bull Racing (1:27.901)
Q1 Qualifying: 18-mins with all 20 drivers – Top 15 advance to Q2
Magnussen: 17th overall (1:42.159)
Schumacher: 19th overall (1:42.708)
Fastest: Max Verstappen of Red Bull Racing (1:39.129)
Q2 Qualifying: 15-mins – Top 10 advance to Q3
Fastest: Max Verstappen of Red Bull Racing (1:40.655)
Q3 Qualifying: 12-mins featuring the Top 10
Pole Winner: Carlos Sainz of Scuderia Ferrari (1:40.983)
Qualifying Recap: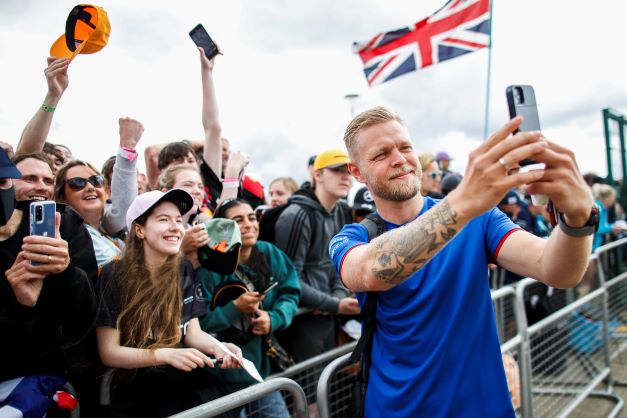 Haas F1 Team drivers Kevin Magnussen and Mick Schumacher qualified 17th and 19th respectively for the British Grand Prix, Round 10 of the 2022 FIA Formula 1 World Championship.
The forecasted rain duly arrived just minutes before the start of qualifying at Silverstone Circuit with Q1 seeing the field hit the track shod exclusively on the Cinturato Green intermediate tires to tackle the tricky conditions.
Magnussen and Schumacher set four timed laps on their first set of tires in Q1 – both drivers dealing with understeer throughout the session while Schumacher was also forced to contend with a steering wheel imbalance on his VF-22.
Magnussen's final effort before pitting for a fresh set of intermediates was a 1:43.513. Armed with fresh rubber he delivered a 1:42.180 followed by a 1:42.159 to finish P17 – two spots out of making it through to Q2. Schumacher's final lap on his first set was a 1:45.175. With new intermediates on he charged to the checkered setting a 1:43.174 then a 1:42.708 but exited qualifying in P19.
Carlos Sainz of Scuderia Ferrari claimed his maiden Formula 1 pole position ahead of Max Verstappen of Red Bull Racing.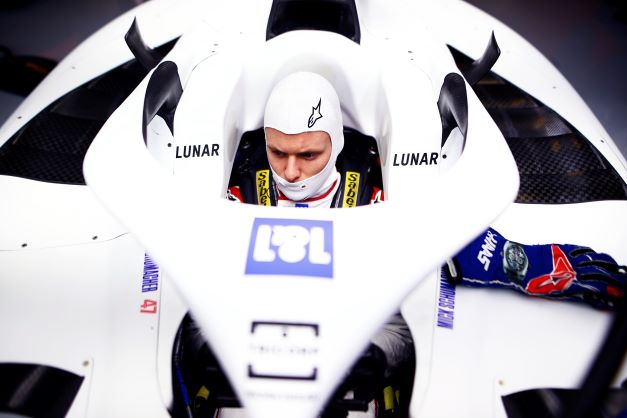 Kevin Magnussen, Driver No. 20, Haas F1 Team

"Mick was looking good in FP3, I didn't have a good one, but I could see what the car could do so I was confident. Then it rained, and that made me even more confident but for some reason we just didn't have the pace today in the wet.

It's interesting, we've been quick in the wet a couple of times this year, but it's been on very different tracks to this one. There's something to learn from that so we'll try again tomorrow and see if we can fight our way back into the top-10."

Mick Schumacher, Driver No. 47, Haas F1 Team
"Unfortunately we had an issue with the car, it seemed like something with the steering wasn't right which is the last thing you want, especially in these changing conditions. We'll analyze what happened, but I think that was a big reason why we didn't make the step-up into Q2.

I'm down for any conditions tomorrow, whether it's wet or dry – it's fun in any conditions – so I'm looking forward to it."

Guenther Steiner, Team Principal, Haas F1 Team

"It wasn't a smooth day today. In FP3, Mick did a very good job but Kevin couldn't find the balance in the car. In qualifying in the rain, we just had too much understeer and we wore the front-left tire out.

We just couldn't get the car to turn so we were out in Q1 and on Mick's car, his steering wheel was off about 10 degrees which obviously is not ideal when you're out in these conditions trying to qualify. Now we're regrouping to get the best out of tomorrow."

Next Up:

Sunday July 3 – The 52-lap British Grand Prix starts at 15:00 (BST).

    

    

 
 

– Stuart Morrisson, photos Haas F1

Aston Martin Aramco Cognizant F1 British GP qualifying – not the pace today

02.07.2022 FORMULA 1 British Grand PrixSilverstone1-3 July 2022Saturday, July 2nd 2022Sebastian: We did not have the pace today and we know we can do betterIn NumbersSebastian VettelFP3&nbs more >> British GP Qualifying result – Sainz takes pole from Verstappen and Leclerc

02.07.2022     FORMULA 1 British Grand PrixSilverstone1-3 July 2022Saturday, July 2nd 2022LIVE here    Round 10 of t more >> Sir Lewis Hamilton honoured with Hawthorn Memorial Trophy

02.07.2022 British driver Sir Lewis Hamilton has been presented with the Hawthorn Memorial Trophy for an 11th time, extending his record-breaking run in the history of the prestigious award.

 
The Hawthorn Memorial Trophy is awarded annually by Motorsport more >> British GP Free Practice 3 result – Verstappen leads Perez and Leclerc

02.07.2022     FORMULA 1 British Grand PrixSilverstone1-3 July 2022Saturday, July 2nd 2022LIVE here

 
 & more >> British Grand Prix Pirelli tyre sets available after FP2

02.07.2022 FORMULA 1 British Grand PrixSilverstone1-3 July 2022Friday, July 1st, 2022Formula 1 Lenovo British Grand Prix 2022  Tyre sets available after FP2 -Anthony Peacock, photo Pirelli more >> Pirelli F1 British GP practices – What we have learned today

02.07.2022 FORMULA 1 British Grand PrixSilverstone1-3 July 2022Friday, July 1st, 2022 •    A typical Friday in England was characterised by wet and dry weather in the two free practice sessions a more >> Alfa Romeo F1 Team ORLEN British GP practices – A smooth day at Silverstone

01.07.2022 FORMULA 1 British Grand PrixSilverstone1-3 July 2022Friday, July 1st, 2022     Alfa Romeo F1 Team ORLEN completed the first day of on-track action at the British Grand Prix. The Silverstone ci more >> Aston Martin Aramco Cognizant F1 British GP practices – positive experience

01.07.2022 FORMULA 1 British Grand PrixSilverstone1-3 July 2022Friday, July 1st, 2022 Lance: My first experience of the upgrades was positiveIn NumbersSebastian Vettel more >> Haas F1 British GP Practices – Positive for tomorrow

01.07.2022 FORMULA 1 British Grand PrixSilverstone1-3 July 2022Friday, July 1st, 2022Event: Free Practice 1 & 2 for the British Grand Prix – Friday July 1Location: Silverstone Circuit, EnglandLayout: 5.891-kilometer (3.66-m more >> BWT Alpine Racing F1 British GP practices – new look, new upgrades

01.07.2022 FORMULA 1 British Grand PrixSilverstone1-3 July 2022Friday, July 1st, 2022New look A522 takes to the track as BWT Alpine F1 Team gears up for SilverstoneBWT Alpine F1 Team introduced its new look A522 more >> Oracle Red Bull Racing British GP practices -Looking forward to qualifying

01.07.2022 FORMULA 1 British Grand PrixSilverstone1-3 July 2022Friday, July 1st, 2022I think we know what we need to work on. Overall it went okay today and I'm looking forward to qualifying tomorrow.You need confidence around more >> Williams Racing F1 British GP practices – A bit frustrating

01.07.2022 FORMULA 1 British Grand PrixSilverstone1-3 July 2022Friday, July 1st, 2022Silverstone Circuit, Great Britain | 5.891 km      FP1    FP2A. Albon    0:00:00 (15th)    1:30.263 (14th)N. Latifi    0:00:00 (19th)    1:31.326 (20th) more >> Mercedes AMG Petronas F1 British GP practices – encouraging start to the weekend

01.07.2022 FORMULA 1 British Grand PrixSilverstone1-3 July 2022Friday, July 1st, 2022•    A rain-disrupted first practice session saw limited running with Lewis only one of ten drivers to register a tim more >> Scuderia AlphaTauri F1 British GP Practices – Were able to survive

01.07.2022  FORMULA 1 British Grand PrixSilverstone1-3 July 2022Friday, July 1st, 2022 Yuki Tsunoda (AT03-03, Car 22)First Practice Session – Best lap: 1:51.373, pos. 9th, 5 lapsSecond Practice Session – Best lap: 1 more >> Scuderia Ferrari F1 British GP practices- Sainz first in rain affected Silverstone

01.07.2022 FORMULA 1 British Grand PrixSilverstone1-3 July 2022Friday, July 1st, 2022British Grand Prix – Free practice 2: Carlos first, Charles fifthThe second hour of British Grand Prix free practice at Silverstone more >> British GP Free Practice 2 result – Sainz leads Hamilton and Norris

01.07.2022     FORMULA 1 British Grand PrixSilverstone1-3 July 2022Friday, July 1st, 2022LIVE here  &nb more >> British GP Free Practice 1 result – Bottas leads Hamilton and Sainz

01.07.2022     FORMULA 1 British Grand PrixSilverstone1-3 July 2022Friday, July 1st, 2022LIVE here

 
    Silverstone hosts Round more >> Alfa Romeo F1 Team ORLEN teams up with SenseTime

01.07.2022 Through Artificial Intelligence to track performance    Alfa Romeo F1 Team ORLEN will harness the power of Artificial Intelligence (AI) to find an edge on track as it strikes a partnership with SenseTime, the leading global AI software company. more >> Daniel Ricciardo – The race I made my F1 debut

30.06.2022 BRITISH GRAND PRIXSilverstone1-3 July 2022"The British Grand Prix… let's go! It's a home race for the team and that means we'll definitely feel the support in the grandstands. There was a sea of pa more >> Lando Norris heading to his home race

30.06.2022 BRITISH GRAND PRIXSilverstone1-3 July 2022"I'm so excited to be heading back to my home race at Silverstone. Seeing the British fans and all the papaya as we drive round the track is always so motivating and such a boost more >> McLaren F1 – Everything you need to know for the British Grand Prix

30.06.2022 "Seeing the British fans and all the papaya as we drive round the track is always so motivating"
There's nothing like the comfort of our home grand prix: fish and chips, endless cups of tea and the fact we c more >> Silverstone charges forward with sustainability strategy

30.06.2022 The Shift To ZERO

 
 
Silverstone has revealed a new business sustainability strategy in its race to have a positive impact on the planet and to be part of the change as Formula 1® continues its drive to be more >> Oracle Red Bull Racing Silverstone preview

30.06.2022 2022 BRITISH GRAND PRIXSilverstone Circuit1-3 July 2022
 

•    Max has now won more than half of the races since the beginning of the 2021 season. Out of 31, the reigning World Champion has been the more >> Sergio Perez ready for a good weekend at Silverstone

30.06.2022     2022 BRITISH GRAND PRIXSilverstone Circuit1-3 July 2022 It's always hard to have a weekend off when you have had a tough race, like I did in Canada, so I am coming into Silverstone with a lot of desire to put things more >> Max Verstappen on British GP – It won't be smooth sailing

30.06.2022 2022 BRITISH GRAND PRIXSilverstone Circuit1-3 July 2022     I'm looking forward to going back to Silverstone as it's a real classic and historic race on the calendar. There ar more >> Three questions to Ravin Jain, Scuderia Ferrari race strategist

29.06.2022 Ravin JainBorn on 6/7/1994in London (England)Describe the characteristics of the Silverstone track?"Silverstone is a very technical and high-speed circuit characterised by quick changes of di more >> Scuderia Ferrari British Grand Prix- Silverstone, British Racing Evergreen

29.06.2022 The Formula 1 World Championship returns to Europe after the back-to-back races in Azerbaijan and Canada, to tackle a series of real classic races, starting with the British Grand Prix at Silverstone, where the Formula 1 World Championship began 72 years ago.

more >> Zhou Guanyu – Good memories on British Grand Prix

29.06.2022 2022 BRITISH GRAND PRIXSilverstone Circuit1-3 July 2022Zhou Guanyu Alfa Romeo F1 Team ORLEN #24"I'm really looking forward to being back in the car this weekend. The result in Canada was a big confid more >> Valtteri Bottas ahead the British Grand Prix – Needs no instruction here

29.06.2022 2022 BRITISH GRAND PRIXSilverstone Circuit1-3 July 2022Valtteri Bottas Alfa Romeo F1 Team ORLEN #77"Silverstone is a place that needs no introduction: the British Grand Prix is one of the great race more >> A place that means a lot to us – Frederic Vasseur

29.06.2022 2022 BRITISH GRAND PRIXSilverstone Circuit1-3 July 2022Frédéric Vasseur, Team PrincipalAlfa Romeo F1 Team ORLEN "The result in Canada was a good one, and it is proof of what we c more >> Alfa Romeo F1 Team ORLEN pre Silverstone – Where it all began

29.06.2022 2022 BRITISH GRAND PRIXSilverstone Circuit1-3 July 2022Alfa Romeo F1 Team ORLEN returns to Silverstone, the venue of the first-ever Formula One championship race, for the British Grand Prix. On the hallowed ground where Alfa Romeo more >> Mercedes AMG Petronas F1 Fact File: British Grand Prix

29.06.2022 2022 BRITISH GRAND PRIXSilverstone Circuit1-3 July 2022•    At 5.891km, the Silverstone Circuit is the fourth-longest on the F1 calendar and only Spa-Francorchamps (7.004km), Baku (6.003km) and Jeddah (6.174km) are longer. more >> Mercedes AMG Petronas F1 British Grand Prix preview, stats and facts

29.06.2022  Formula One returns to Silverstone for Round 10 of the 2022 season, the British Grand Prix.  Toto Talks Great Britain  Canada was our fifth podium of the season, and we were happy to collect solid points. While we can be pleased more >> Lance Stroll quotes ahead of Silverstone – driving in front of fantastic crowds

29.06.2022 2022 BRITISH GRAND PRIXSilverstone Circuit1-3 July 2022Lance StrollAston Martin Aramco Cognizant F1 Team #18 "After the outliers of Monaco, Baku and Canada, I am looking forward to seein more >> Sebastian Vettel ahead of British GP – scoring solid points

29.06.2022 2022 BRITISH GRAND PRIXSilverstone Circuit1-3 July 2022Sebastian VettelAston Martin Aramco Cognizant F1 Team #5″I have enjoyed many race weekends at Silverstone, and I am always struck by the enthusiasm an more >> Aston Martin Aramco Cognizant Formula One™ Team – Silverstone Talking Points

29.06.2022 2022 BRITISH GRAND PRIXSilverstone Circuit1-3 July 2022Insight and Speed with Cognizant•    Tyres: Despite Pirelli bringing compounds two steps harder than the previous three even more >> Alex Albon ahead of British GP – most enjoyable circuit for a driver

29.06.2022 2022 BRITISH GRAND PRIXSilverstone Circuit1-3 July 2022Alex Albon: Silverstone is a home race for the team and half for me too! It's a special circuit made better by all the fans who come out to show their support. Sil more >> Nicholas Latifi quotes on British GP – One of my favourite tracks

29.06.2022 2022 BRITISH GRAND PRIXSilverstone Circuit1-3 July 2022Nicholas LatifiI'm very excited to be heading to Silverstone. It's the team's home race so it's going to be a special weekend more >> Williams Racing F1 British Grand Prix preview, notes and quotes

29.06.2022 2022 BRITISH GRAND PRIXSilverstone Circuit1-3 July 2022Dave Robson, Head of Vehicle Performance: The British Grand Prix is one of the highlights on the Formula One calendar, as well as being a traditional part of the British s more >>