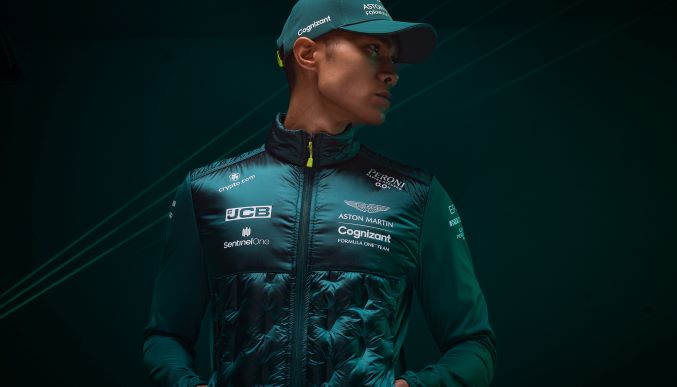 | | |
| --- | --- |
| | 05.08.2022: The Aston Martin Aramco Cognizant Formula One™ Team (AMF1) is delighted to announce the introduction of cryptocurrency payments on its official online store. |
Tweet
The Aston Martin Aramco Cognizant Formula One



Team (AMF1) is delighted to announce the introduction of cryptocurrency payments on its official online store.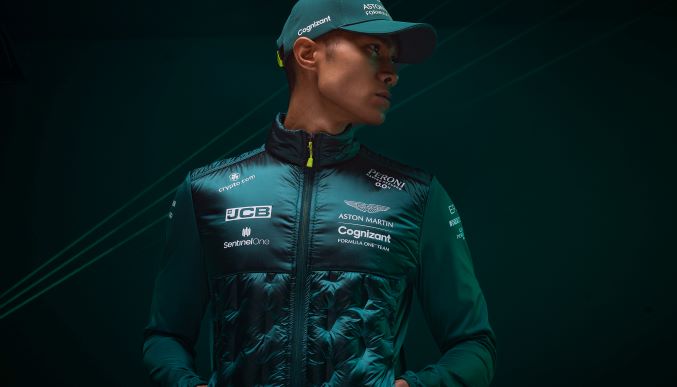 In conjunction with the team's Global Partner Crypto.com and Official E-Commerce Partner, Cube Partnership (Cube), visitors to shop.astonmartinf1.com now have the option to purchase merchandise using the cryptocurrency of their choice.
Today's announcement also means that AMF1's online store becomes the first official F1 merchandise outlet to accept cryptocurrency payments.
Cube has worked with Crypto.com, which already has more than 50 million users, to integrate directly with Crypto.com's global ecosystem.

Steven Kalifowitz, Chief Marketing Officer, Crypto.com, said: "Our mission at Crypto.com is to accelerate the world's transition to cryptocurrency, and a huge part of that is being able to give more customers and merchants purchasing power using cryptocurrency. Our partnership with AMF1 is the perfect case in point, proving just how versatile crypto payments have become. We're excited to continue our work with AMF1 and to further enable the use of cryptocurrency as a payment method in all situations."  
Chris Bailes, Cube Partnership's Trading Director, said: "Our partnership with Aston Martin Aramco Cognizant Formula One



Team encapsulates everything that Cube stands for – great product supported by outstanding marketing, delivered on a world-class e-commerce platform that can serve fans all around the world.

"Our collaboration with AMF1's global partner, Crypto.com, enables us to dive into the cryptocurrency world in the best way possible, enhancing the customer journey and offering more choices at the checkout. Cryptocurrency is a seamless way for consumers to pay online and is a popular form of payment for those who grew up in the digital age."


Matt Chapman, AMF1 Head of Licensing and Merchandise, said: "We are constantly exploring the digital landscape, so it's hugely satisfying to be able to take this step into the crypto payment world with both Crypto.com and Cube.

"We really want to be able to provide our fans and customers with every possible convenience in terms of their user journey – and adopting a cryptocurrency payment option felt like a natural next step.

"What's most important is that it's all been integrated seamlessly into the website, so it's easy, efficient and effortless to make the choice at checkout."

Matt Bishop, AMR GP Ltd photo
 

 

Mercedes-AMG PETRONAS Formula One Team publishes second annual Sustainability Report

05.08.2022     Ambition to reduce our CO2 emissions by 50% by 2022, from a baseline set in 2018, has been exceeded, and challenging new targets set to achieve verified Net Zero by 2030.    18 months into our Accelerate 25 programme, our female team members have risen from 12% to 15% of our workforce and team members from minority ethnic backgro more >> Williams Racing confirms multi-year agreement with Alex Albon

03.08.2022 Williams Racing is delighted to announce that Alex Albon will remain part of the driver line-up for the 2023 FIA Formula One World Championship and beyond. Alex will race for the team for a second consecutive season after impressing with stand-out more >> Oscar Piastri insists 'I will not be driving for Alpine next year'

02.08.2022 …after team announce him as Alonso's replacementOscar Piastri has taken to his social media channels to say that he "will not be driving for Alpine next year", hours after the team announced they would be promoting him to a full time race se more >> BWT Alpine F1 Team promotes Oscar Piastri to race driver alongside Esteban Ocon

02.08.2022 BWT Alpine F1 Team confirms 21-year-old reserve driver Oscar Piastri as Esteban Ocon's teammate starting from 2023.  In line with the commitments made by the Team to the young Australian, Oscar will be promoted to race driver and step in Fernando Alonso's seat from next year onwards. more >> Logan Sargeant to make FP1 debut with Williams in Austin

02.08.2022 Williams Academy driver and double FIA Formula 2 race winner Logan Sargeant will drive the Williams Racing FW44 on home turf during the first Free Practice session of the Formula 1 Aramco United States Grand Prix 2022 at Circuit of the Americas in Austin on Friday 21 October.
more >> Honda to Extend Power Unit Technical Support Agreement with Red Bull Powertrains to End of 2025

02.08.2022 Red Bull and Honda are delighted to announce that the technical support programme that has helped take Oracle Red Bull to the top of the 2022 Formula 1 standings is to be extended from 2023 to the end of 2025, with Honda Racing Corporation (HRC), the Honda subsidiary responsible for its racing activities, continuing its successful collaboration with Red Bull Powertrains (RBPT). more >> Fernando Alonso signs to Aston Martin for 2023 on multi-year contract

01.08.2022 On Monday, after he secured his eighth consecutive points finish in the Hungarian Grand Prix and as F1's summer break began, Aston Martin revealed the Spaniard had signed on the dotted line in what they said was "a clear statement of intent from an organisation that has committed to developing a winning F1 team".
more >> Pirelli F1 Hungarian GP race – How the compounds made the difference

31.07.2022 HUNGARIAN GRAND PRIXHungaroring, Budapest29-31 July 2022Sunday, July 31st 2022 THE RACE TYRE STORY •    From P10 on the grid, Red Bull's Max Verstappen won the Hungarian Grand more >> Oracle Red Bull Racing Hungarian GP race -From 10 to win -great performance from whole team

31.07.2022 HUNGARIAN GRAND PRIXHungaroring, Budapest29-31 July 2022Sunday, July 31st 2022We made all the right calls today, there were some good undercuts and overall we did a great job today as a Team. This was definitely one of my more >> McLaren Racing F1 Hungarian GP race – Maximum we could do

31.07.2022     HUNGARIAN GRAND PRIXHungaroring, Budapest29-31 July 2022Sunday, July 31st 2022It's the maximum we could do today with the cars ahead"As it happened more >> Alfa Romeo F1 Team ORLEN Hungarian GP race – disappointed in the end

31.07.2022 HUNGARIAN GRAND PRIXHungaroring, Budapest29-31 July 2022Sunday, July 31st 2022    Alfa Romeo F1 Team ORLEN saw a race spent nearly entirely within the top ten come to nothing as Zhou Guanyu finis more >> BWT Alpine Racing F1 Hungarian GP race – Strong team result

31.07.2022 HUNGARIAN GRAND PRIXHungaroring, Budapest29-31 July 2022Sunday, July 31st 2022BWT Alpine F1 Team heads into summer break in fourth place after double points in Hungary BWT Alpine F1 Team enters the more >> Mercedes AMG Petronas F1 Hungarian GP race – exhilarating double podium

31.07.2022 HUNGARIAN GRAND PRIXHungaroring, Budapest29-31 July 2022Sunday, July 31st 2022 An exhilarating double podium for the Mercedes-AMG PETRONAS F1 Team on our 250th race with title partner PETRONAS •    The team completed more >> Scuderia Ferrari F1 Hungarian GP race – Sainz fourth and Leclerc sixth in Budapest

31.07.2022 HUNGARIAN GRAND PRIXHungaroring, Budapest29-31 July 2022Sunday, July 31st 2022 A few drops of rain, temperatures 19° air; 26° track.Start.  At the start Carlos and Charles kept their second and third places with t more >> Haas F1 Hungarian GP race – Not so easy today

31.07.2022 HUNGARIAN GRAND PRIXHungaroring, Budapest29-31 July 2022Sunday, July 31st 2022    Event: Hungarian Grand Prix – Sunday July 31Location: Hungaroring, BudapestLayout: 4.381-kilometer (2.722-mile), 14-turn more >> Williams Racing F1 Hungarian GP – It was a challenging weekend

31.07.2022 HUNGARIAN GRAND PRIXHungaroring, Budapest29-31 July 2022Sunday, July 31st 2022

Pos    Driver    Team    Time/Gap (Fastest Lap)    Grid17&nb more >> Aston Martin Aramco Cognizant F1 Hungarian GP race – hard fight today

31.07.2022 HUNGARIAN GRAND PRIXHungaroring, Budapest29-31 July 2022Sunday, July 31st 2022 "We showed today how hard we can fight – both drivers were relentless"In NumbersSebast more >> Scuderia AlphaTauri F1 Hungarian GP race – Mixed fortunes

31.07.2022 HUNGARIAN GRAND PRIXHungaroring, Budapest29-31 July 2022Sunday, July 31st 2022Pierre Gasly (AT03-01, Car 10)Race – pos. 12th   "I must say I'm happy with today. Starting fro more >> Hungarian GP race result – Verstappen wins from Hamilton and Russell

31.07.2022 HUNGARIAN GRAND PRIXHungaroring, Budapest29-31 July 2022Sunday, July 31st 2022LIVE here    Round 13 of the 2022 season comes from the Hungaroring, Hungary    It's the final race before the trad more >> Hungarian GP race – Pirelli starting grid tyres

31.07.2022 HUNGARIAN GRAND PRIXHungaroring, Budapest29-31 July 2022Sunday, July 31st 2022LIVE hereFormula 1 Aramco Magyar Nagydíj 2022 – Starting Grid Tyres more >> Pirelli F1 Hungarian GP qualifying – road to the pole and strategy notebook

30.07.2022 HUNGARIAN GRAND PRIXHungaroring, Budapest29-31 July 2022Saturday, July 30th 2022 THE ROAD TO POLE •    Mercedes driver George Russell took his debut pole at the end of a tense qualify more >> McLaren Racing F1 Hungarian GP qualifying – keep it up for tomorrow

30.07.2022     HUNGARIAN GRAND PRIXHungaroring, Budapest29-31 July 2022Saturday, July 30th 2022LANDO NORRIS more >> Mercedes AMG Petronas F1 Hungarian GP qualifying – First pole of the season

30.07.2022 HUNGARIAN GRAND PRIXHungaroring, Budapest29-31 July 2022Saturday, July 30th 2022    First pole of the season for the Mercedes-AMG PETRONAS F1 Team in Hungary more >> Oracle Red Bull Racing Hungarian GP – Frustrating qualifying

30.07.2022 HUNGARIAN GRAND PRIXHungaroring, Budapest29-31 July 2022Saturday, July 30th 2022     It's frustrating to start in P10 tomorrow after such a positive qualifying. Tomorrow is defin more >> Alfa Romeo F1 Team ORLEN Hungarian GP qualifying – Good pace

30.07.2022 HUNGARIAN GRAND PRIXHungaroring, Budapest29-31 July 2022Saturday, July 30th 2022    Alfa Romeo F1 Team ORLEN had a strong showing at the Hungaroring, with Valtteri Bottas qualifying in eighth place for tomorrow's Hungarian Gran more >> BWT Alpine Racing F1 Hungarian GP qualifying – happy with today effort

30.07.2022 HUNGARIAN GRAND PRIXHungaroring, Budapest29-31 July 2022Saturday, July 30th 2022BWT Alpine F1 Team qualify inside the Top Six with both cars after thrilling Saturday show BWT Alpine F1 Team qualified more >> Scuderia Ferrari F1 Hungarian GP qualifying – Sainz second, Leclerc third

30.07.2022 HUNGARIAN GRAND PRIXHungaroring, Budapest29-31 July 2022Saturday, July 30th 2022 Quali recap: Carlos and Charles second and third Q1. Threatening clouds over the Hungaroring, but more >> Scuderia AlphaTauri F1 Hungarian GP – Frustrating qualifying

30.07.2022 HUNGARIAN GRAND PRIXHungaroring, Budapest29-31 July 2022Saturday, July 30th 2022 Yuki Tsunoda (AT03-03, Car 22)Third Practice Session – Best lap: 1:45.850, pos. 17th, 17 lapsQualifying – Best lap: (Q1) more >> Haas F1 Hungarian GP qualifying – Focus on tomorrow

30.07.2022 HUNGARIAN GRAND PRIXHungaroring, Budapest29-31 July 2022Saturday, July 30th 2022Layout: 4.381-kilometer (2.722-mile), 14-turn circuitWeather: Mostly CloudyAir Temps: 21.8 degrees Celsius (71.2 degrees Fahrenheit)Track Temp more >> Aston Martin Aramco Cognizant F1 Hungarian GP qualifying – Anything can happen tomorrow

30.07.2022 HUNGARIAN GRAND PRIXHungaroring, Budapest29-31 July 2022Saturday, July 30th 2022

 
"Days like these show the grit and determination of the whole team"In NumbersLance Stroll more >> Williams Racing F1 Hungarian GP qualifying -what a day

30.07.2022 HUNGARIAN GRAND PRIXHungaroring, Budapest29-31 July 2022Saturday, July 30th 2022Track: Hungaroring, Hungary    Lap Length: 4.381 kmPos    Driver    Team    Q1    Q more >> Hungarian GP qualifying result – Russell takes pole from Sainz and Leclerc

30.07.2022 HUNGARIAN GRAND PRIXHungaroring, Budapest29-31 July 2022Saturday, July 30th 2022LIVE here    Round 13 of the 2022 season comes from Budapest, Hungary more >> Hungarian GP practice 3 result – Latifi leads Leclerc and Albon

30.07.2022 HUNGARIAN GRAND PRIXHungaroring, Budapest29-31 July 2022Saturday, July 30th 2022LIVE here    The Hungarian Grand Prix is the final race more >> Pirelli F1 Hungarian GP practice notes and quotes

29.07.2022 HUNGARIAN GRAND PRIXHungaroring, Budapest29-31 July 2022Friday, July 29th 2022 

•    Ferrari was quickest in both free practice sessions today, with Carlos Sainz topping FP1 and Charles Leclerc going fastest in FP2 more >> McLaren Racing F1 Hungarian GP practice – a positive Friday

29.07.2022 HUNGARIAN GRAND PRIXHungaroring, Budapest29-31 July 2022Friday, July 29th 2022″It's been a positive Friday and one of the better ones this year"LANDO NORRIS FP1     1m19.299s (+0.54 more >> Oracle Red Bull Racing Hungarian GP practice – Finding right balance

29.07.2022 HUNGARIAN GRAND PRIXHungaroring, Budapest29-31 July 2022Friday, July 29th 2022 MAX VERSTAPPENIt was a bit tricky around here today, we were trying to find the right balance from high to low speed, sometimes it w more >> Haas F1 Hungarian GP practice – At the moment ok

29.07.2022 HUNGARIAN GRAND PRIXHungaroring, Budapest29-31 July 2022Friday, July 29th 2022     Layout: 4.381-kilometer (2.722-mile), 14-turn circuitFP1 & FP2 Weather: SunshineDrivers: Kevin Magnussen & Mick Sc more >> Scuderia Ferrari F1 Hungarian GP practices review

29.07.2022 HUNGARIAN GRAND PRIXHungaroring, Budapest29-31 July 2022Friday, July 29th 2022 Hungarian Grand Prix – Free practice 2: Charles heads the field, Carlos thirdCharles Leclerc set the fastest time in the more >> Alfa Romeo F1 Team ORLEN Hungarian GP practice – Not so bad

29.07.2022 HUNGARIAN GRAND PRIXHungaroring, Budapest29-31 July 2022Friday, July 29th 2022     Alfa Romeo F1 Team ORLEN ran all its three drivers on a busy Friday of practice in Budapest. Reserve driver, Robert Kubica, was in the car more >>