Highly-rated young Formula 1 wannabes will be in action for FP1 during the 2022 United States Grand Prix, in Austin, with 23-year-old Robert Schwartzmann in action for Ferrari and 19-year-old Théo Pourchaire in an Alfa Romeo.
Teams are mandated to run at least one young driver during the course of the season, with Ferrari opting for Circuit of the Americas for either Charles Leclerc or Carlos Sainz to sit out for Schwartzmann's privilege, while.
At Alfa Romeo, veteran Valtteri Bottas will sit it out for Pourchaire to get his big chance alongside the team's rookie Guanyu Zhou, a fellow Formula 2 graduate, in the sister car.
Check out GGpoker sports book offer who made this report possible.
Grasse-born Frenchman, Pourchaire said of his opportunity: "I am thrilled to be making my Free Practice debut in Austin; it will be my second time behind the wheel of an F1 car, but in some ways, it will feel like it's the first time, as this time it will be during an official Grand Prix session.
"It feels like a dream coming true, and I want to thank Alfa Romeo F1 Team ORLEN for putting their trust in me and granting me this amazing opportunity: I am looking forward to being on track, and I will make sure to get the most out of it and to do my best to support the team as they prepare for the United States Grand Prix."
Alfa Romeo have confirmed Bottas and Zhou will remain with the team in 2023, with most teams settled on their driver line-ups for next year, only Williams and Haas have a seat.
At the moment, Ferrari Driver Academy alumnus Mick Schumacher is waiting on the bosses at Maranello to decide his future and word is they are looking to part ways with Michael Schumacher's son, a decision expected after Japan, so any day soon it would seem.
If Schumacher does depart Haas, Schwartzmann could step up if Ferrari foot the bill for the American team to run their driver or barter the engines or whatever they do to get a driver in an F1 seat for a season. All this while the word is that Haas are seeking an experienced driver which means they have the sidelined, super-sub Nico Hulkenberg on their radar.
It's still Silly Season until those two seats are filled with Pourchaire unlikely to be in either come next season, nevertheless FP1 on the CV is certainly a foot in the door.
Vasseur: It's a well-deserved opportunity for Theo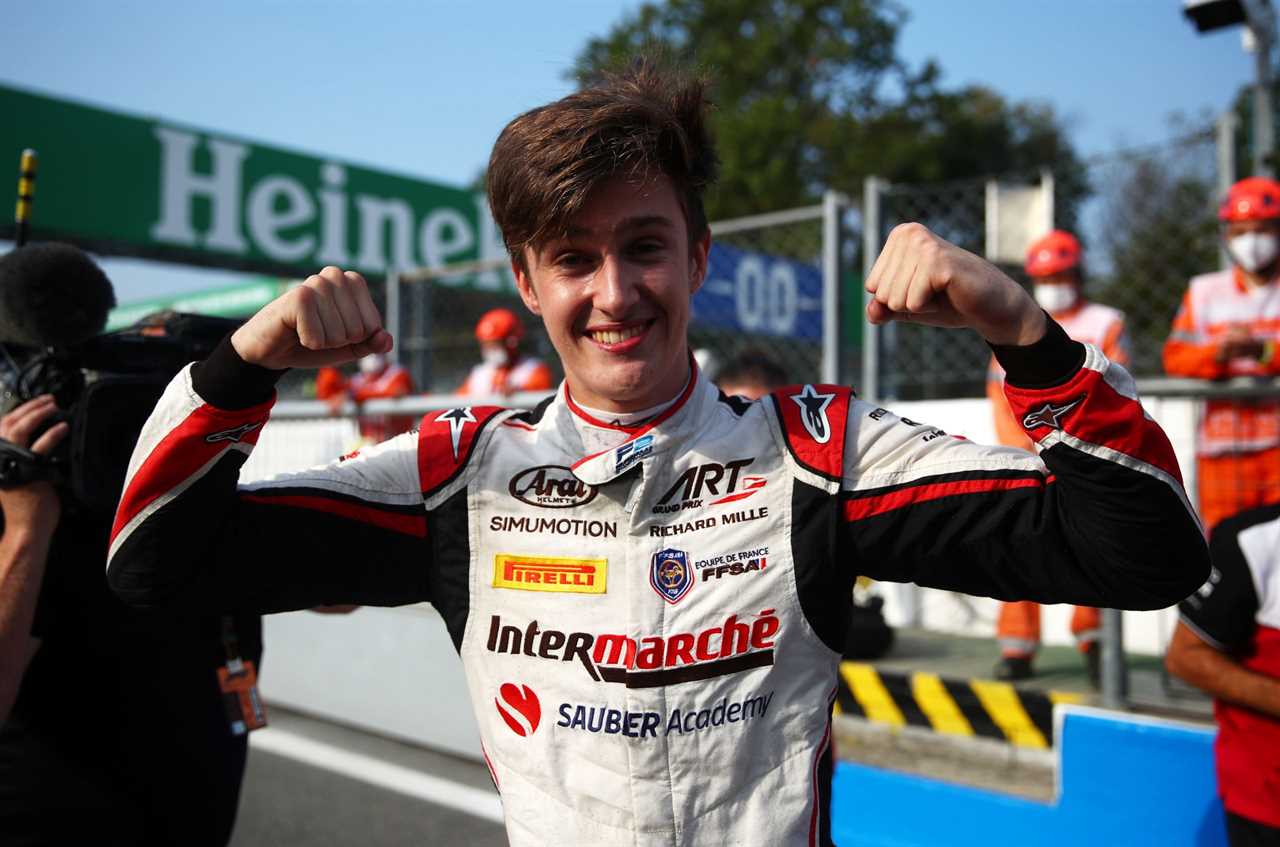 As for why Pourchaire is getting this break, Alfa team boss Fred Vasseur explained: "Théo has been delivering great performances over the course of this season, as well as during the previous years: we have been working closely with him for almost four years now , as a member of our Academy, and we have been impressed by his constant progress and development as a driver first and, equally importantly, as a person.
"We are delighted to give him his first Free Practice outing next week: it's a well-deserved opportunity, and I'm confident he will once again impress us with his performances, as he will help the team gather valuable data ahead of the United State Grand Prix."
Sentiments about Pourchaire echoed by the team's sporting director Beat Zehnder: "Ever since he joined the Sauber Academy back in 2019, Théo has shown impressive progress. He has been a title winner in 2019 and a contender in 2020 in F3; in F2, particularly this season, he's given his all and was in the battle for the title for most of the championship.
"He is, without any doubt, one of the most promising young drivers coming through the ranks, and it's a pleasure for us to finally see him stepping up and earning his first Formula 1 Free Practice outing.
"From the very beginning he impressed us with his professional approach and dedication to always give his very best on- and off-track, and we can't wait to see him further unlocking his potential on track," added Zehnder about Pourchaire.